Lacing Cards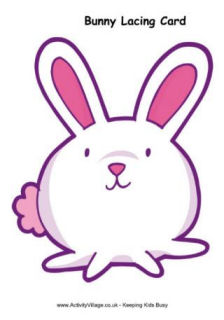 Lacing is an excellent activity for developing fine motor skills, improving hand-eye coordination and concentration, and keeping little kids happily amused!
Print and cut out our lacing cards onto card or good printer paper. Laminate, and cut carefully around the edge. Using a single hole punch, punch holes evenly around the edges, just inside the solid line, following the shape as much or as little as is appropriate for the age of your child: bear in mind that younger children might need a simplified outline, while older children will be able to lace a more complicated design. Use a shoe lace or lengths of coloured wool (yarn) with the ends strengthened either with sticky tape or white glue (PVA) to thread the shapes. Alternatively capture some wool inside a small piece of pipe cleaner and bend it to form a "needle". Older children can use a large-eyed blunt needle and length of yarn.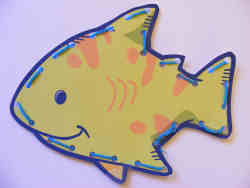 For those of you with children who are learning their letters, we also have a complete set of alphabet lacing cards - capital letters and lower case. We've used slightly quirky letters with bright colours to make them extra-interesting to lace!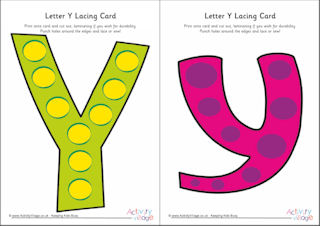 Alphabet Lacing Cards NEW!
And how about a set of those of you learning your numbers? We've got fun lacing cards from 0 through to 9, and we've designed them to appeal to the kids.

Number Lacing Cards NEW!
More Printables for Kids

Learn to Draw
Explore Activity Village