It's 1st December, and that means it is Day 1 of our Advent Calendar! I'm excited to welcome you to another year of Christmas fun with Activity Village - thank you for joining in with us!
Every day you will find a new Christmas colouring page to download - in fact, two Christmas colouring pages, variations of the same design, one for older children (and adults), and one for younger children. Colour them in, cut them out and put them up on display ... or save them as they are for a lovely Christmas memory to look at in future years.
But that's not all. You will also find a brand new Christmas puzzle or set of puzzles to print, child-friendly Christmas jokes, pretty Christmas quotes and family-friendly videos - with lots of Christmas music - to enjoy each day. If we've added something new to the website, we'll tell you about it here, too.
Although anyone can enjoy the content on this page, all printable activities are for members only. If you are interested in becoming a member, you can get started here.
If you need more help, FAQs are here.
Now let's get on with the fun!
Today's Special Printable:

Download today's printable by clicking here
Today's New Christmas Puzzles: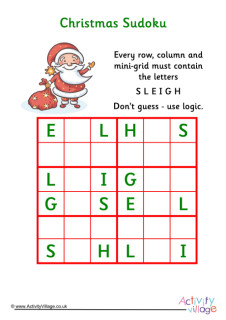 Today we have three new Christmas word sudoku puzzles - easy (4 letters), medium (6 letters) and hard (9 letters):
Something to Watch:
Please note: You may want to supervise your children when they use video sharing websites.
Here's a video showing us how to make a fondant robin, perfect for topping a Christmas cake or cupcake (or just for a very sweet treat!) They would be fun to make out of craft clay or even playdough, too.
How to draw a Christmas robin - for older kids.
A Christmas Giggle:
Knock, knock.
Who's there?
Wendy.
Wendy who?
Wendy red red robin comes bob bob bobbin along…
More Activities to Enjoy
We've got all sorts of robin-themed activities - crafts, colouring pages, printables and worksheets.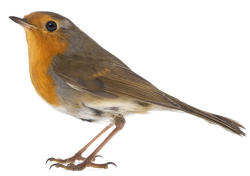 Robins
A Game (or Two) to Play
Please note: If you click on the Game link below you will be leaving Activity Village. Lindsay checked the link and tried the game on 30th November, but is not responsible for the content or advertisements you find.

Christmas mosaics game 8 x 8 version

Christmas mosaics game 16 x 16 version
Some Christmas Music:
Please note: You may want to supervise your children when they use video sharing websites.
Christmas robins, bob bob bobbing along! Sing along with this little Christmas song.
And Finally:
The frosty ways like iron,
The branches plumed with snow,
Alas! in winter dead and dark,
Where can poor Robin go?
Robin, Robin Redbreast,
O Robin dear!
And a crumb of bread for Robin,
His little heart to cheer.
Verse from the poem Robin RedBreast by William Allingham
Don't forget to come back tomorrow for Day 2 of the Advent Calendar!