It's 4th December, and I hope you are ready for Day 4 of the Advent Calendar! Today's colouring page features a Christmas tree...
Today's Special Printable:
Download today's colouring pages by clicking on the link below.

Advent Calendar 2018 - 4th December Colouring Pages

Today's New Christmas Puzzles:
As Christmas trees are the themes today, we thought it might be fun to feature these new Christmas tree pyramid puzzles!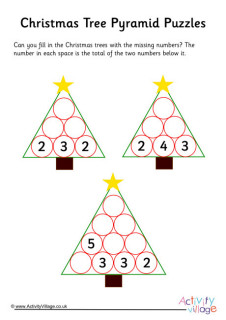 Something to Watch:
Please note: You may want to supervise your children when they use video sharing websites.
Do you need any last-minute Christmas cards, perhaps for a special member of the family? Make a pop-up Christmas tree card - and decorate the Christmas tree. This is a clever idea that can be adapted for all ages. Simplify the tree and keep the decorations simple with younger children. Older kids can really go to town!
Make a pretty Christmas tree from polymer clay. This model uses sharp scissors so adult supervision is necessary.
Grandma's story time. Listen to the story of Mr Willowby's Christmas tree..

A Christmas Giggle:
Q: What do you get if you cross an apple with a Christmas tree?
A: A pineapple!

More Activities to Enjoy
If you like Christmas trees, you might want to check out our Christmas tree section!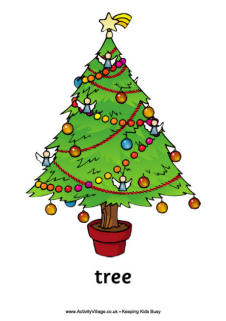 Christmas Tree Theme

Some Christmas Music
Decorate the Christmas tree (to the tune of Deck the Halls)
A beautiful "grown-up" version of O Christmas Tree

A Game to Play
Please note: If you click on the Game link below you will be leaving Activity Village. Lindsay checked the link and tried the game on 1st December, but is not responsible for the content you find.
Just drag and drop the Christmas decorations to trim the tree!

Trim the tree

And Finally:
"The perfect Christmas tree? All Christmas trees are perfect!"
Charles N. Barnard

Don't forget to come back tomorrow for Day 5 of the Advent Calendar!