Welcome back to Day 7 of the Activity Village Advent Calendar for 2016. I hope you are enjoying it!
Today's Special Printable:
Download today's colouring pages by clicking on the link below.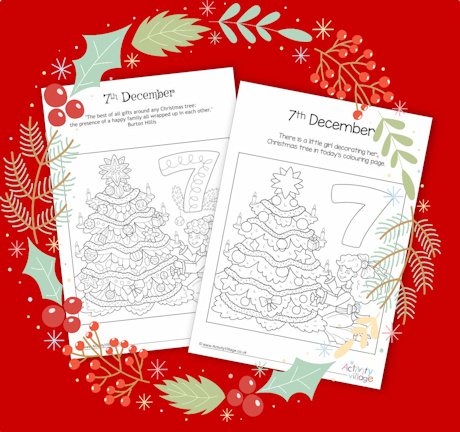 Advent Calendar 2018 - 7th December colouring page

Today's New Christmas Puzzles:
Our "squashed sentences" puzzles are always quite a challenge. Here's a new Christmas version.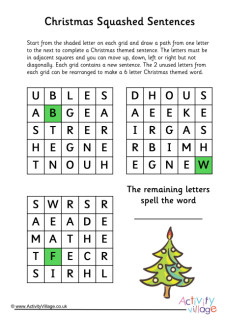 Christmas squashed sentences puzzle
Something to Watch:
Please note: You may want to supervise your children when they use video sharing websites.
Make 3D Christmas ornaments with paper and scissors, in all sorts of shapes. Lovely!
Make a woolly hat with a pompom to hang on the Christmas tree!

A Christmas Giggle:
Q: Why are Christmas trees like bad knitters?
A: They both drop needles!

More Activities to Enjoy
We've got an enormous collection of Christmas puzzles that you can print off for odd moments ...

Christmas Puzzles

Some Christmas Music:
Where Are You Christmas? Just beautiful!
And for something completely different .... an oldie - but a goodie! All I want for Christmas ...

A Game to Play
Please note: If you click on the Game link below you will be leaving Activity Village. Lindsay checked the link and tried the game on 1st December, but is not responsible for the content you find.
This Snowflake Factory lets you create your own snowflake (choosing the number of "wedges" first, which is a fun). Then spin it, melt it, create a snow storm, or even explode it!

The Snowflake Factory

And Finally:
"The best of all gifts around any Christmas tree: the presence of a happy family all wrapped up in each other."
Burton Hillis

Don't forget to come back tomorrow for Day 8 of the Advent Calendar!