This Advent Banner is a very clever idea - a mixture of a banner and advent calendar, as well as a potato printing activity, a painting activity, and a cutting and colouring activity! That makes it an advent calendar craft that ticks a lot of boxes!
Making the banner will keep the children amused for a good afternoon, and the fun will last right the way through December as they open an envelope a day to reveal its message. You can even keep it going right through until the New Year!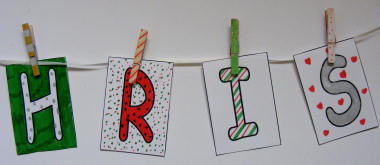 You will need:
24 small envelopes
Paint
Glitter
Potatoes
Pens
24 wooden clothes pegs (we decorated ours with acrylic paint pens)
Ribbon
Our printable Advent Banner (scroll down) or 24 pieces of card or postcards
Instructions:
Decorate the pegs if you like and leave to dry.

Our pegs painted with acrylic paints
To make the advent banner:
To decorate the envelopes, ask an adult to cut shapes from potatoes. We used hearts, stars and tree shapes. Dip the potatoes in paint and stamp on to the envelopes. We only used one colour but you can use as many as you like.
While the paint is wet sprinkle glitter over and leave the envelopes to dry.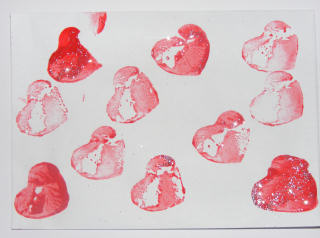 Advent banner - printing the envelopes
With a pen (metallic is good) write the numbers 1 – 24 on the envelopes.
To fill the advent calendar either use our printable, cutting out and colour the cards, or decorate 24 postcards with the letters, to fill the envelopes as follows:
Envelope 1 – W
Envelope 2 – E
Envelope 3 – W
Envelope 4 – I
Envelope 5 – S
Envelope 6 – H
Envelope 7 – Y
Envelope 8 – O
Envelope 9 – U
Envelope 10 – A
Envelope 11 – M
Envelope 12 – E
Envelope 13 – R
Envelope 14 – R
Envelope 15 – Y
Envelope 16 – C
Envelope 17 – H
Envelope 18 – R
Envelope 19 – I
Envelope 20 – S
Envelope 21 – T
Envelope 22 – M
Envelope 23 – A
Envelope 24 – S
Of course you can also pop something else into the envelopes! You might like to try some of these ideas for filling home-made advent calendars.
When finished, peg your envelopes along the ribbon in numerical order. Pin or tie up each end of the ribbon.

Our advent banner ready to go!
To use the advent banner:
Each day take down and open that day's envelope and peg up the card instead. By Christmas Eve the banner will read:
WE WISH YOU A MERRY CHRISTMAS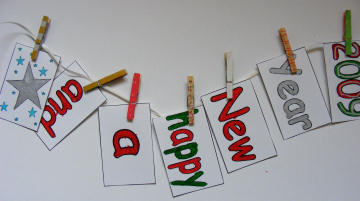 More Ideas:
Decorate a further 7 envelopes adding the numbers 25 -– 31. Print out and colour our cards or make 7 cards, one decorated with stars, five with each of the words AND, A, HAPPY, NEW, YEAR and the seventh with the date of the new year.
Fill the envelopes and peg them either to the end of the Advent banner or on a shorter ribbon to be hung underneath the main banner.