You will need to save matchboxes all year for this craft - or buy some from a craft supplier! But once made this advent chest will become a family treasure.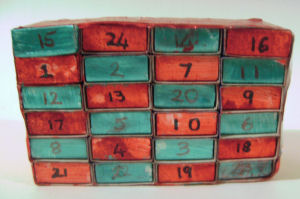 You will need:
24 matchboxes
PVA (white) glue
Wrapping paper
Paint
Pens
Take the case from each matchbox and glue together so they form a rectangle 4 by 6. This is your chest. Leave to dry.
Cover the outside of the chest in glue. Cut a piece of wrapping paper slightly wider than the chest and wrap it around carefully, smoothing any bumps. Leave to dry and then trim off the excess.
Paint the inside of the matchboxes to match the wrapping paper. Leave to dry and then slip them into the chest. These are your drawers.
Write the numbers 1 to 24 onto the drawers. Now you can fill them with whatever you like! We hide the first clue in a treasure hunt to find that day's Christmas treat (usually some stickers, or the ingredients for mince pies, or tickets to a pantomime etc).
Explore Activity Village