Antigua and Barbuda
Learn a little about Antigua and Barbuda, and print some of our useful flags, maps and other fun activities!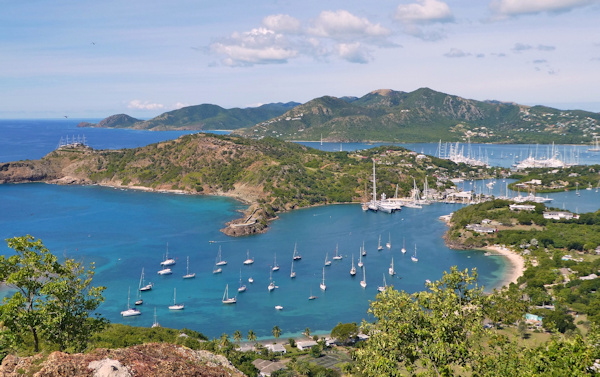 Aerial view of Falmouth Bay, English Harbour, Antigua
A Little Geography
Located in the Leeward Islands in the eastern Caribbean, this small sovereign state in the West Indies lies between the Caribbean Sea and the Atlantic Ocean.
The country is made up of two major islands, Antigua and Barbuda, and various smaller islands with lovely names such as Great Bird Island, Green Island and Prickly Pear Island. Antigua and Barbuda are separated by a few nautical miles.
The country has a population of around 81,000, most of whom live on Antigua. Its capital city is St John's on Antigua, which is also its largest port. Barbuda's capital is Codrington.
A Little History
The earliest settlements discovered in Antiqua date back to around 3000 BC and suggest that hunter-gatherer Amerindians lived there, leaving behind carefully crafted shell and stone tools for archaelogists to find around the island.
In early AD, indigenous West Indians known as the Arawaks populated the islands and introduced agriculture. They were then displaced in around 1100 AD by the aggressive Caribs.
Christopher Columbus sailed past and "discovered" the island in 1493 and named it after Santa Maria la Antigua, a Catholic saint.
It wasn't until much later that Europeans settled on the island. A lack of fresh water, and the fierce local Caribs, put them off! Finally, in 1632, the English settled there.
In 1684 Sir Christopher Codrington, an English aristocrat, arrived on Antigua and started its first sugar cane plantation, importing African slaves as labour. It was hugely successful and by the end of the 19th century, Antigua was a very important colony, both commercially (the wealth it generated) and strategically (as the "gateway to the Caribbean").
Its importance meant that Antigua had to be protected, and the British naval fleet, under the command of the famous Lord Horatio Nelson, was based there. Nelson's Dockyard was built to enforce shipping laws.
In 1834, Britain abolished slavery in its empire and all slaves in Antigua were "emancipated", or freed.
The nation gained independence in 1981. It is a member of the Commonwealth.
And Some Interesting Facts
Antigua is famous for the number and beauty of its beaches. Locals claim there are 365, one for each day of the year.

One of Antigua's 365 beaches!
Cricket is the national sport and many famous players, including Sir Vivian Richards and Curtley Ambrose, were born in Antigua.
The Magnificant Frigate bird is a large bird of prey with a wide wingspan allowing it to roam long distances over the sea to find food.
A well known dish is called Pepperpot, a rich stew of yams, pig snouts and vegetables served with a cornmeal dish called fungee. It sounds odd but apparently tastes delicious!
In September 2017, Hurricane Irma hammered the island of Barbuda. All residents were evacuated and much of the island was destroyed. You can learn more about hurricanes here.
Our Antigua and Barbuda Resources
Print our Antigua and Barbuda flags - in all shapes and sizes, as bookmarks, for colouring in and...
Lots NEW! These fun worksheets, maps and other printables encourage children to find out some facts...
Explore Activity Village