Make this pretty autumn wreath and tree using simple craft cupboard supplies. Use real leaves as templates, print some of our templates, or design your own.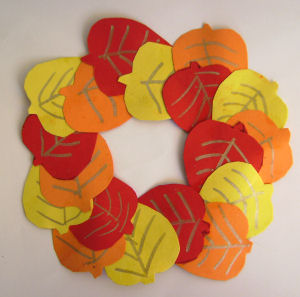 You will need:
A cardboard cone (we had a ready-made one but you can easily roll your own)
Red, yellow and orange card
Gold pen
PVA glue (white glue)
Instructions:
Cut out a stack of leaf shapes from the coloured card. You can use our design your own leaves, or trace around real leaves which you have collected from outside. Use the gold pen to draw veins on the leaves.
For the tree:
Bend the leaves and glue them in a spiral around the cone starting from the base of the cone.
For the wreath:
Glue one side of the leaf onto another and overlap them, bending them around to form a circle.
Explore Activity Village