Bahamas
What do you know about the Bahamas? We've pulled together a few interesting facts here, to share with the kids. Scroll down for our Bahamas flag printables and flag colouring page...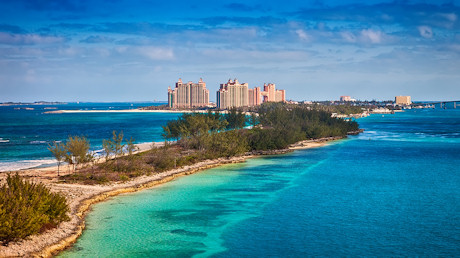 Paradise Island, Nassau, Bahamas
A Little Geography...
The Bahamas are an archipelago of over 700 islands and 2400 cays and islets. Located off the south east coast of Florida, above the island of Cuba, the Bahamas stretches over a wide expanse of ocean.
Only 30 islands are inhabited with the vast majority of the 350,000 Bahamians living in the capital Nassau, on the island of New Providence.
The islands have a warm tropical climate, but, like much of the Caribbean, are vulnerable to tropical storms from June to December.
In 1992, during Hurricane Andrew, winds reached 160mph and caused $250m of damage.
A Little History...
Nassau was originally a pirate harbour named Charles Town. Blackbeard, the famous pirate, built his house here In 1697!
The Bahamas were originally settled by Cubans in 300-400AD and the Lucayans from 900-1400 AD. They were visited by Christopher Columbus in 1492, who named the islands of the shallow sea 'baja mar'.
The Bahamas became a British colony in 1717.
George Washington visited in 1760.
The Bahamas became independent in 1973.
And Some Interesting Facts...
Tourists flock to the famous Junkanoo carnival each December to enjoy colourful costumes and street parades. Some people believe that the carnival dates back to a holiday given to slaves in the 18th century; others believe it derives from the French for 'gens inconnus' or unknown people, referring the masks that were traditionally worn.
The Abacos islands attract sailors from around the world.
Divers come for the coral reefs which contain shipwrecks, sharks and turtles!

Green turtle in the Bahamas
Amongst many native birds is the Bahamian parrot, an endangered species.
Seafood is very popular, including conch and rock lobster. You can also eat a tasty soup called souse made from vegetables, lime juice and meat.
Film actor Sir Sidney Poitier came from Cat Island, although he was born whilst his mother visited Miami. Tonique Williams-Darling won the 400 metres gold medal in 2004 and has had a highway named in her honour.
Ernest Hemingway lived on westernmost island Bimini. Located just 53 miles from the US mainland, this former pirate haven was used by rum smugglers during the prohibition in the 1930s.
Our Bahamas Resources
Print the flag of the Bahamas in all sorts of shapes and sizes! Colour it in, cut it out and stick...
Lots NEW! The kids can learn about the Bahamas, get creative and test their knowledge - perhaps...
More to Explore...
The Bahamas were home to pirates, including the notorious Blackbeard! Have you explored our pirate activities?

Pirates
Divers explore the coral reef. You can explore our Sea Creatures section!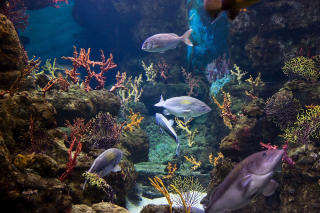 Sea Creatures
Explore Activity Village