When you light a tea light in this pretty beaded candle holder, no-one will guess that it is a recycled glass jar! Use pretty glass or plastic beads for a lovely stained-glass effect.
You will need:
A small glass jar Craft wire Beads
Instructions:
Wrap the wire tightly around the top of the jar. Make a loop of wire over the top of the jar to make a handle. Feed under the wire around the jar rim and pass back over to make another loop. Twist the two loops together.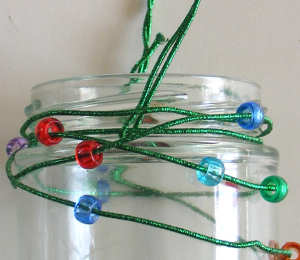 Feed some beads on to the wire, widely spaced out.
Twist the wire around the body of the jar. When you have wrapped around all of the wire, twist the end into the wire around the rim to hold everything in place.
Older children can try making a much more intricate design using very thin silver wire and looping it around the beads to keep them in place. Silver and "pearl" beads look very pretty at Christmas.
Explore Activity Village