Beethoven
Learning about Beethoven? Start here with our simple biography and collection of colouring pages and printables for kids!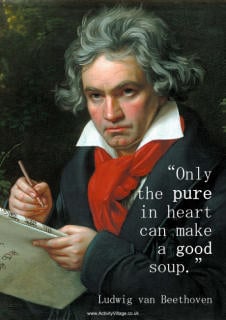 Ludwig van Beethoven, 1770-1827, we born in Germany. His father was a singer, and it was obvious early on that Beethoven was a musical genius. As a child he travelled and performed, and soon started to support his family.
As a young man Beethoven moved to Vienna, intending to study under Mozart. He did study with and befriend Hadyn, and soon his career as a brilliant pianist, conductor and composer took off. In fact he was the first musician who managed to make a living from his music without being employed by a king or noble and working for the court.
At age 30, Beethoven began to go deaf, and soon was unable to play the piano or conduct any more. He carried on composing, however, and produced some of his best music after he had lost his hearing completely.
Beethoven was a difficult, bad-tempered and emotional man but he also had a circle of very close friends who helped him deal with his worst times. In his later years people communicated with him through his "conversation books": they would write to him and he would reply, either by speaking or writing. Although many of the 400 or so books he filled in this way were destroyed, enough remain that we have good insight into his later years.
"Music should strike fire from the heart of man, and bring tears form the eyes of woman."
Ludwig van Beethoven
Explore Activity Village