Belize
Find out a little about the fascinating country of Belize with our potted geography, history and interesting facts! We also have a full set of flag printables (including bookmarks, notebooking pages, jigsaw and flag colouring page).

Altun Ha, Mayan ruins in the tropical jungle of Belize
A Little Geography...
Belize is a continental country in north east Central America, bordering Mexico and Guatemala. It is the only state in the region with a British colonial past, and it combines the cultures of the Caribbean and Latin America.
There are two distinct regions: mountain plateau in the south, and river carved lowlands in the north.
Belize has the lowest population density in Central America, with only 356,000 citizens.
Belmopan, the capital , was built in the 1960s after Hurricane Hattie destroyed most of Belize City.
A Little History...
Belize was settled by the Mayan people from around 1500 BCE. At the peak, between 200 and 900 CE, 1- 2 million Mayans lived in large cities, featuring immense stone pyramids! The remains of some of these pyramids can be seen today.
Spanish conquistadors imposed colonial rule until the British took over in 1798. The country was known as British Honduras until independence in 1992.
Mayan peasants continue to live in southern Belize. They maintain ancient beliefs - for example, that the ceiba tree is sacred to life and holds up the sky.
And Some Interesting Facts...
In Belize there is an amazing diversity of animal and plant life. The second longest coral barrier reef in the world runs off the coast, dotted with atolls and cays.The reef supports over 500 species of tropical fish!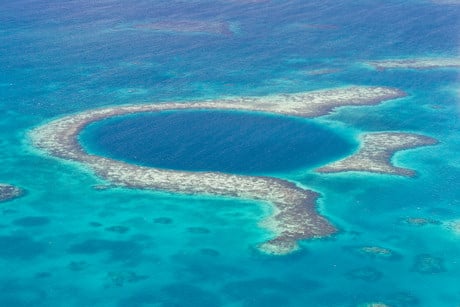 The Great Blue Hole off the coast of Belize. The hole lies in the centre of the Lighthouse Reef, about 70km off Belize, and is 300m wide and over 100m deep. The Great Blue Hole was made famous by the legendary diver Jacques Cousteau, who declared it one of the top 10 scuba diving sites in the world.
Keel-billed toucans, with coloured beaks, can be found in the rainforest, along with jaguars and tapirs.
Chicken escabeche, flavoured with vinegar, peppers and spices and served with corn tortillas, is a favourite dish.
Chewing gum is made from the bark of the sapodilla tree which grows in northern Belize, Guatemala and Mexico.
Our Belize Resources
Belize has an unusually detailed flag which catches the attention! We've got free printable...
Lots NEW! Finding out about Belize? Our fun worksheets and printables, including outline map and...
Explore Activity Village