My seven-year old has been going through a bit of a drawing phase lately. So much so that we actually moved a little table to just next to my desk so that he can draw and chat while I am working on my computer. He loves it. But the one thing that he often struggles with is a starting point. What to draw? And he can spend ages just trying to decide. So I thought a few drawing prompts might be a good idea. I download a number of different Whose Wheels? pages and Whose Feet? and he loved the idea. He sat for ages at his table and created both realistic and some rather "fantastical" vehicles.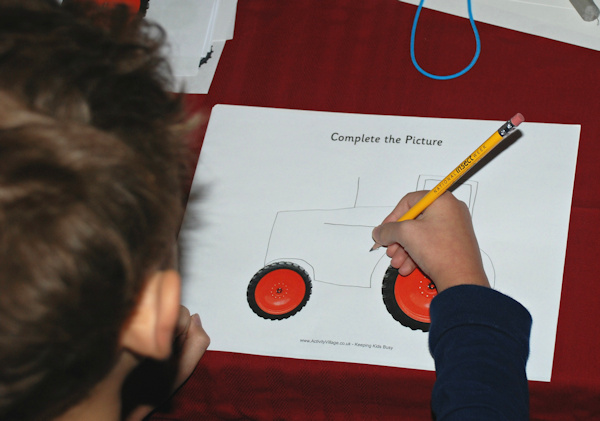 Working on a Complete the Picture Tractor page
So when I asked the kids want they wanted to do for an arty / crafty session my son immediately asked if we could use the "complete the picture" pages. We had a quick look and they both loved the idea of the monster ones – we don't really do scary monsters but these pages were perfect as they allowed the kids to make the monsters as scary or as cute as they wanted. I printed ours out in black and white but there is also a colour version.
My son seemed to stick to drawing his monsters.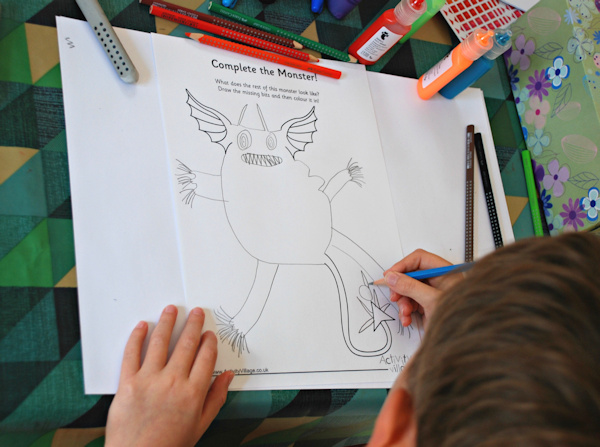 Using a complete the monster page to draw his own monster

The finished monster - spectacular!
He also had a go at creating an interesting monster covered in google eyes.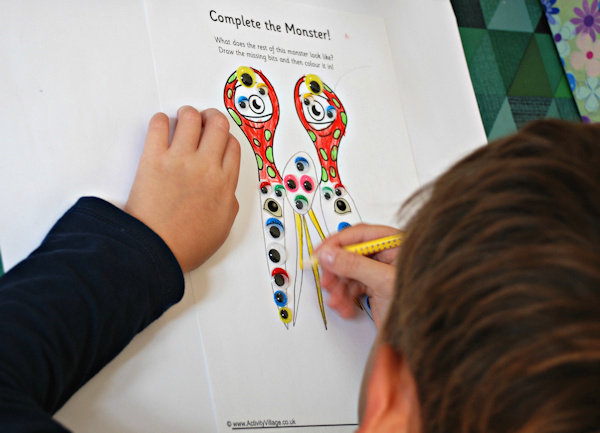 Adding googly eyes to this monster!
He says the idea was that it was an "octopus – type – monster that can see in all directions.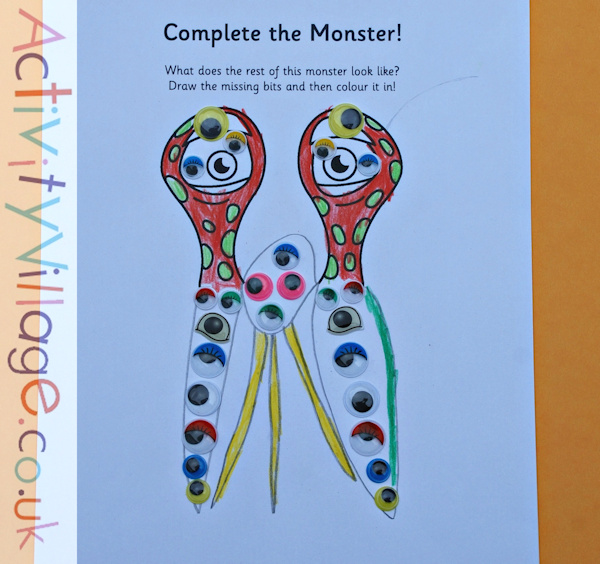 The finished "octopus" monster - looking in all directions!
And he could not resist having another go at one of the transport pages again (honestly these tractor / truck wheel pages have been printed out over and over again).

Drawing a safari truck using a "complete the truck" wheels printable
My daughter loves colour and she definitely seemed to go more for the crafting approach to her monster pages – lots of bright colours.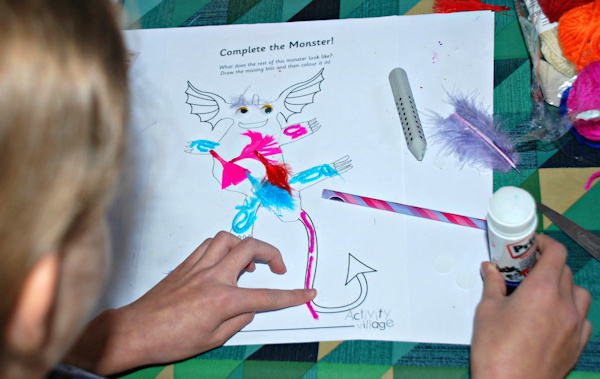 Complete the monster - her collaged dragon in progress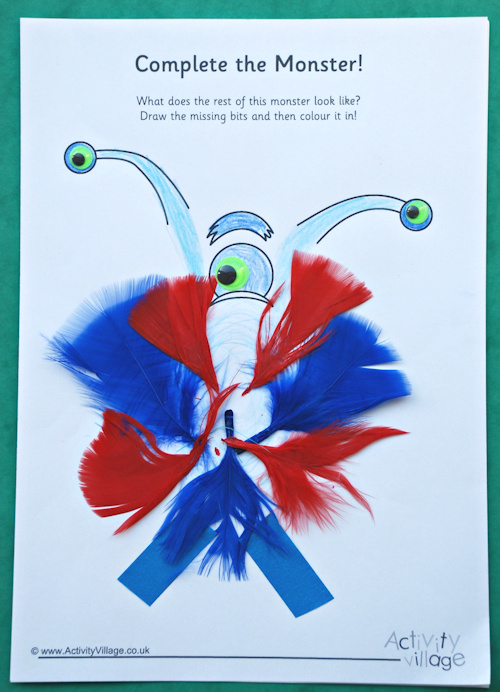 Complete the monster page finished with collaged feathers
She did say that she was finding using crafting feathers a bit hard to work with as they never really fitted into the shape she wanted but she persevered and eventually ended up switching to wool.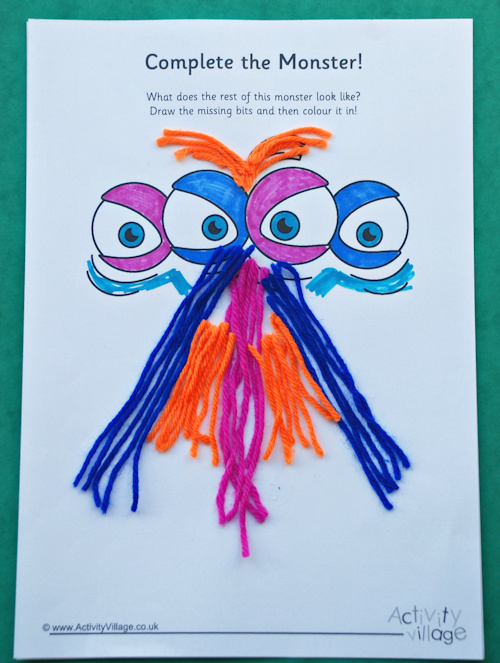 Complete the monster page finished with wool
My daughter actually ended up liking the wool. I think from a sensory perspective she really liked the feeling and found it calming to work with as she could get the wool to create shapes and contours within shapes (her words). So she ended up asking for another complete the page but she wanted one that would work with wool. We had a look and found the Whose Feet (Mummy) page. As soon as she saw it she wanted to create a woolly mummy. She is currently reading a book about a mummy who travels in time and does not think mummies are scary at all – not sure I agree but…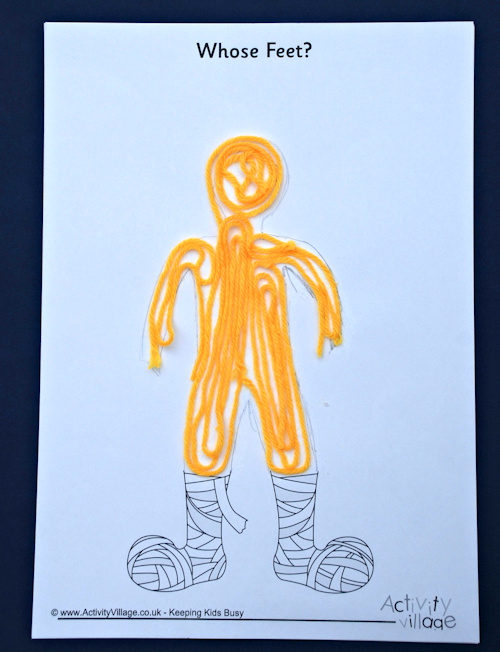 Whose feet mummy collage with wool
But I do think her idea of a Woolly Mummy was a good idea.

Complete the monster drawing in progress

Complete the monster drawing and collage finished!
I must admit looking back at the different monsters created, my son's are definitely more the type I would not like to meet whereas my daughter's kind of make me want to give them a cuddle!

This is a guest post from Shelly. Shelly is a home educating parent of two children aged 6 and 9. She blogs at ofamily learning together where she shares ideas on the different learning activities that they do including lots of hand-on Maths, arts and crafts and anything else that is part of their home educating lifestyle.
You can find more guest posts by Shelly, and a list of all our guest posts, here.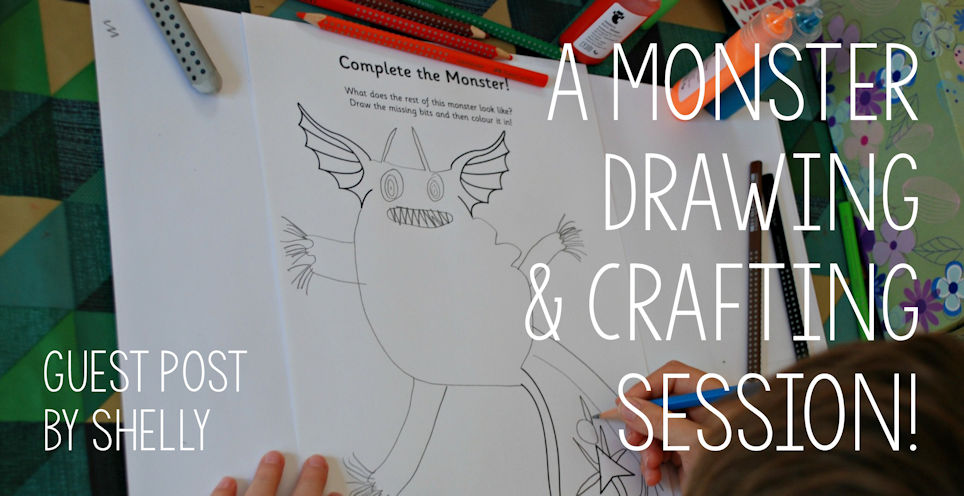 Thursday, 11th October 2018