I thought that the counting petal flowers were really fun and cheerful so I had a look to see if I could find something similar but with letters on them. And I found these lovely summery butterfly letters. You can download them in both upper case and lower case letters but I just stuck with lower case letters for this post because the kids always learn lower case letters first. I went with the same idea as the flowers and stuck our butterfly letters onto some craft sticks.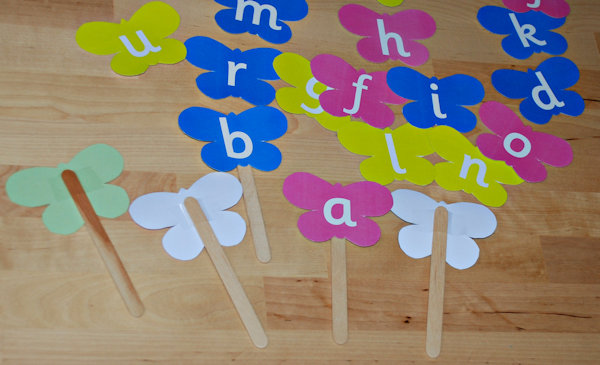 Butterfly letters attached to craft sticks
There are a number of different activities you could use these letter for, such as learning which letter says which sound, placing them in alphabetical order or matching the upper case letter to the lower case letter. I wanted to use them to make CVC words - 3 letter words which follow the pattern of Consonant, Vowel, Consonant.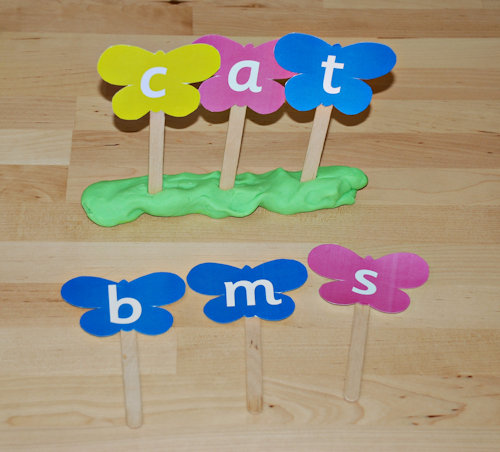 Butterfly CVC words in playdough
I still liked the idea of planting the sticks into the playdough just because kids love using playdough - but I would take this a bit further and encourage the kids to use the playdough to recreate some of the letters.

Making a letter in playdough
They can also have a go at swapping out just one butterfly stick to form a brand new word.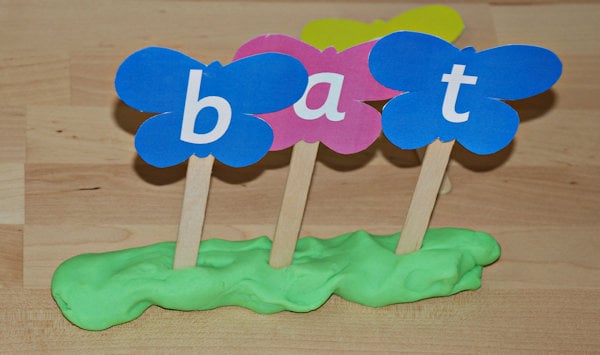 I think the letters on the craft sticks work really well with this idea of "lets just change the first letter and see what we can create". My kids loved figuring out which words rhymed and creating nonsense words that rhymed.
I like the tactile input that the kids get from building letters with the playdough and I found with mine the more they used their hands when learning their letters the more the shape of the letters seemed to stick.
We also really enjoyed writing our letters in flour. Pour some normal baking flour out onto the table and let the kids use their fingers to write some letters in it.

Copying letters in flour
It can get a bit messy but it really is a fun way of writing letters and what we loved was mistakes just get covered up and they can try again.
When my kids were learning how to write letters we also found coloured rice a great medium to write their letters in. Just make sure you let the rice dry properly overnight so the food colouring does not get onto the kids hands!
I also thought the design your own butterfly page would be a good to use with the letters. I placed ours inside a write-and-wipe pocket but you could also laminate the page. Then they can write as many letters as they want over and over, covering the butterfly wings.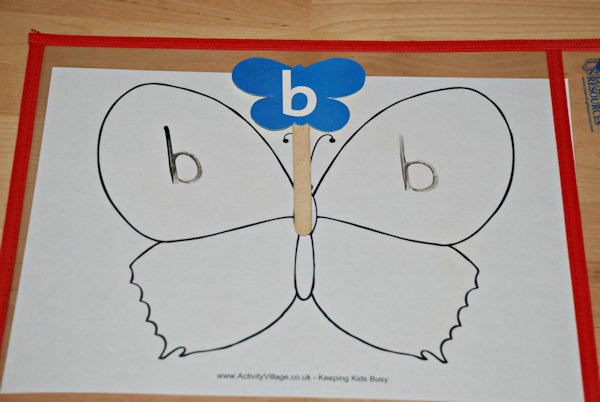 Practising writing letters on the butterfly wings
I really like these butterfly letters stuck onto craft sticks! I think the possibilities are endless and if you have the count your petal flowers from last weeks post the two are great to use together.

Butterfly letters and count the petal flowers

This is a guest post from Shelly. Shelly is a home educating parent of two children aged 8 and 10. She blogs at ofamily learning together where she shares ideas on the different learning activities that they do including lots of hand-on maths, arts and crafts and anything else that is part of their home educating lifestyle.
You can find more guest posts by Shelly, and a list of all our guest posts, here.