We are definitely in a Christmas zone at the moment. Everything seems to be sprinkled with a bit of Christmas so I thought it would be good to encourage the kids to extend their Christmas mood into a bit of festive writing.
The kids suggested that we start by making a Christmas themed story mountain (I will admit our skeleton story mountain was still hanging up). My daughter selected a Colouring Quote page for the centre picture and I do think the quote works well in a writing activity.

Working on the colouring picture to go in the middle of the story mountain
After she had finished colouring in the page. we stuck it down on a large section of rolled paper and then wrote out our 5 story mountain headings – Introduction, Build-up, Problem, Resolution and Ending. Then we discussed possible examples that could go under each heading. How would they like to introduce a Christmas story? And they came up ideas like – It was the Night before Christmas, or I woke up to snow etc.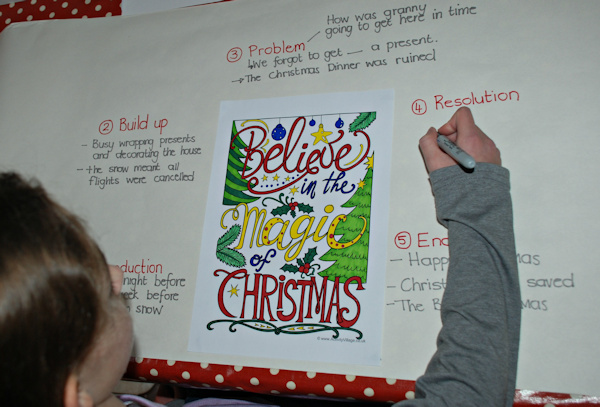 Working on her Christmas story mountain
Just talking about what would fit under each heading and jotting down a few ideas really got my daughter thinking about possible story ideas (if the kids are stuck for an idea we have found doing this can really help).
Then I suggested she start with one of the story starter pages but my little writer informed me that she first wanted to think about her characters and some key words.
For her key word brainstorm we used a Christmas tree writing frame and she just wrote a bunch of words down that reminded her of Christmas. It was a quick exercise but she finds it helps.

Jotting down words for her Christmas story
For her characters she wanted to include a Christmas angel and an elf who are apparently friends. So I gave her some of the Christmas Character writing pages (I had actually already printed them out for a different project and I suspect she had spotted them at the printer which is possibly why she got the idea of the Christmas angel and the elf being friends).

Brainstorming with Christmas character writing pages
Once she was happy with her character pages she then went onto a story starter page.

Chirstmas story starter page
One of the "activities" we have found useful with her writing is that we often use the same start starter page a couple of times and then I give her a challenge to change the original story that she wrote in a certain way. It can be to change it from an animal rescue story into an adventure story or it can be that she needs to change one of her characters. It can be an interesting exercise as they can see how just changing one character or one event can have a big impact.
While she was busy with her character pages I helped my son work though a few of the Christmas setting pages. We really liked the set-up of these. he picture in the middle gave him lots of great ideas and the questions included on the page were really good prompts. We tended to just write down key word / key phrases but it really helped him think about possible scenarios.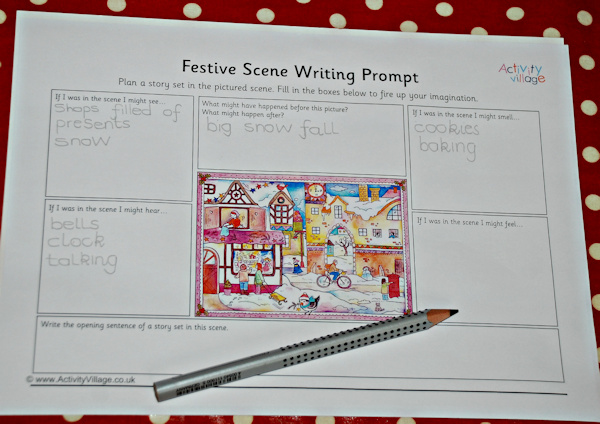 Festive scene writing prompt page completed

This is a guest post from Shelly. Shelly is a home educating parent of two children aged 6 and 9. She blogs at ofamily learning together where she shares ideas on the different learning activities that they do including lots of hand-on maths, arts and crafts and anything else that is part of their home educating lifestyle.
You can find more guest posts by Shelly, and a list of all our guest posts, here.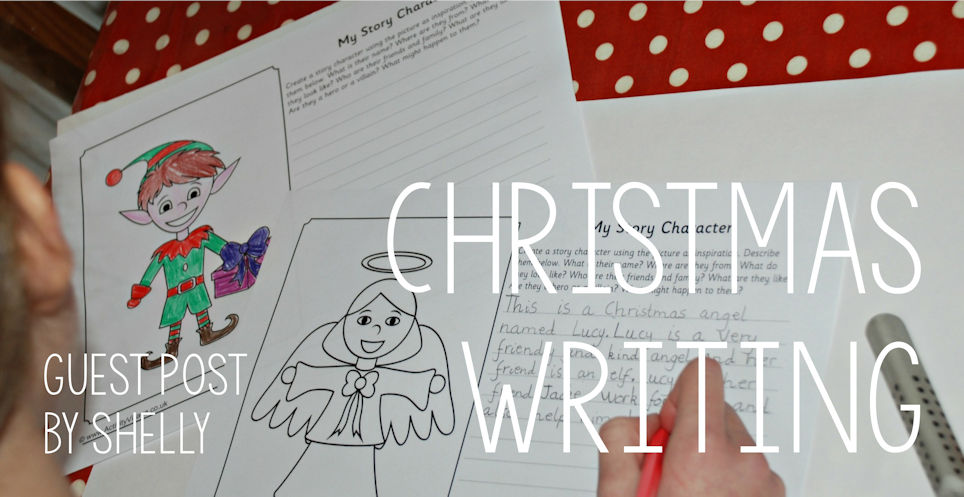 Sunday, 16th December 2018