Do you and your family love baking together? In this guest post Shelly and her children enjoy designing, baking and decorating some yummy biscuits!

---
Designing and Baking Biscuits
By Shelly
The kids and I love baking together and it has become a bit of a weekend tradition that we bake something yummy to eat for the weekend. I think it started as a weekend tradition because then their dad would be home to eat the tasty treat plus he would be on hand to help with the cleaning up afterwards! Lets just say that creative, tasty baking normally results in quite a mess!
We started baking together when they were really very little. Initially I would just buy store baking mixes and they would add in the eggs, water and then mix it all together. But even when it was as simple as that they always loved mixing everything together and watching it go into the oven and then come out transformed into something delicous to eat. Over the years we have moved onto more complex recipes and we have even included some maths with the baking: getting the kids to halve or double the mixture, and, more recently, asking my oldest to adjust the ingredients so that a recipe for 12 can now serve 16 or 8. Anyway, the point is that baking is always a hit. So when I heard that there is now a day called National Biscuit Day I immediately thought it was another good excuse to do some fun biscuit decorating.
I suggested to my son that he might want to think a bit about the biscuits before we bake them and gave him the Design A Biscuit Challenge page to use. There was a definite dinosaur theme to his designs and I must admit I was a not quite sure how we would recreate his dinosaur drawings! But I was glad he enjoyed the whole creative process.

Designing dinosaur biscuits

A close-up of his dinosaur biscuit design
We stuck with a really basic cookie dough recipe and then divided it into half so that we could create a chocolate batch (we just added coca to the mixture) and a normal cookie dough batch.
My son stuck with his dinosaur biscuit idea but he decided it would be easier to use the dinosaur shape biscuit cutters that we have.

Cutting out dinosaur biscuits
Once they were baked he used an icing nozzle to create some extra detail on the dinosaurs but he did not like the end results - I think the nozzles that I had where too big.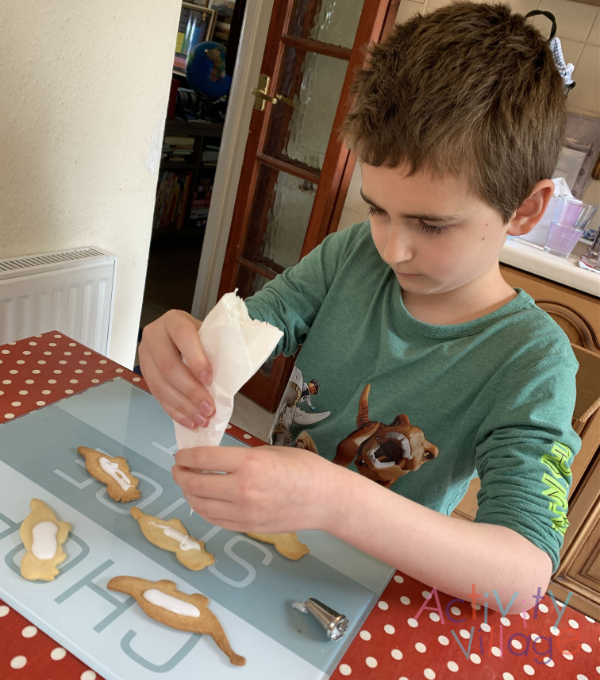 Using an icing nozzle on his dinosaur biscuits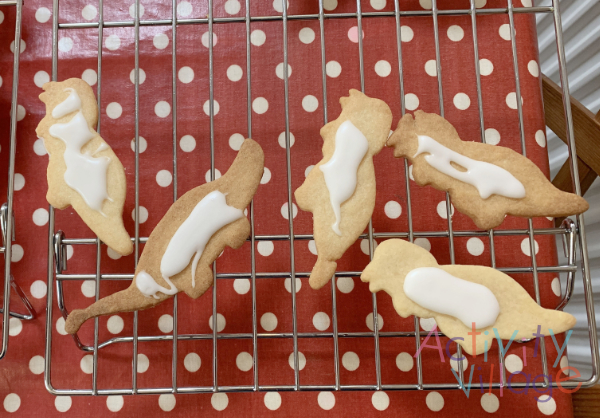 He was disappointed with the result
His sister joined us and went for some basic shapes because she wanted to try and create some "sandwich biscuits" – her idea was to use two identical shapes and then attach them together with some icing in the middle and decorate the top.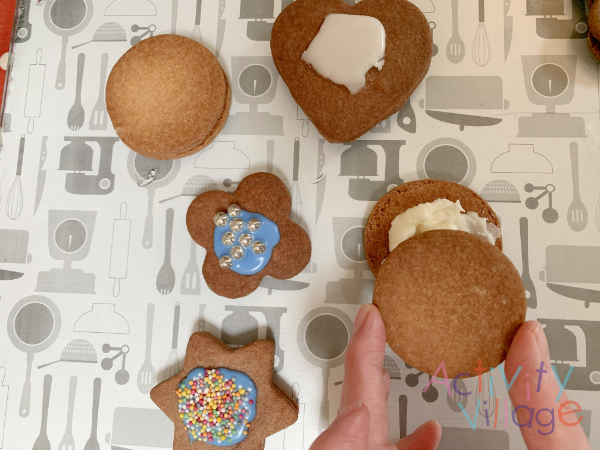 Her sandwich biscuits in progress

Her finished sandwich biscuits
I must admit a lot of the decorating ideas did not turn out as they wanted! But everyone had fun and we made some very tasty biscuits ... even if there was some snacking during the whole decorating process!

A quick snack!
And now we have quite a lot of biscuits to enjoy with our tea.

Lots of biscuits for tea!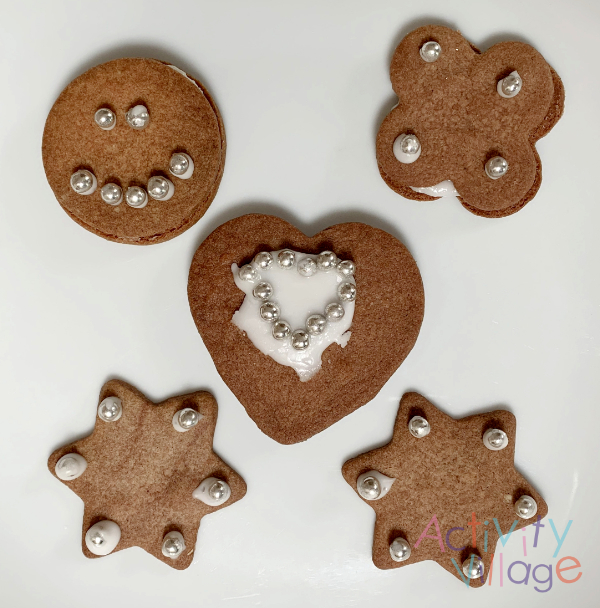 Finished biscuits - yum!

This is a guest post from Shelly. Shelly is a home educating parent of two children aged 10 and 12. She blogs at ofamily learning together where she shares ideas on the different learning activities that they do including lots of hand-on maths, arts and crafts and anything else that is part of their home educating lifestyle.
You can find more guest posts by Shelly, and a list of all our guest posts, here.