Shelly and her family have fun practising symmetry using Easter-themed printables and templates from Activity Village in this guest post.

---
Easter Symmetry Activities
By Shelly
I feel like Easter has kind of crept up on us, not sure why, possibly just because we have been busy with our normal weekly activities. But finally this past week we have started with a few Easter activities.
We have been talking about symmetry lately so I downloaded some Easter themed symmetry copy pages (you can download these with a grid or without a grid - we like the grid).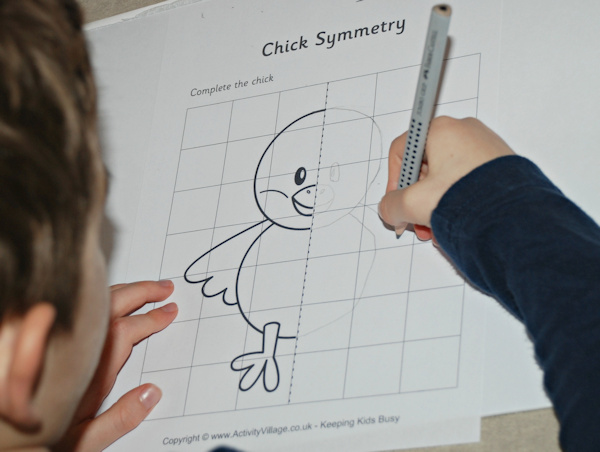 Working on the chick symmetry page
If the kids struggle with this we have found encouraging them to mark a few intersection points before they start drawing helps.

Chick symmetry worksheet completed
While we were busy drawing these we started chatting about symmetry art and no big surprise both kids remembered making symmetry butterflies (that craft activity where the kids paint one side of the butterfly and then fold it so that the paints transfers onto the other side). So we thought we could try a the same idea with some eggs.
We first folded the page and then the kids outlined one side of the egg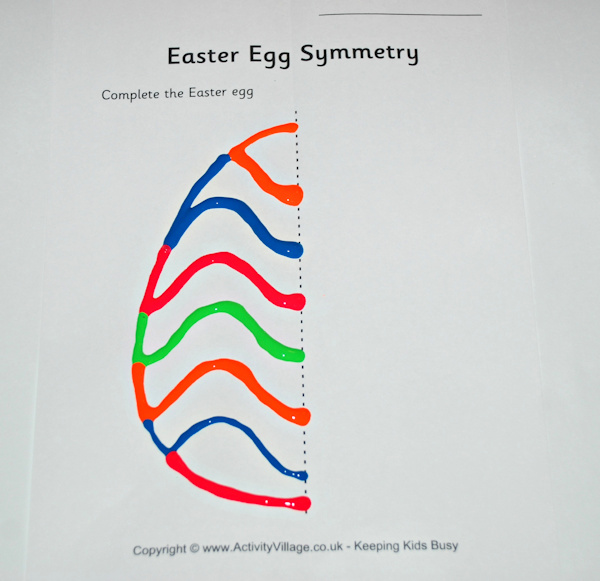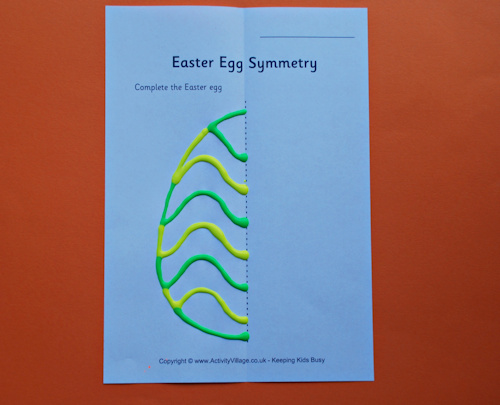 And we folded the page and pressed down so that the paint would transfer and we got our symmetrical colourful Easter eggs.
With this method when you press down and transfer the paint some paint is going to move about so the end result often has some extra blurry lines.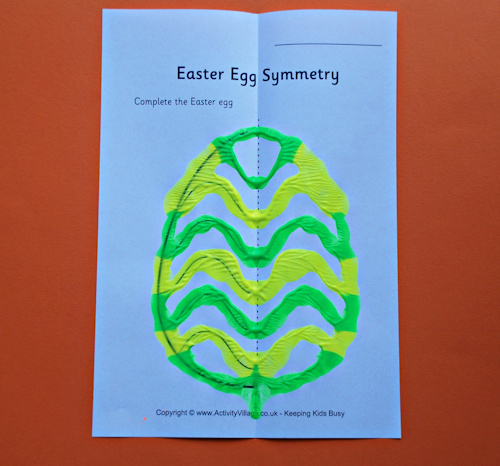 After trying a few of these eggs we thought we would also try and make our own symmetrical eggs. We started by downloading this egg template and for printed onto some coloured paper. Then we cut our eggs out and folded them. We have found it is easier to do the cutting and folding before you start applying wet paint. If the kids paint multiple eggs on the same piece of paper they often end up smudging the paint which can be frustrating for them ,so separate eggs just tend to work better for us.
Our idea was to only stick to two colours for each egg. And we would decorate one side of the egg with one colour and then try and copy it on the other side with the second colour. You can use paint for this or the kids could use felt tip pens. My son initially struggled with the paint and actually used his pens for a few just to get the hang of it and then went back to paint again – and my daughter first drew her pattern on the eggs in pencil and then applied the paint.
For our eggs we used the paint in plastic bottles that the kids squeeze out – great for hand strengthening. But you could also use a paint and brush for this or even make it into a collage activity where the kids stick crafting items onto the eggs – buttons, ribbons, beads anything really could be used for crafty symmetry eggs.

This is a guest post from Shelly. Shelly is a home educating parent of two children aged 6 and 9. She blogs at ofamily learning together where she shares ideas on the different learning activities that they do including lots of hand-on maths, arts and crafts and anything else that is part of their home educating lifestyle.
You can find more guest posts by Shelly, and a list of all our guest posts, here.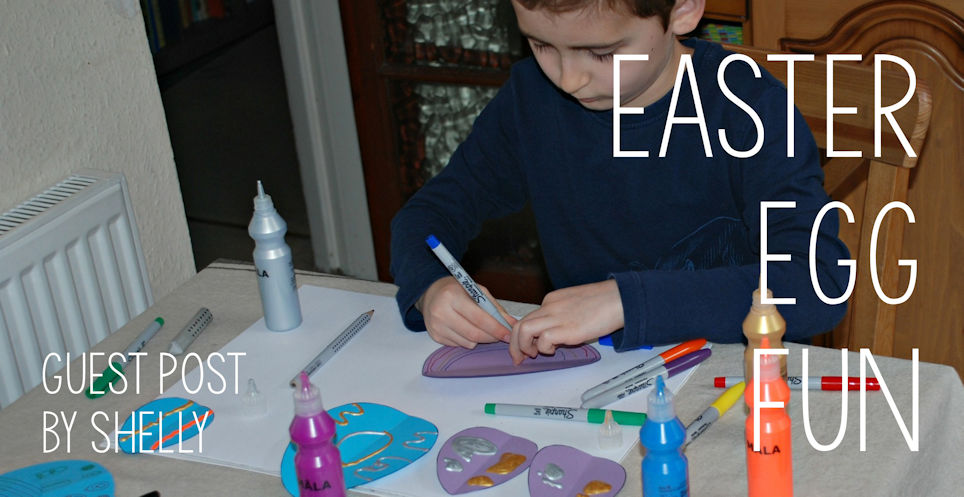 Thursday, 18th April 2019