Last Halloween I took my youngest son to a fancy dress party at the local park. The winner of the fancy dress competition was a little girl dressed in a stunning black, purple and cerise pink frilled dress, with matching flower headband and veil. She also had pretty, but slightly scary skull makeup! I recognised that her costume was based on Day of the Dead (or Dia de los Muertos), a Mexican festival celebrated around Halloween, but I didn't know much else about it. My son was also interested to learn a little more too, so we were excited to try some of the new Day of the Dead activities on Activity Village.
My son and I had a little read about the background of Day of the Dead together, and we learned that although the timing of this festival coincides with Halloween, the two holidays are completely separate. We also learned that although Day of the Dead might look a little scary, it's actually a colourful celebration of life and death and is seen in Mexico as a positive way to remember loved ones that are no longer with us.
Once we had read a little about the festivities and traditions, I let my son choose which activities he'd like to try.
Brightly decorated sugar skulls are perhaps the image that stands out the most about this festival, so I wasn't surprised that he chose to try some sugar skull crafts!
We started off by making a Day of the Dead Suncatcher Skull. This was a lovely, simple activity that only required tracing paper and permanent markers. We printed his favourite Day of the Dead (sugar skull) colouring page, then he placed tracing paper on top and carefully traced the outline in black permanent marker (great for practising pen control!) He then used lots of different colours to colour in the details.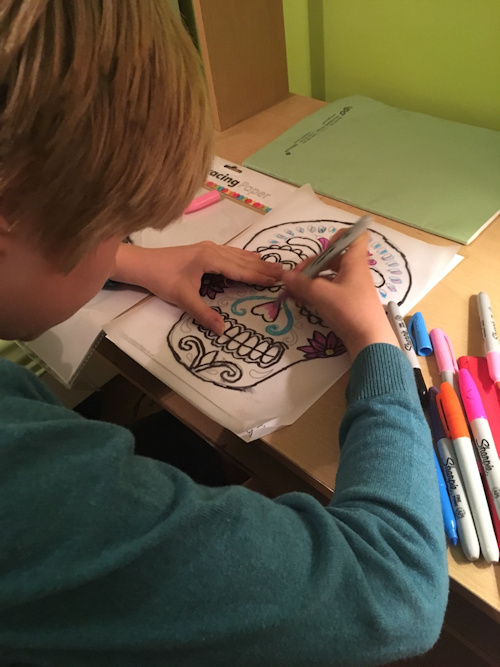 Tracing the edges and then colouring in a sugar skull colouring page
When he'd finished colouring, he cut out the skull himself (it's an easy shape to cut out). The end result was really effective, and he stuck the finished skull on his window to let the sun shine through it.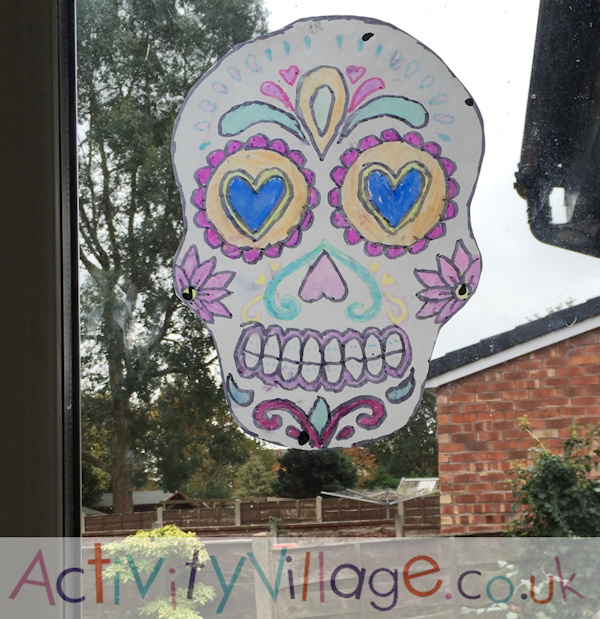 Sugar skull suncatcher up on display
After successfully making the suncatcher, he felt confident enough to try the Day of the Dead Felt Skull Craft next. I thought I would have to help him quite a lot with this, but he'd learned how to sew blanket stitch at school last year and was happy to sit on his own and practise his sewing skills! Younger children might need some help with the sewing. Sewing is a great activity for improving concentration and fine motor skills, and I found it really calmed my son down after a busy day at school.
Once he'd sewed most of the two pieces of white felt together...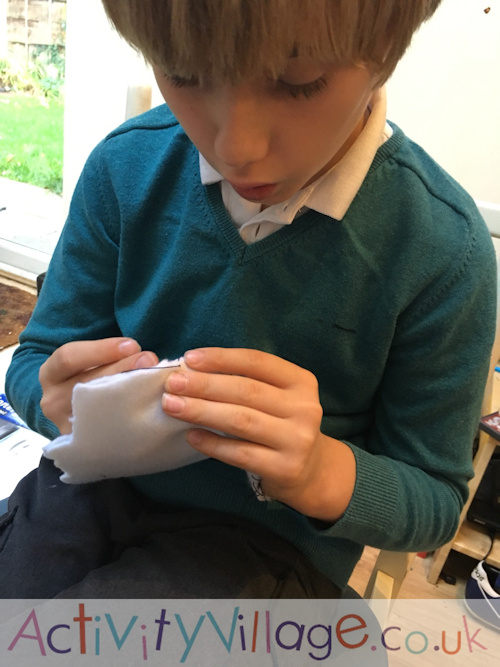 ...he stuffed the skull (using the contents of an old cushion I was about to throw away!), then finished sewing the edges.

Stuffed sugar skull, sewing up in progress
Then for the fun part! The wonderful thing about Day of the Dead is that anything goes when it comes to colour and decoration. I think many of us have craft bits and pieces that never get used, and this was a great opportunity to use them! My son decided to do the mouth of the skull slightly differently to the version on the website (he cut out a felt mouth and drew the teeth on, rather than sewing a mouth).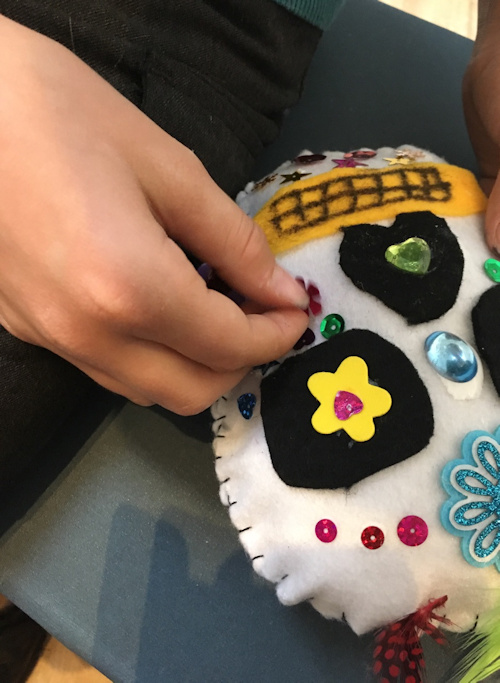 Decorating his sugar skull
He found making the skull a lot easier than he expected, and was over the moon with the end result!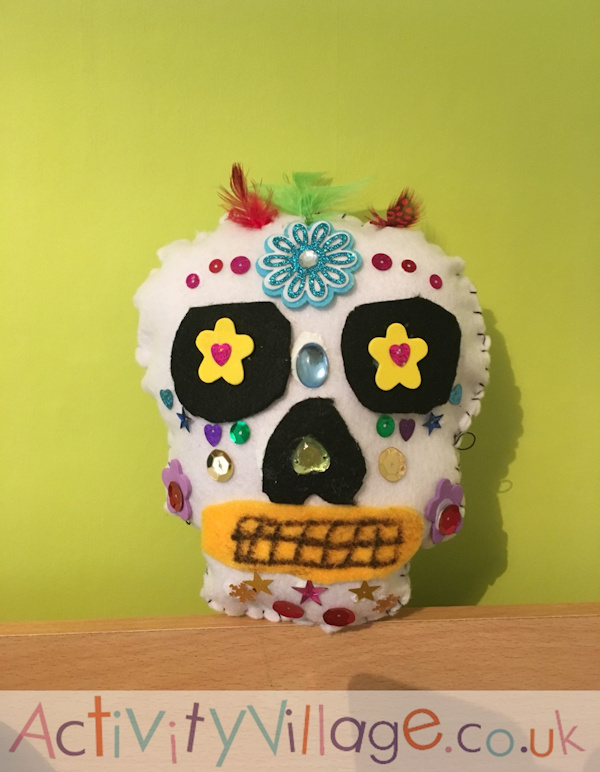 His finished Day of the Dead softie!
It's October half term here, and we're hoping to enjoy some more of the Day of the Dead activities and crafts during the holiday.

This is a guest post from Clare, who helps us by writing content at Activity Village.
You can find more guest posts, here.
Thursday, 25th October 2018