We had lots of grey drizzly days this winter, and it was hard to get out of doors. We also had a very long run of at least someone in the family having a cold, and so we needed a whole lot of activities that are easy to do with a mug of tea in one hand, and a box of tissues close by.
Thankfully, Activity Village has a whole bunch of activities that fit the bill. Normally, I go straight to the colouring or printable sections of the site. But this winter I have been having a bit of a nosey around some of the other areas of the website, and I came across the collection of pen and paper games.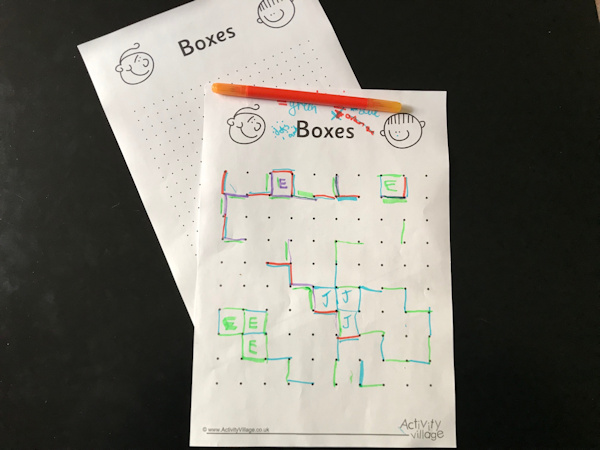 The first one we tried was good old Boxes. Being Activity Village, there's more than one option to choose from. They have three different sizes, so you can play a quick game or an epic Boxes Champion game. There are also a large handful of themed pages, so you are sure to be able to find a page to match whatever time of year you find yourself in.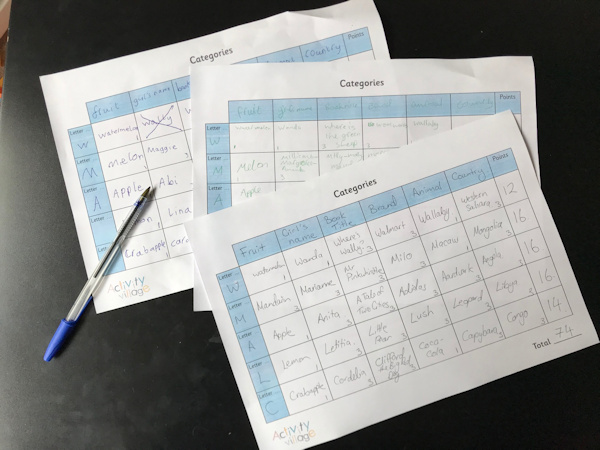 We also played Categories. This would be a fun game to play at a party, even with adults. The rules are on the Activity Village site. We had to increase the time allowance to deal with sick brains, but it's an easy game to adapt. It would also be a fun way to check knowledge of facts like places in geography, plant types, characters in history or mythology, etc. For younger kids you could reduce the number of categories.
My kids had a lot of fun with Hangman. You don't actually need a pretty printable for this, but I found it useful for two reasons. Firstly, it was a reminder to play it – I printed it out and left it lying around for my kids to find. Secondly, it was helpful for them to remember how to draw the gallows and to have a visual of what letters they had already guessed. You can cut the page into strips, making it easy to tuck into a bag to play on the go.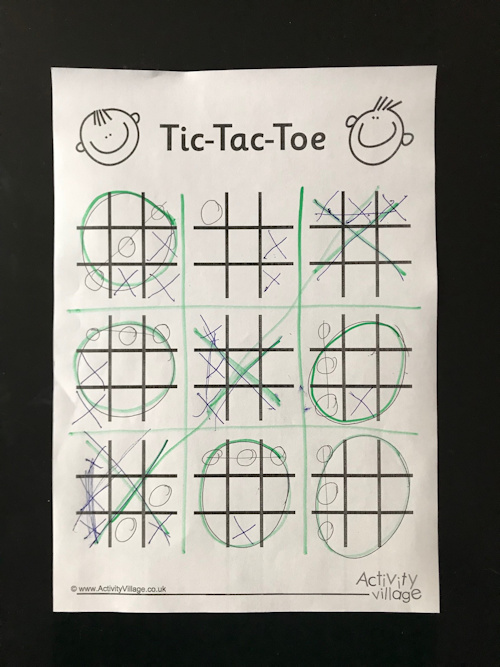 The last game we played was Tic-Tac-Toe. There are a number of options to print, but we chose the small grid, because it had nine games on the page, perfect for a game of Ultimate Tic-Tac-Toe. To play, we drew a large grid on the page so that each square had a small grid inside it. Then we started to play. The rules are fairly simple – the position you choose to play on a small grid determines which grid your opponent has to play in next. For example, if you put a cross in the centre square of one of the grids, then your opponent has to play in the centre grid on the next turn. If the grid you send them to has already been won, they get a free choice. It adds a whole lot of strategy to the game. I played with my seven year old and started off thinking that I had to go easy on her, but I quickly realised that she was quite capable of beating me all on her own!

This is a guest post from Rita. Rita is a home educating mother of four girls, aged 11, 9, 7, and 3. She blogs at Chronicles of a Disorganised Homeschooler, where she shares her attempts to at least pretend to be organised enough to manage life, and the fun that she and her family have along the way.
You can find a list of all our guest posts, here.
Tuesday, 26th February 2019