My two kids recently discovered the Secret Seven series by Enid Blyton. I think they are now on book 8 or 9 and they love the stories. They love the group of friends who get up to mischief, the fact that they have a special meeting place and have lots of fun adventures without it being too scary. When my two really get into a good story they often bring parts of it into their activities, and that's happened with these books. It started with them thinking of their own variations on the Secret Seven name. One day my daughter changed the name of the Secret Seven to the Super Seven and then they branched off into creating names for different numbers. She likes using the footprint writing page for all secret group writing activities.

Creating new group names
According to them the most important point is that the name of the group needs to start with the same letter as the number – this is apparently not up for debate. Some of the names that they made up required a quick look in the dictionary (which I LOVED) for spelling but it did not stop them and the names grew and grew. The only number which they did not use was one.

Coming up with ideas for their own group names
I remembered spotting some headquarters and badge templates so we downloaded those and printed out a few copies. The kids had a great time designing different badges. They started off making badges for the REAL Secret Seven members.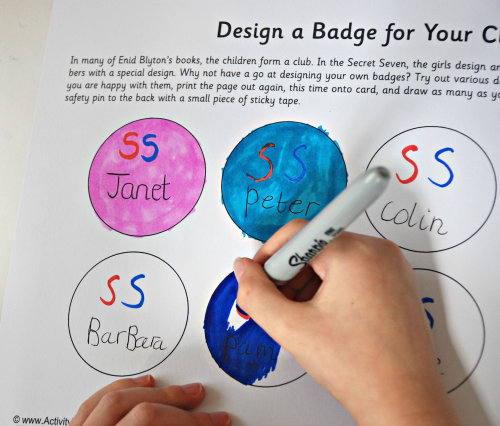 Designing club badges for the Secret Seven
(Just dig out some safety pins and the kids can wear the badges – both of mine loved this.)
And then they branched off and made some badges for their own made-up groups.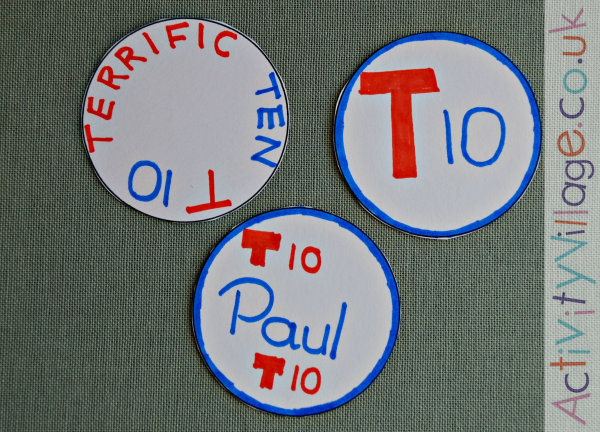 Creating their own badges
And of course if you have your own group you need a nice Headquarters sign.

The Terrific Ten club headquarters sign up in the house
We now have a few headquarter signs scattered around the house and some appear to move around the house with my two as they claim different areas for their headquarters. My kids actually turned a climbing frame that we have in our garden in a Terrific Ten Meeting place (an old sheet over a climbing frame makes a great group headquarters).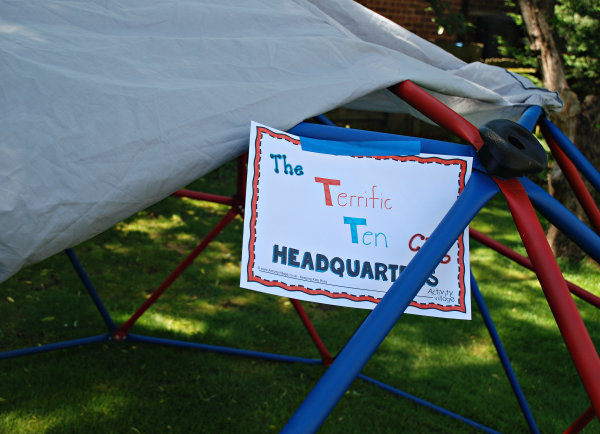 Outdoors headquarters!
And they even had a go at making some of their own rules for the group, using this club rules printable.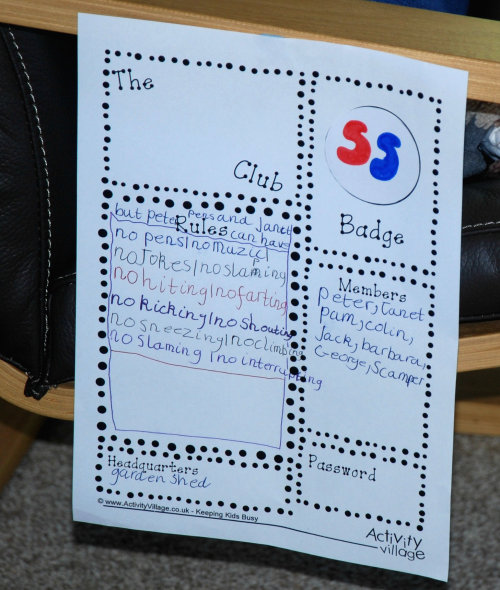 Secret Seven information sheet
But if you are going to create your own secret group then being able to write coded messages to each other is a must. I downloaded both the letter reversal coded messages and the number replacement codes for the kids to try.

Using a code buster for a number substition code
Both pages were great for the kids to practise coded messages and once they had the hang of it they happily tried to write a few of their own coded messages (sorry no photos allowed - it is after all a coded message!)
My kids have enjoyed using the Secret Seven pages. I love that the pages have encouraged them to get creative with their own groups and it has been a perfect way of encouraging my more reluctant, younger writer to get involved and write out rules and lists for his new group. The coded messages were a huge hit with him.
Oh and my son would be very disappointed if I did not mention that there is also a Secret Seven Word Search (he was very happy when he spotted this).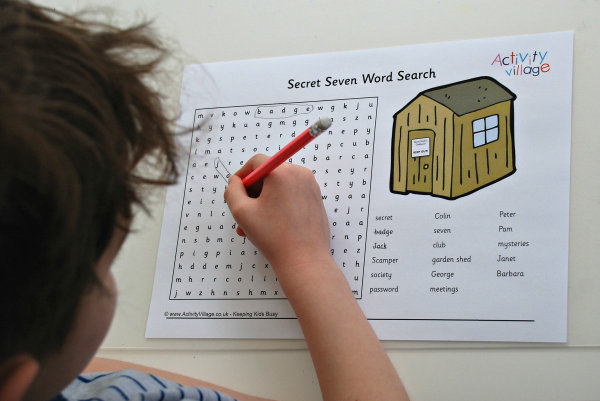 This is a guest post from Shelly. Shelly is a home educating parent of two children aged 6 and 9. She blogs at ofamily learning together where she shares ideas on the different learning activities that they do including lots of hand-on Maths, arts and crafts and anything else that is part of their home educating lifestyle.
You can find more guest posts by Shelly, and a list of all our guest posts, here.