As many of you know, besides being at Lindsay's beck and call for Activity Village and running various children's group activities (my usual blogging focus), I am mum to two boys - Jack, 15, and Sam, who by the time you read this will be 12 years old.
One of the questions that comes up time and time again is what age are our resources suitable for? We find this an incredibly hard question to answer as, with a wide global user base and a philosophy that learning should be fun, we've steered away from following a curriculum and hope people find our resources flexible. However, to give people an idea we say our resources are for approximately 2-11 year olds. I home educate Sam and continue to use our resources as supplementary materials and fun extension activities. One day I will get around to blogging about our favourites, but today I want to show you how we use some of our puzzles to play family games with teens and preteens.
My years of parenting a teen have taught me that you can't plan for cosy family time! If they are not in the mood then persuading them to participate ends up being to no-one's benefit. So quick and easy games with little equipment needed are key. In our house nothing brings my husband and 15 year old to the table quicker than the suggestion of a word game - they are incredibly competetive!
Alphabet challenges are among our favourite activities. We play them as a competition with a time limit. For the harder puzzles we are awarded a point for every letter we find an accepted answer for (lots of checking goes on) and the winner is simply the highest scorer. For categories where it is easier to come up with answers we score 1 point if you get the same answer as someone else, 3 points if your answer is unique.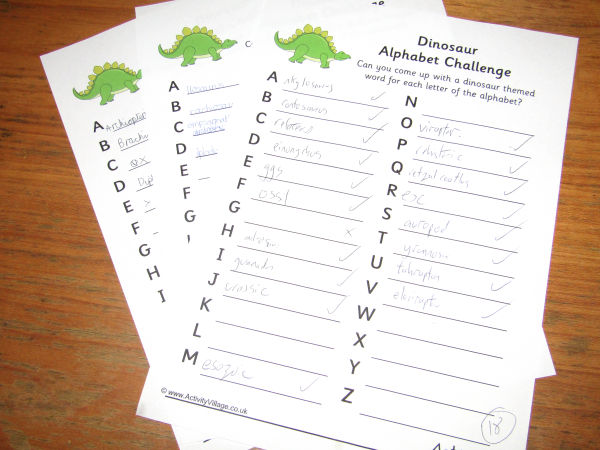 Dinosaur alphabet challenge puzzles completed - does Rex count?
Another favourite family pastime is a competition based on our Boggler puzzles. We set a time limit, usually 3 minutes, and then compete to get the most points. Sometimes, particularly if only adults and the 15 year old are playing, we only score from words that no one else has. This encourages strategic thinking and looking for unusual words. You would think the fact that I created many of the puzzles for the site would mean that I have an advantage when it comes to getting the themed words for bonus points - but you would be wrong!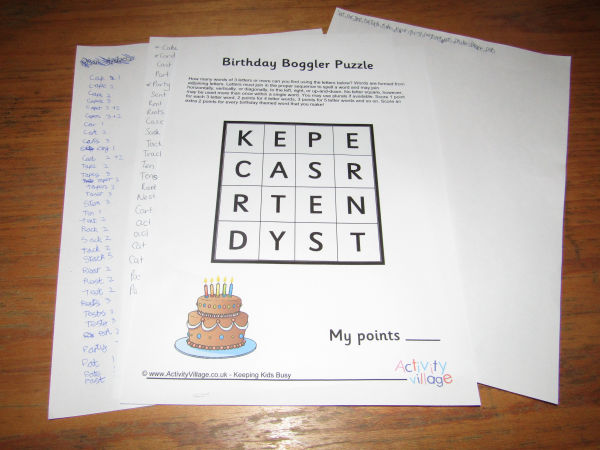 Having a go at a birthday boggler puzzle
How many words puzzles are something we enjoy too. Sometimes we compete in the same way we do with the Boggler puzzles. More often though this is a cooperative activity (with friendly competition to find the longest word) or a solo activity the boys do themselves for fun (with making rude words of special interest!)

The boys found an impressive number of words for this puzzle!

This is a guest post from Sarah. Sarah has been helping with Activity Village for over 10 years, providing most of our lovely craft ideas as well as many of our printable resources. She home educates her son, blogs at Life, Love and Literature and organises regular Group events and workshops.
You can find more guest posts by Sarah, and a list of all our guest posts, here.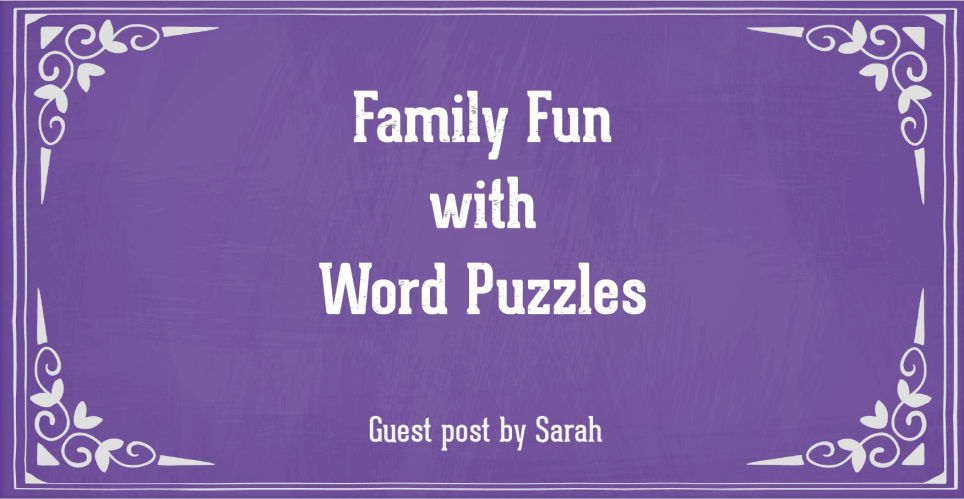 Wednesday, 15th November 2017