With only a few more days to go before World Cup 2018, I thought I'd share some ways to get children involved and excited.
The 2018 tournament is being held in Russia, and it's such a vast country meaning that there is so much to learn. I plan to do a simple country study with my children and look at where the games are being played and try to pinpoint the host cities on our map.

Finding countries in the atlas
There's plenty of information about Russia here and I plan to do a little with my own children on Moscow and St Petersburg as well as Siberia. I'm fortunate to have visited Russia so I can share some photographs with them and some of our own memories.
We have also been looking at the Russian flag as well as choosing the flag for the countries we are going to be supporting in the World Cup (Spain and Argentina for my oldest two). We have printed the flags off for the children and they've experimented with mosaic squares to decorate them – they look quite good and it's fun to get them thinking of different ways to decorate the flag.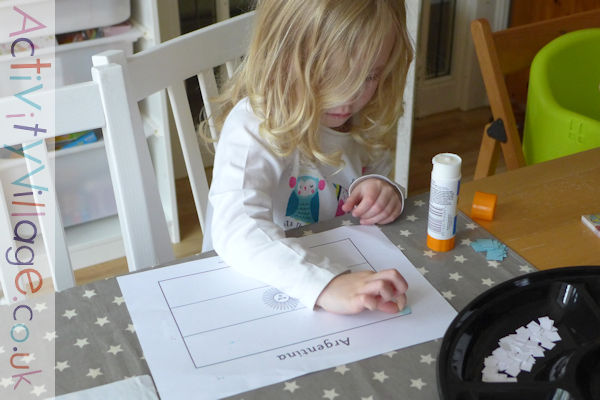 Decorating the Argentinian flag with mosaics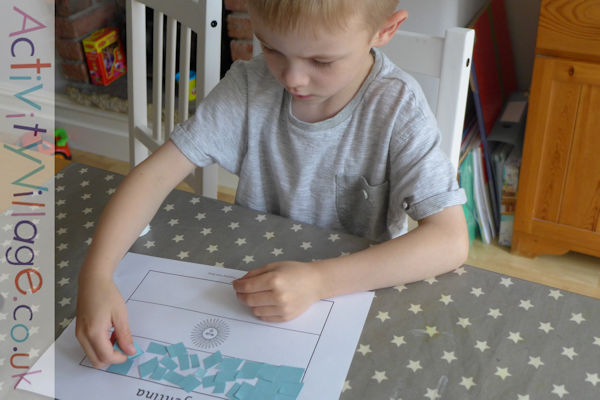 My eldest has had a go at weaving the Russian flag using a simple weaving board and strips of paper. We will also look at doing this with ribbon or wool soon and see which we think is easier to weave with – it's a good activity for developing those fine motor skills.

Weaving the Russian flag!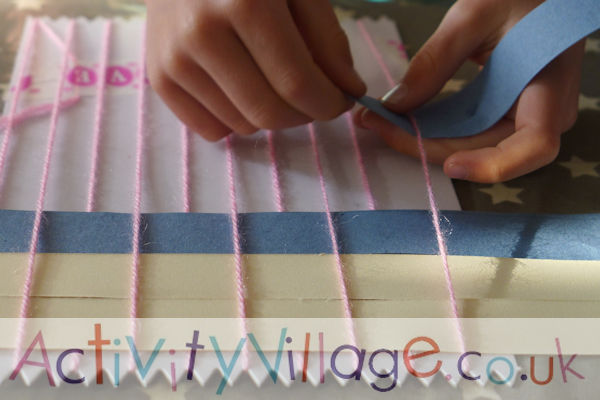 I plan to make an England flag using hama beads too and if I get chance I'll make up some playdough to have a go at recreating some of the more intricate flag designs.
The World Cup is also a good time to think about the wider world and introduce ideas such as time zone differences or learning about other countries. These little World Cup 2018 Fact Booklets are great and we have printed a couple of these out, ready to add facts to in due course. I think we might think about population size and talk about the time it is 'at home' when the teams are playing, what time is it for us, and what time it is in Russia. There is a lot of simple maths activities you can do here with time zones (calculating time differences) and even things like adding up how many teams there are from each country, the number of goals scored in each group, highest scoring teams etc.
I've also printed out some of these great World Cup 2018 Game Cards to play snap and pairs with – they're a fun way of helping children learn the flags of different countries and we also shout 'hello' in the countries language instead of snap (if we can remember it!)
The most enjoyable part of our tournament preparations so far has been discovering the 32 countries that will be taking part in the tournament using this fab map activity. There's lots you can do with this and I think we might add to our complete map with stars to mark out the countries that have won the World Cup previously and perhaps circles to mark out the countries that have hosted the World Cup finals in the past. You could also choose to colour the countries on the same continent the same colour, or those in the southern hemisphere one colour and those in the northern hemisphere another.

Colouring in the World Cup 2018 Geographical Location Worlksheet

In progress!
The World Cup offers such a wonderful opportunity for children to get engrossed in other countries – it's a great time to introduce new languages, new foods by sampling dishes from participating countries and of course learning all about different cultures.

This is a guest post from Sarah B. Sarah is a home educating mum to three children aged 5, 4 and almost 2. She blogs at Let Them Be Small where she shares details of their home education journey as well as different activities that they do, the resources they use, the books they read and anything else that forms part of their home education journey.
You can find a list of all our guest posts, here.