We love playdough at our house. My mum ran a playgroup when I was younger, and so there was always a batch of playdough being made. I use it a fair bit with my toddler while the big girls are doing their schoolwork, and while a lump of playdough in front of you can be lots of fun on its own, sometimes it's good to have an activity to do with it.
A few years ago I searched high and low online for some playdough mats to print out. I am pretty fussy with what I want in a playdough mat, and I have to say I was very disappointed with what was available. So, when I saw that Activity Village had added playdough mats to their range, I knew I had to try some.

Playdough is more fun when you sit on the table!
There are so many that it's hard to know where to start. There are alphabet mats, and mats for different holidays and festivals. There are animals, and mats for different seasons. The ones I chose to try first were some scene mats, and some food mats.
The first task was to make playdough. There's a recipe on the website if you didn't have a mum making playdough every week. Next, I printed out some mats and laminated them. If you don't have a laminator, you can get packs of clear folders for a couple of pounds in most stationary sections, or at a pinch you could use plastic page protectors, or just do it straight on the paper.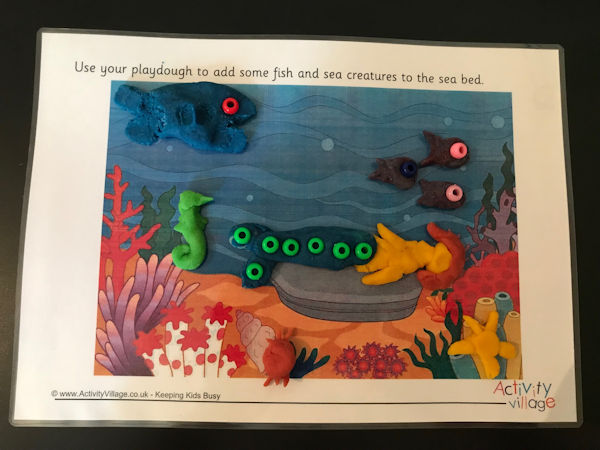 Under the sea
All my kids gathered enthusiastically when I told them it was time for playdough. My oldest daughter made an underwater scene complete with a mermaid, a seahorse, and a hermit crab. I set out some pony beads for extra fun. It was quite an elaborate scene, and goes to show the versatility of these mats. Playdough is not just for toddlers. These mats are fantastic for older kids too. If you are tempted to skip past the playdough mat section because your children don't go to playgroups anymore, stop right there. My children spent ages with these mats, and absolutely loved them. I would suggest for older kids using an open ended mat, like the create-a-scene mats, because it encourages a sophisticated level of play.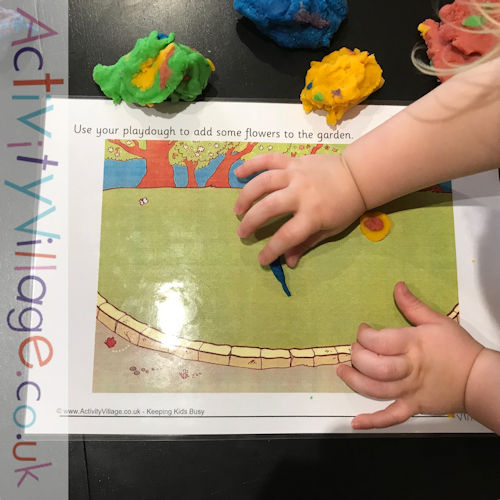 Chubby hands making a beautiful garden
That being said, my toddler had a great time with the garden scene mat. First she just layered different coloured playdough in a pile on the mat, then had a great time rolling out little "flowers" and putting them on the map.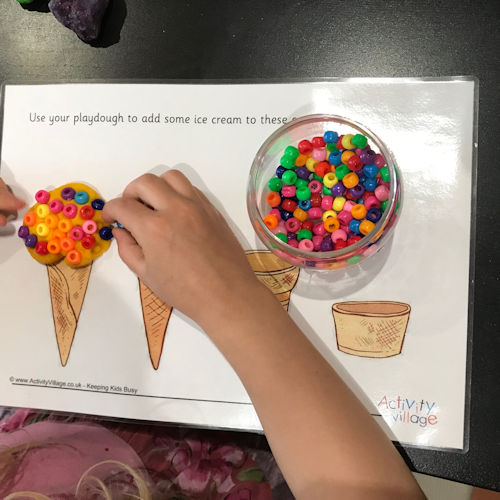 Ice cream cones with lots of sprinkles!
I also printed out ice cream and cupcake mats. One of my daughters had a great time making beautiful, colourful ice creams with pony bead sprinkles. My other daughter made cupcakes, and for fun we added some birthday candles to them.

Playdough cupcakes - party time!
This was an unbelievably easy activity to do, and it kept them going for quite a long time. We'll definitely be pulling the mats out again and again, and I am looking forward to exploring some of the other mats as well. They would make a fun way to celebrate seasons and festivals. Summer beach scene, anyone?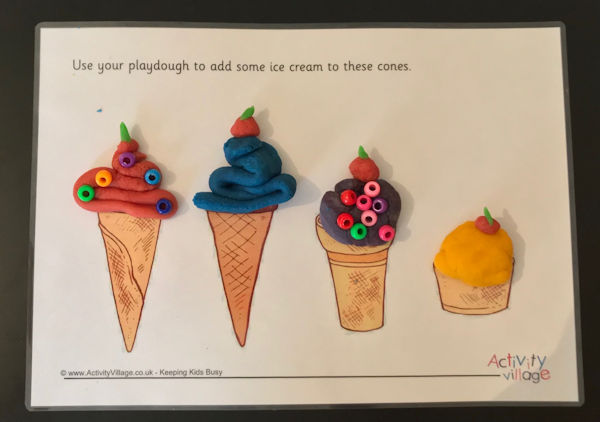 Playdough mat ice cream cones - good enough to eat!

This is a guest post from Rita. Rita is a home educating mother of four girls, aged 10, 8, 6, and 2. She blogs at Chronicles of a Disorganised Homeschooler, where she shares her attempts to at least pretend to be organised enough to manage life, and the fun that she and her family has along the way.
You can find a list of all our guest posts, here.