With the Queen's Platinum Jubilee this year we thought it might be fun to create a message to display on our window. In fact, our front windows were too small so we ended up attaching our lettering to a brick wall by the front door.
We started by downloading some of the stunning detailed alphabet colouring pages from the website. We found two versions that we really liked: the Alphabet Mandala Colouring Pages and the Flowers and Butterflies Colouring Alphabet. We knew we wanted to cut out the individual letters, so for this project we did not choose the Illuminated Alphabet Colouring Pages, even though they would really suit a Royal Jubilee project.
We printed our letters onto card so they could not tear as easily, and then we began colouring in! We did not stick to a colour scheme. Whoever coloured in a letter chose which ever colours they wanted. There were three of us doing all the colouring in.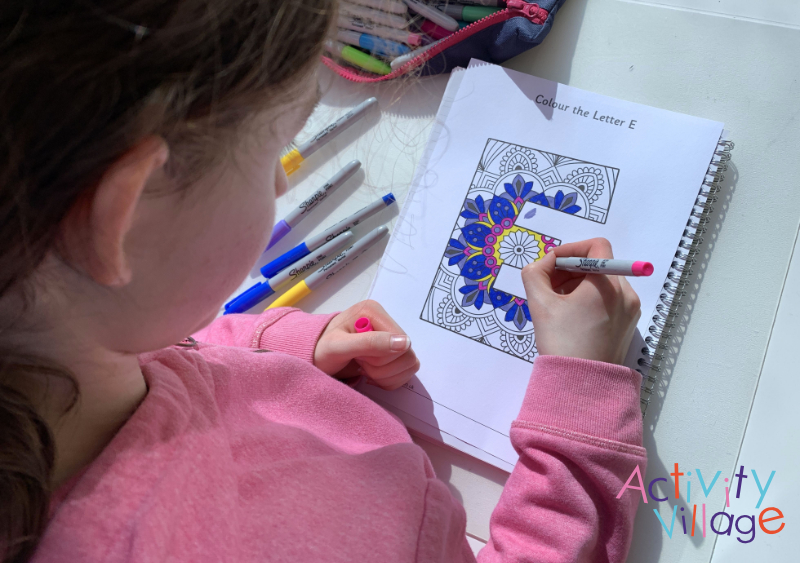 Colouring in the letter E
We coloured in all the letters to spell out the word Queen in both versions of the alphabet colouring pages (mandala and butterflies and flowers) so that you can see the difference - to help you choose which to do yourselves!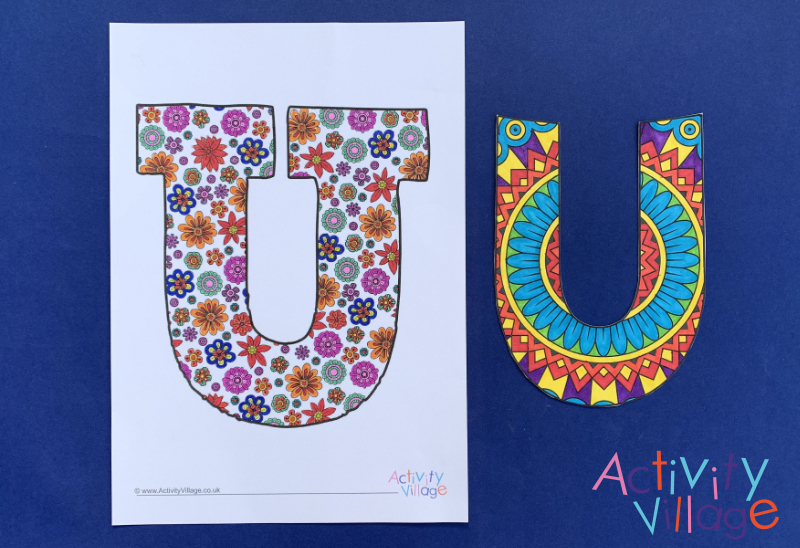 Two versions of U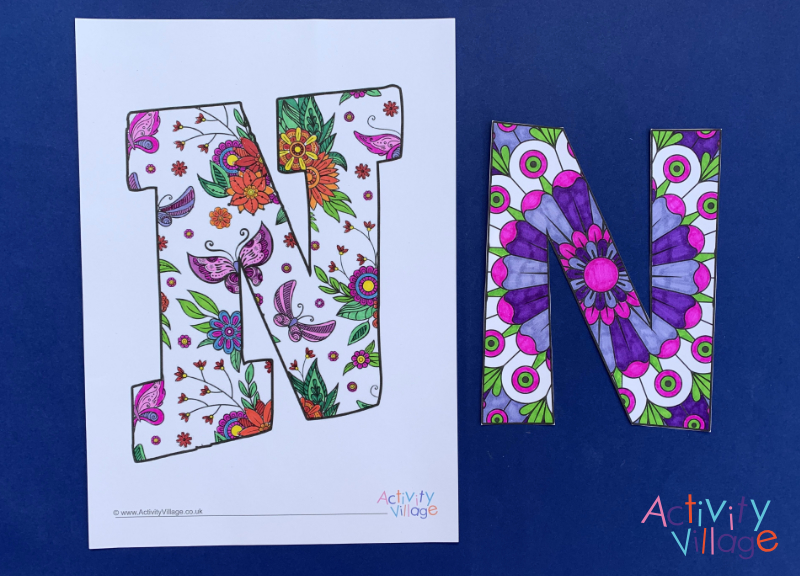 Two versions of N
We decided that for this project we preferred the way "Queen" looks in the Mandala letters. I have made a note to print out the word Spring and Summer in the butterfly and flower letters for another project as they are so pretty!

Two coloured-in versions of the word "Queen"
We also wanted to use the word "Jubilee" but decided to make it differently to the word Queen for some contrast. We used templates to cut the letters out of card on which we had "bled" tissue paper. To bleed tissue paper onto card you need to place different blocks or strips of coloured tissue paper onto your card and then paint over it with water so that the colour bleeds onto your card. We chose these "quirky" letter templates for this. After printing out the letters used to spell Jubilee I worked out that we would need two sheets of A3 card. You could "bleed" more sheets of A4 card if you prefer.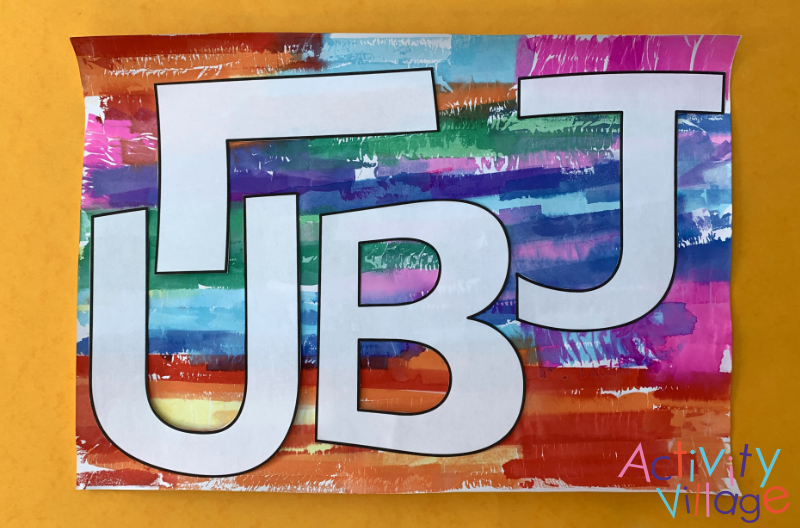 Tracing the letters of "Jubilee" onto tissue-bled card
We traced around the letter templates and cut out the letters. I think the letters look really good!

Some of our tissue-bled letters cut out, ready to use
It did make me wonder why we have never used our tissue bled card in this way before, to make words!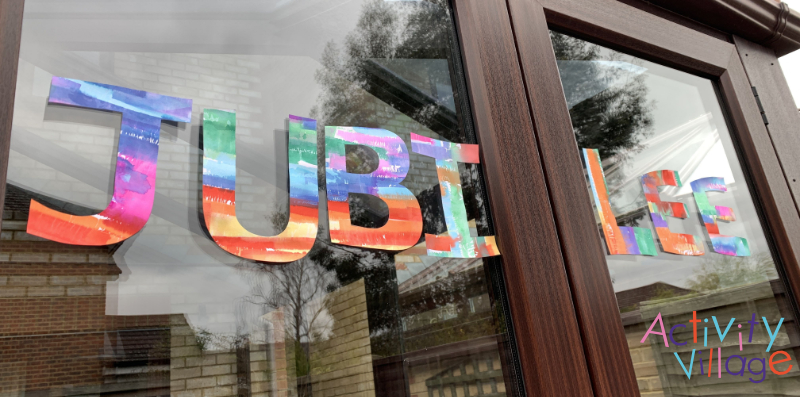 Jubilee letters up on the window
So now we had the word Queen and the word Jubilee. The kids thought it would be good to add in "70" and "years" but I must confess no one wanted to colour in any more letters! So we printed out some crowns (there are two crown templates here) and they wrote "70" on one crown and "years" on the other!
Here is the final display on the windows at the back of our house.


The final Jubilee lettering display on our windows
And this is how it all looks together on the brick wall!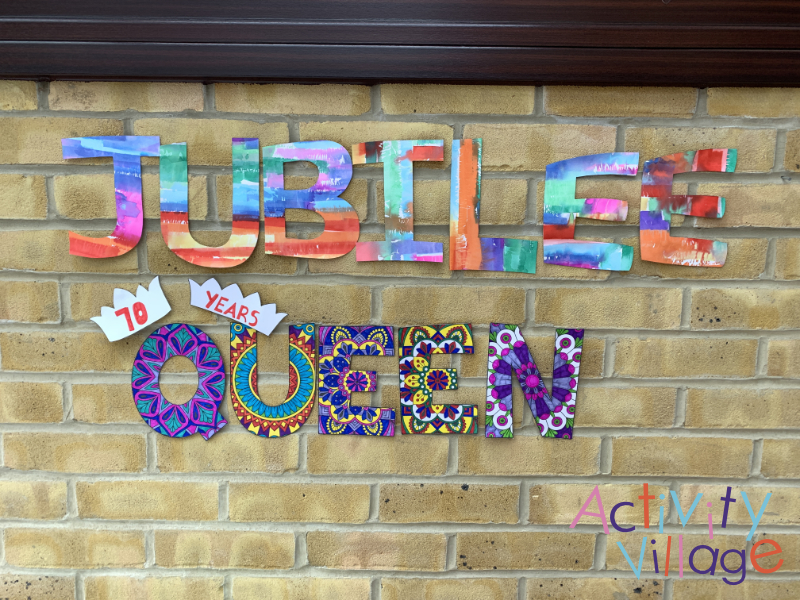 Our Jubilee lettering displayed on our brick wall.
For a rain-proof version you could of course laminate all the letters! However you decide to go ahead, and whether at home or at school, this idea would make a fabulous display for the Queen's Platinum Jubilee!

This lovely Platinum Jubilee idea comes from Shelly, a home educating parent of two children aged 10 and 12. She blogs at ofamily learning together where she shares ideas on the different learning activities that they do including lots of hand-on maths, arts and crafts and anything else that is part of their home educating lifestyle.
You can find more guest posts by Shelly, and a list of all our guest posts, here.