Last year, as soon as I spotted the dinosaur scene colouring pages, I printed them out. But not for colouring, I wanted them for drawing ideas.
I really like the way the backgrounds have been depicted in these pages. The objects at the back are smaller and the objects in the front are bigger and more detailed. So we used these pages as a way for the kids to practise drawing backgrounds – focusing on the size of the objects in the foreground and those further back.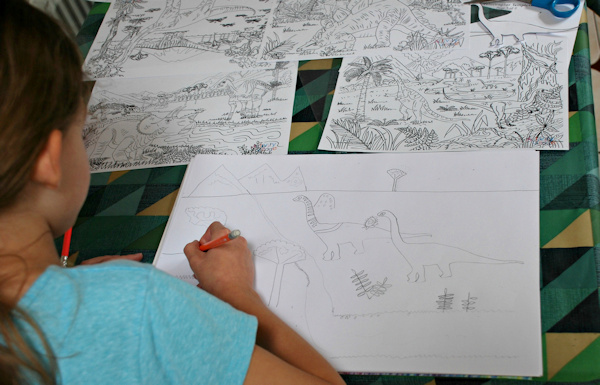 Dinosaur scene drawing using colouring pages for inspiration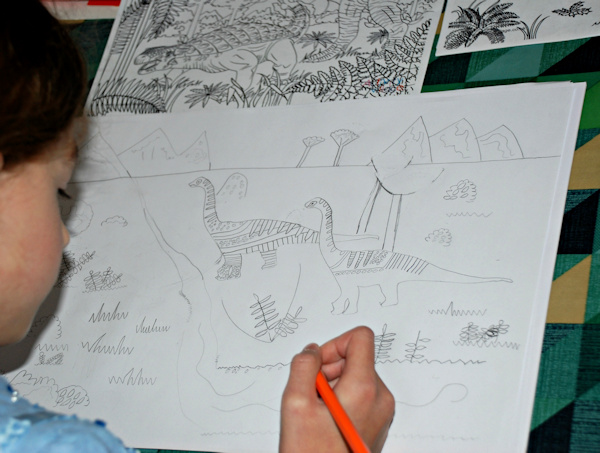 Backgrounds inspired by the dinosaur colouring pages
My oldest really found these pages very useful and for the past few months they have not been packed away. From time to time she comes back and retries one or two items, sometimes copying directly, sometimes mixing up ideas.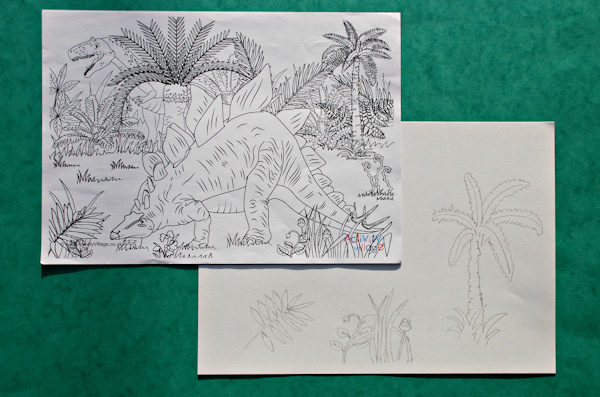 Practising drawing vegetation
But every time I have noticed improvement.

Drawing from the dinosaur scene colouring pages
My youngest was not as keen, which is unusual as normally he loves to draw. However, he found the pages contained too much detail, so we came up with an alternative for him. We printed and cut out a number of the dinosaur templates for him. And he was much happier. He used the templates to get the outline of dinosaurs and then just added one or two items like a tree or a log. He was more interested in drawing a group of dinosaurs than background items. However, even though he was using the templates, he still created some depth in his pictures by overlapping different dinosaurs. He ended up asking for different size dinosaur templates so he could use the smaller ones to show the dinosaurs that are farther away.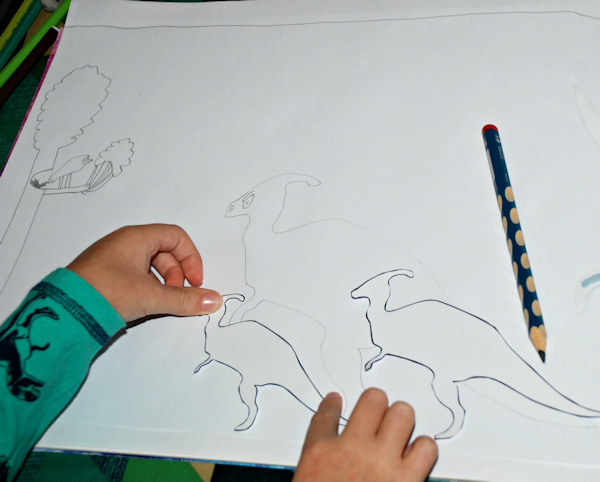 Dinosaur drawing using templates
The dinosaur scene colouring pages were so popular with my daughter so we searched for some other alternatives and found some lovely animal scene colouring pages - these 3 in particular:
This time she focused on trying to draw the animals.

Drawing a wolf from the wolves scene colouring page
I think she did a super job.

The finished wolf drawing
We also used some of the animal scene colouring pages to work on shading and tonal differences. Again, these pages have objects in the front and objects further back. So we discussed how the colours in the background would be more muted, often having a slight greyness to them, whereas the colours in the foreground would be brighter, more intense.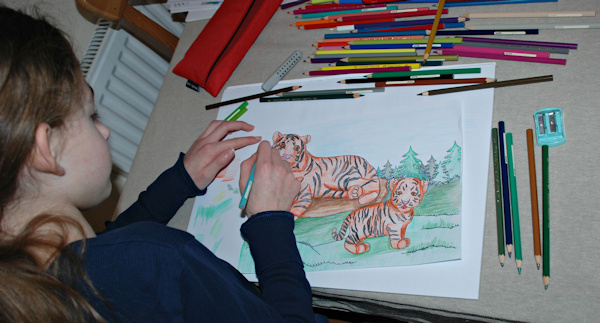 Working on her tigers scene colouring page

Shading her deer scene colouring page
And with the shading of individual objects we tried to work on darker areas where shadows would be and lighter areas. I encouraged my daughter to use three colours for each object – a dark, medium and light for each colour - and combine those to give the object some volume. She also started experimenting with using different colours in the shadows – mainly blues or browns to create depth. I don't like using black in art as I think it gives a very flat feeling so we are trying to avoid that and instead use other cooler colours.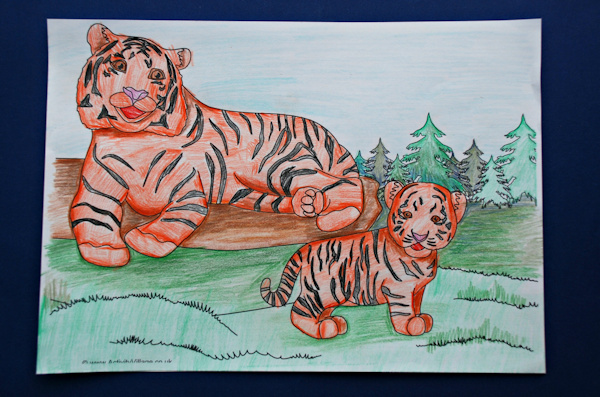 The completed tiger scene colouring page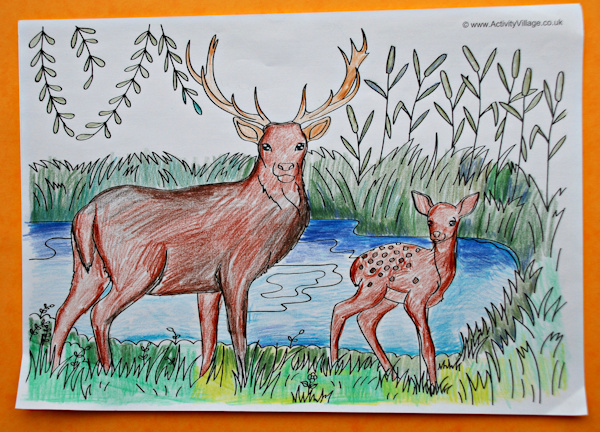 The completed deer scene colouring page

This is a guest post from Shelly. Shelly is a home educating parent of two children aged 6 and 9. She blogs at ofamily learning together where she shares ideas on the different learning activities that they do including lots of hand-on maths, arts and crafts and anything else that is part of their home educating lifestyle.
You can find more guest posts by Shelly, and a list of all our guest posts, here.