In this guest post Shelly and her son learn more about the Ancient Olympics and the modern Olympic Games using resources available on Activity Village.

---
Learning About the Olympics
By Shelly
It seems like with everything going on at the moment there is just not that same level of excitement about the Olympics like there usually is, so I thought it might be fun to spend a little bit of time looking at where the Olympics originated. As we are planning on learning about Ancient Greece in September, I thought a little jump start on the Greece topic might be good.
I suggested to my son that he read up a bit about the Ancient Olympics and then write down some key words / short phrases about it. We are trying to start working on the idea of note taking - pulling out the key facts from long paragraphs. For his Ancient Olympic note-taking we used these olive wreath writing frames and he included one point inside one wreath.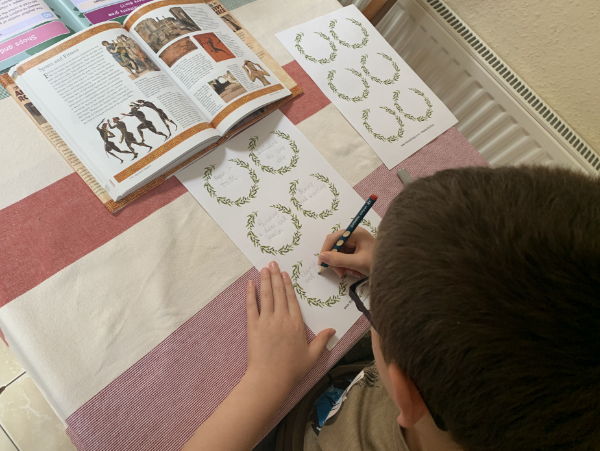 Taking notes about the Ancient Olympics
He found out some interesting facts, including that chariot racing was an Olympic sport!
Reading up about the Ancient Olympics got us talking about how some of the sports have changed over time and how some are still the same - so I gave him the challenge of finding one sport for each letter of the alphabet. He started by filling in the sports he could think of easily, and he is going to keep adding more in as he watches some of the Olympic events. There is also a great Venn diagram page which compares the ancient olympics to Modern Olympics which some of you may find interesting.

Tackling the Olympic Alphabet Challenge sheet
To help him with his sport alphabet challenge I also gave him the Olympic sport word search – it lists a lot of Olympic sports.

Olympic sports word search
As most things happen with us, talking about the different sports lead to discussing the different cities that have held the Olympics. So I printed out the host city challenge page and he had a go at filling in the countries that he knew. Once he was stuck, he started searching for the missing countries on his ipad.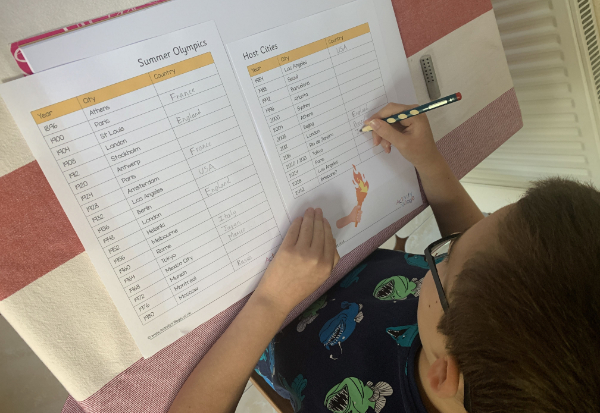 Filling in the countries of the host cities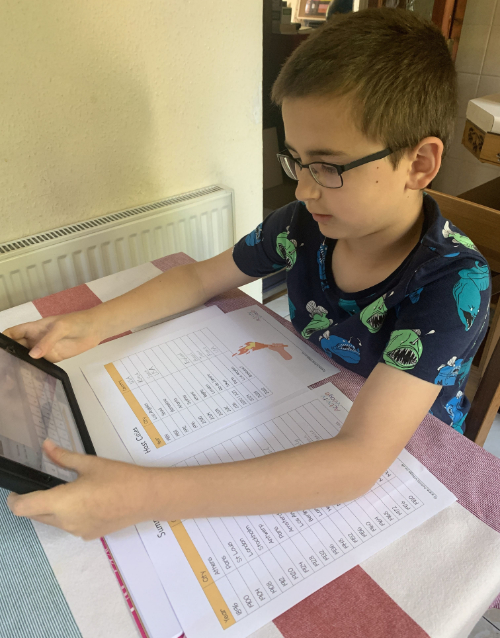 Researching the countries that he didn't already know
I really liked this worksheet. I even gave it to my eldest to see how many countries she could complete on her own.
All the Olympic talking got us thinking about the Olympic flag and my son wondered if he could combine the new Olympic flag with the old symbol of the olive wreaths. So for a bit of fun we printed out 5 of the Olympic wreath posters onto card and cut them out. The cutting was not an exact science! He then played around with using them to create the linked rings of the flag. He tried cutting the wreaths so he could interlink them but it did not work, so instead he just organised and stuck them down in the shape of the current Olympic flag.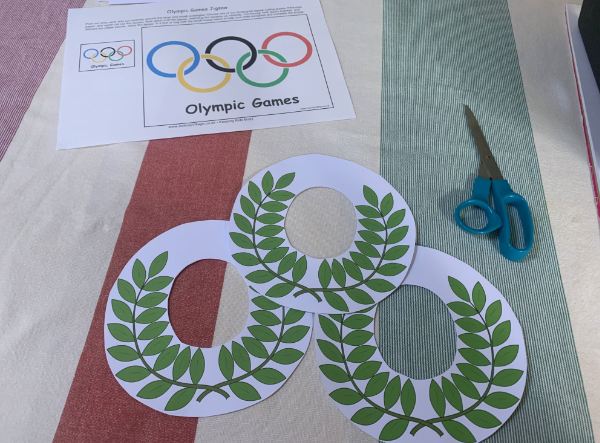 Cutting out Olympic wreaths

Olympic wreaths organised like the current Olympic flag

This is a guest post from Shelly. Shelly is a home educating parent of two children aged 10 and 12. She blogs at ofamily learning together where she shares ideas on the different learning activities that they do including lots of hand-on maths, arts and crafts and anything else that is part of their home educating lifestyle.
You can find more guest posts by Shelly, and a list of all our guest posts, here.