I loved the look of all the water cycle pages that were recently added especially because a lot of them had different versions for a number of the pages - perfect to do the topic with children who may be at different learning stages (well that was my plan but my youngest was determined that he was going to use the detailed pages as well).
We started off by revising the water cycle with the water cycle slideshow that is on the site and then my oldest immediately jumped at my idea of creating our own water cycle page. We spread out a large sheet of paper on our kitchen table and she started drawing the basics – some hills, the sea, rivers, clouds etc. but she likes colour and texture so we dug out a few items from our craft cupboard and she started adding bits and pieces to her picture. She used tissue paper for a hill and the sea, some craft pom-poms for the sun and clouds and some blue wool for the rivers and raindrops. Adding the crafting items really increased the fun factor and she chatted away the whole way while she worked on her large water cycle.

Creating a water cycle collage using word cards as labels
We also included some of the water cycle word cards – the word cards worked really well on the collage as my daughter could stick them on top of the tissue paper or wool that she had added.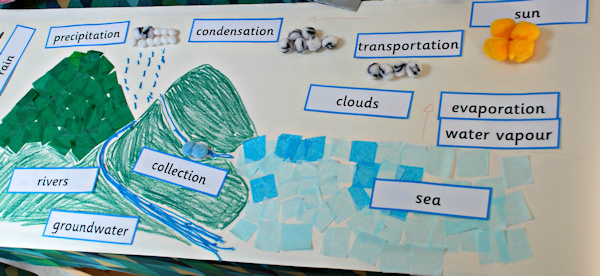 The finished water cycle collage
My son was not that keen on the collage idea but he wanted the detailed water cycle colouring-in page.

Busy colouring in the water cycle colouring page
But after making very good progress on the colouring in he actually decided he wanted to make his own page so he stuck the colouring-in page on one of our sliding doors and taped a page on top and started tracing.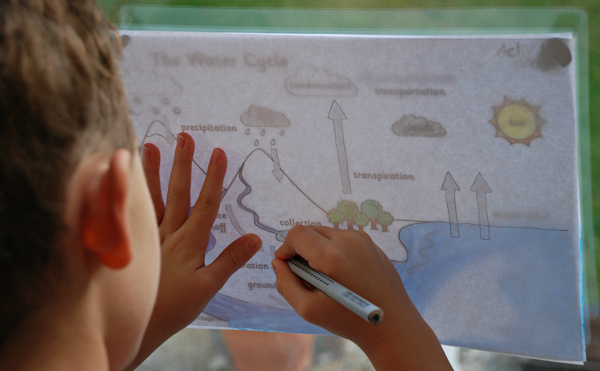 Tracing over the water cycle colouring page
I must be honest I was amazed at his determination.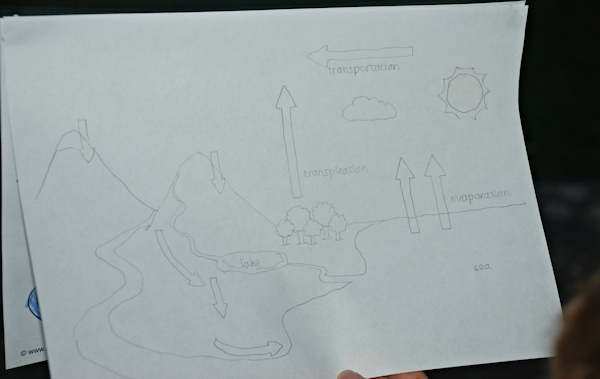 His finished tracing
He ended up tracing the entire page – even traced over all the words.
And while he was tracing he was definitely learning, because he kept telling me what section he was tracing and then explained why it was so important (he did have to go to the slideshow to double check about transpiration was). And as often happens when one sibling does an activity the other one wants to join in. Activity Village does also have a simpler version of the colouring in page which focuses on the 4 main stages but both of mine wanted to do the more detailed version.
Once they had worked on their different water cycle drawings and collages, both kids seemed to really understand what was happening so they happily sat and wrote out their own explanation of the water cycle in their own words. My daughter used the water cycle description worksheet together with the water cycle posters that we had printed out.

Writing up her summary of the water cycle
And my son had a go at the water cycle cloze.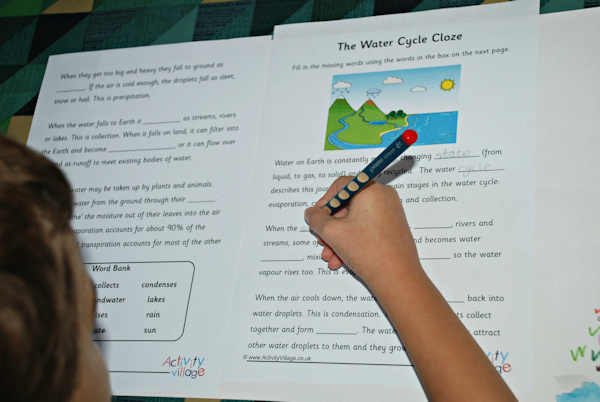 I must admit I had also printed out the water cycle labelling pages for the kids but by the time they had done their own collages and drawings they just pointed at the labels and told me it was a bit too easy. (I probably should have given them the labelling page at the beginning – oops).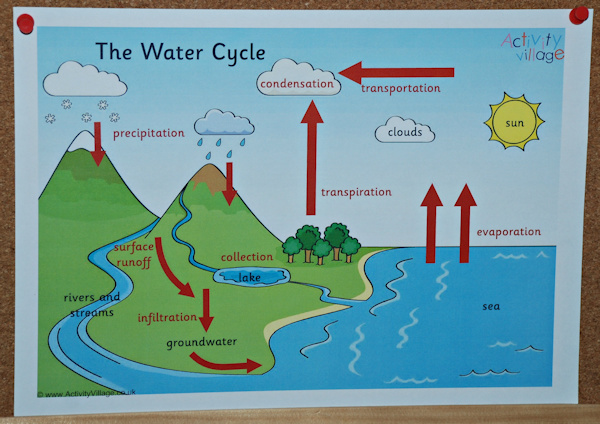 Activity Village's water cycle poster up on our board

This is a guest post from Shelly. Shelly is a home educating parent of two children aged 6 and 9. She blogs at ofamily learning together where she shares ideas on the different learning activities that they do including lots of hand-on Maths, arts and crafts and anything else that is part of their home educating lifestyle.
You can find more guest posts by Shelly, and a list of all our guest posts, here.
Thursday, 20th September 2018