Vincent Van Gogh is one of the greatest artists of the modern era, and there are lots of activities all about him on Activity Village. Shelly and her kids learn more about the artist and create some art inspired by him.

---
Learning about Vincent Van Gogh
By Shelly
My daughter is currently working on a few art projects and one of them is an Art History project where she has to choose a famous artist whose work she admires and learn about their life and technique. She choose Vincent van Gogh so we decided to help her get going with her project. We would all learn a bit about van Gogh.
We downloaded the Vincent van Gogh comprehension and both kids read through the text and then started with the questions.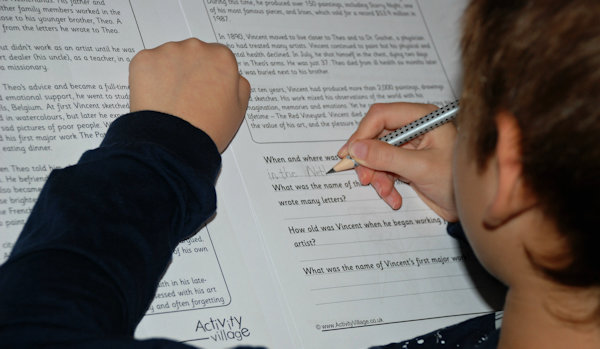 Starting his Vincent van Gogh comprehension
The comprehension is a great way to introduce key facts about the artist and the questions were not too detailed so my eight year old was completely fine working on it by himself.
After the comprehension my daughter worked on a van Gogh timeline worksheet. I think the timeline page is a really good one for van Gogh as it really highlights how so much happened in the last 10 years of his life.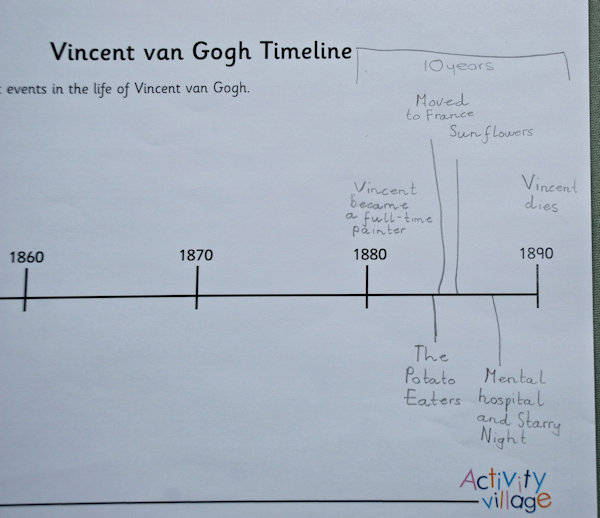 Vincent van Gogh timeline
Then we looked at some of his works. We had a few books from our library but you can find lots of images online. We spoke about the way he used his brushstroke to give movement and the vibrant colours that he used. I suggested we try and create our own van Gogh inspired background and both kids immediately wanted to try versions of his skies.
We used coloured paper and our oil pastels (our oil pastels are not fancy ones).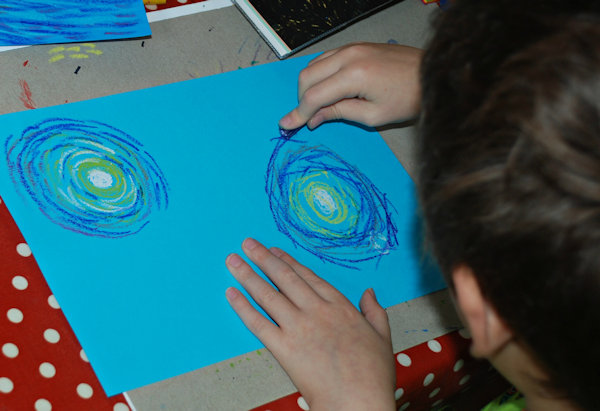 Creating a van Gogh inspired background
The oil pastels work well as you can still get the effect of his brushstrokes.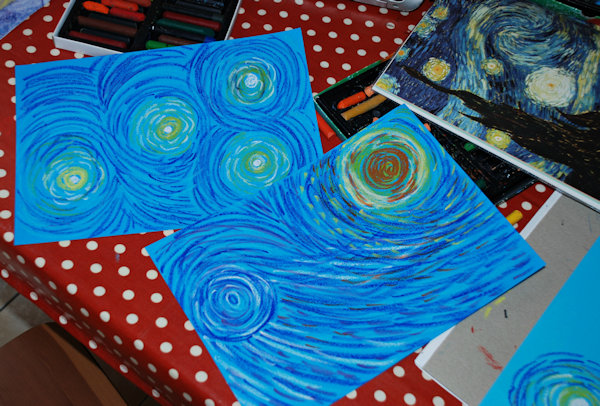 Our fininshed van Gogh inspired backgrounds
After we had a few backgrounds the kids chose some animal templates (t-rex, swallows and bats) and they coloured them in with their black sharpies. We then stuck our black templates onto our van Gogh inspired background and ended up with these artworks!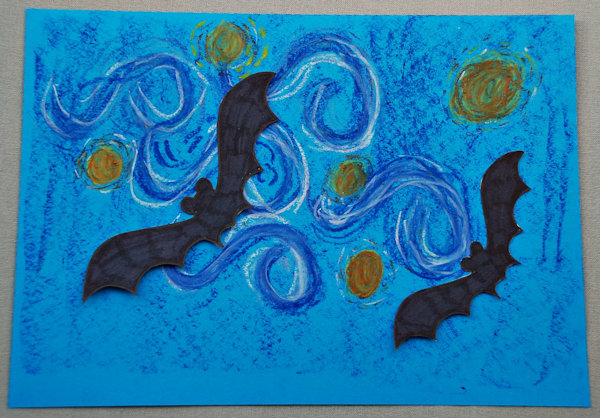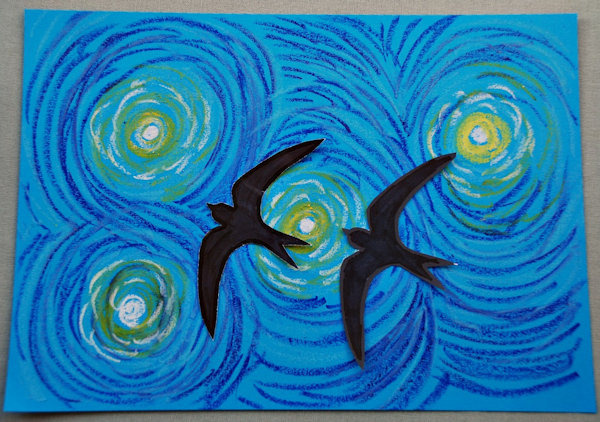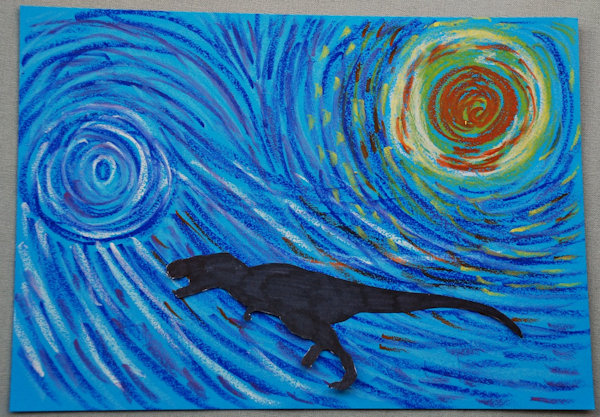 I think the pictures turned out really well and they were actually quite easy to make and no big mess. The oil pastel does get onto hands but it washes off really easily.
After we had tried our hand at some expressive art we went back to thinking about the artist and his life. The kids created a joint van Gogh spider diagram – just as way to try and put down some key facts.
Then I printed out the lined version of this Vincent van Gogh booklet and I folded them for the kids (although it is actually quite easy to turn the page into a booklet and there are detailed instructions here).
Both kids filled in their booklets with the facts that they thought were the most important. The booklet fills up quite quickly but I actually liked that as it meant the kids had to try and summarise their facts into what they thought were the most significant – a great exercise in finding key facts and summarising.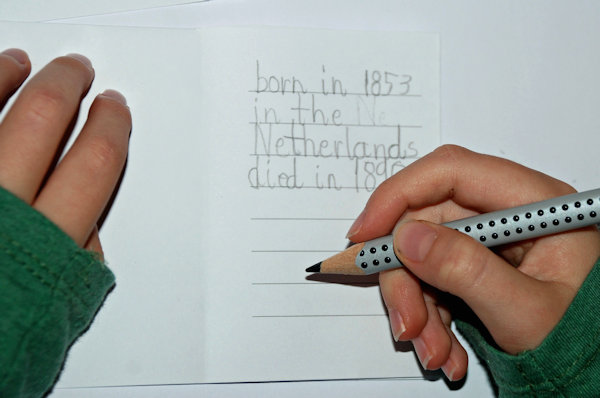 Filling the van Gogh booklet with key facts
My youngest used his comprehension pages as a source of facts and for some spellings.

Using our van Gogh comprehension to help with facts and spellings

This is a guest post from Shelly. Shelly is a home educating parent of two children aged 8 and 10. She blogs at ofamily learning together where she shares ideas on the different learning activities that they do including lots of hand-on maths, arts and crafts and anything else that is part of their home educating lifestyle.
You can find more guest posts by Shelly, and a list of all our guest posts, here.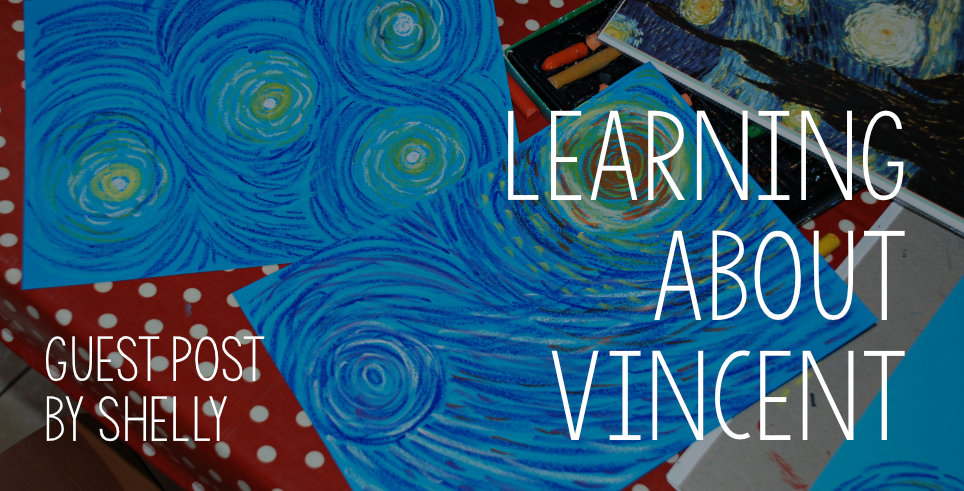 Tuesday, 19th November 2019