It's a school holiday this week. Maybe you're reading this on the beach, or up a mountain, or in your in-laws' kitchen. Maybe you're doing absolutely nothing productive this week, having a well-earned break. But just maybe you're on the road and looking for something to keep your kids' brains switched on.
I home educate, and my family lives on a different continent. So we have found ourselves on more than one occasion having to travel and "do school". But school books are heavy. And they take up lots of room. So once again, I turn to Activity Village for help in my hour of need.
Activity Village have some really cool puzzles. Maths ones, like kids' sudoku and arithmagons, kakuro and pyramid puzzles. Word puzzles like boggler, word wheels, and code breakers. Then there are things like tangrams, brain teasers, and word searches. If you haven't seen the puzzle section, go and check it out (seriously – it rivals the colouring page section for awesomeness).

Some of my favourite puzzles and pages
I use these at home for "I'm bored" moments, and to change things up in our school work from time to time. But for me, these have particularly saved my life when travelling. I can print out a bunch before we go, or print them out while we're there. They take up virtually no space, and they feel fun. But they also really do make my kids think. I can give them puzzle pages and know that the maths and logic and language parts of their brain are getting a workout. They don't look like workbooks so they don't feel like "school" (which makes them great for creating a holiday vibe).
To up the awesomeness even further, some of the puzzles are themed. Which means that if you are travelling over specific holiday times, you can give them holiday themed puzzles, and it feels like part of the holiday fun.
Here are three ways that I have used puzzle pages while travelling:
1. Schedule them as part of schoolwork.
We often do "bookwork-lite" when we travel, because although we need to keep up the learning, we need to factor in time on the road, jet lag, and spending time with grandparents and other relatives. It's just too hard to do a full schedule. The Activity Village puzzles are perfect for this, because I can still tick off maths and literacy, knowing that they have done something.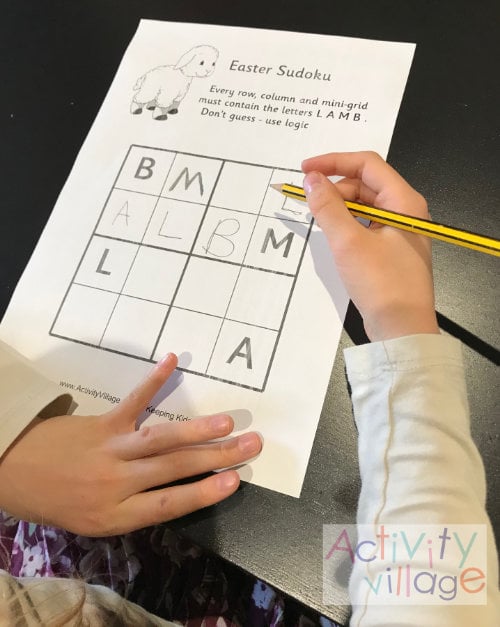 I loved listening to their logic as they worked through this sudoku puzzle
2. Make a travel activity book
Travelling involves quite a lot of sitting around – waiting in airports, sitting on planes and in cars, waking up at odd hours when no one else is up, being dragged around to visit people, and afternoons where your normal toys are at home on the other side of the world. I often, before a trip, print out a whole bunch of puzzles and put them together in an activity book for my kids to take with them wherever we go. I usually put in a few colouring pages too for the moments when they are just too tired to think.
3. Take a stash for emergency moments
Sometimes I just have a pile with me in case they are needed, or print them out as we go. How much fun could be had on a long car trip with everyone joining in for an alphabet challenge puzzle, and how much quicker would transit time go at the airport with a Sudoku to do?

Travel themed colouring and tangrams make travelling fun!
How could you use the Activity Village puzzle pages these holidays?

This is a guest post from Rita. Rita is a home educating mother of four girls, aged 10, 8, 6, and 2. She blogs at Chronicles of a Disorganised Homeschooler, where she shares her attempts to at least pretend to be organised enough to manage life, and the fun that she and her family has along the way.
You can find a list of all our guest posts, here.