Are your children learning about Kings and Queens or looking for a way to celebrate the Queen's Platinum Jubilee? This guest blog post is all about how to make their very own Royal crown!

---
Making a Royal Crown
By Shelly
My oldest is going through a slight historical British monarchs obsession. She is reading any book she can find about any of the past kings and queens and is constantly talking about some of the more unique things that happened during their individual reigns. I shared how she's been learning about Queen Victoria in a previous guest post, here. My son is not as keen, although having said that he has acquired an impressive knowledge of all the past monarchs just because his sister is always talking about them.
I wanted to try and find something fun to do with my son on the monarchy theme so I started looking for some crafting activities, hoping to find something that would also work on his cutting skills. I found these Decorate the Crown Stickers. I initially printed them off thinking we could use them with the Decorate the Crown colouring page, but my son wanted a crown to wear so we changed that plan.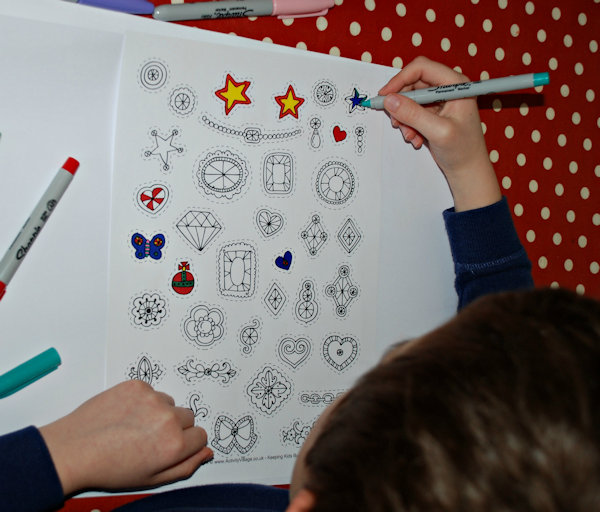 Colouring in the crown decorations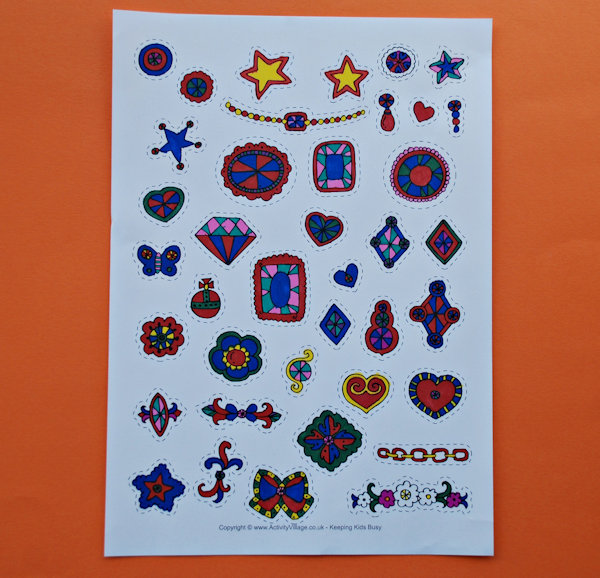 All coloured in!
He coloured his decorations in with felt-tip pens – he likes sharpies. Just remember to place some paper underneath the sheet of paper if they are using sharpies so they don't bleed onto something else. And while he was colouring in his many decorations I played around with making a card crown that he could wear. I must admit I have never tried to make a crown before but I had spotted the Crown Template page and thought if I cut 2 crowns out from card I could just stick them together – but I underestimated the size of my sons head and we actually needed 3 crowns cut out and stuck together. I used a combination of glue and tape just to make sure it was secure.

Checking the size of the crown made from the crown template!
And then the cutting started. Now my son is not normally keen on cutting out small detailed items. But his older sister joined in and helped him get started and then he really stuck with it and cut a lot out.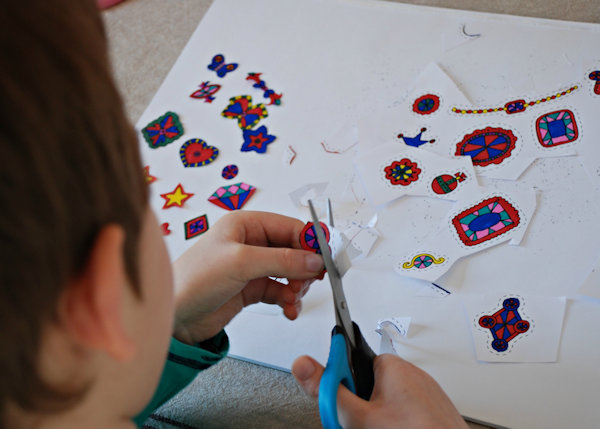 Cutting out the crown decorations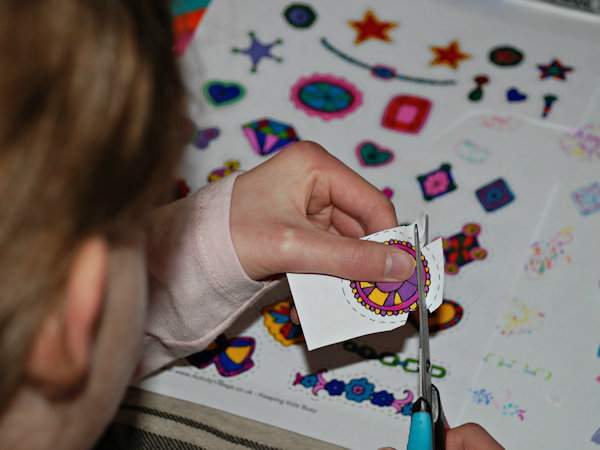 ... with some help from his sister
You could also add some crafting gems or possibly some glitter onto the crown. My son was not interested as apparently he had already planned how his crown was going to look while he was colouring the decorations in.

Decorating his crown
My daughter suggested using some cotton wool around the base of the crown, which I think would look very cool, but my son does not like the feeling of cotton wool so that idea was also vetoed. Of course you really could add a lot of other items to the crown as well – tissue paper, coloured ribbon, crafting beads etc.
We just used normal glue stick to stick our decorations onto the crown and I must say he did a really good job.

A crown fit for a prince!
I am really impressed with how his crown turned out. It was a fun "monarch" craft for him to do while his sister worked on her latest history project and it ended up being excellent cutting skills practice. It would also make a good craft activity for the Queen's official birthday, which is on 8th June.

This is a guest post from Shelly. Shelly is a home educating parent of two children aged 8 and 10. She blogs at ofamily learning together where she shares ideas on the different learning activities that they do including lots of hand-on maths, arts and crafts and anything else that is part of their home educating lifestyle.
You can find more guest posts by Shelly, and a list of all our guest posts, here.