Over the years we have made a few differently themed luminaries and it has just been one of those fun craft activities for the kids to do which always ends up with something really effective to enjoy afterwards. With this being the Queen's Platinum Jubilee year we thought it might be fun to make some Jubilee themed lumianries and then we can have them light up on our window sill throughout the summer and the remainder of the year. It really is a very easy craft to put together, which all ages can enjoy.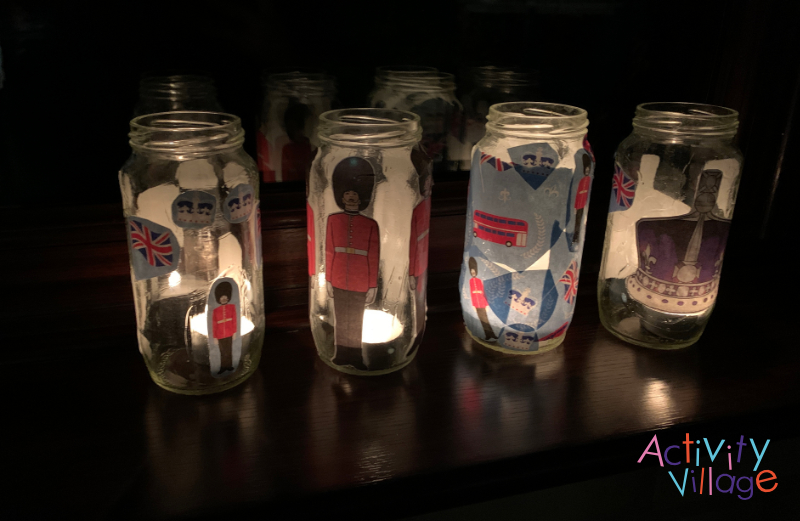 Ready to celebratee the Queen's Platinum Jubilee!
First you will need some glass jars. We always just use glass jars out of our recycling (including old sauce jars, jam jars... anything will work really). You need to clean the glass jars in soapy warm water and remove any labels.
Then you are going to need some Mod Podge glue and some images. For our luminaries we used the Symbols of Royalty Cutting Shapes page and the Patriotic Scrapbook Paper page (remember to type in the password ActivityVillage.co.uk to access the scrapbook page).

Set up to make our Jubilee luminaries
As this craft can get a bit messy with all the gluing, I like to put down a messy art mat. We find it easier to pour out some of the Mod Podge glue onto a lid and to use an old paintbrush to apply the glue.
I was planning to use the scrapbook paper to cover one of the glass jars like a patchwork but then I noticed how nice the images were, so I cut a few of the images out instead.

Cutting images from the Patriotic Scrapbook Paper page
As you can see from the photo, I didn't "fussy cut" the images, but left a blue border around each one. We made one luminary with these cut-out images.

Sticking the pictures to the glass jar
When using Mod Podge glue, please make sure to completely cover the images with the glue. While wet the glue is white (as in the photo above), but once it dries it will dry clear. You want quite a bit of glue to make sure everything is properly glued down, so don't be scared to cover those images!
And here is the proof once the glued has dried you will not see the white!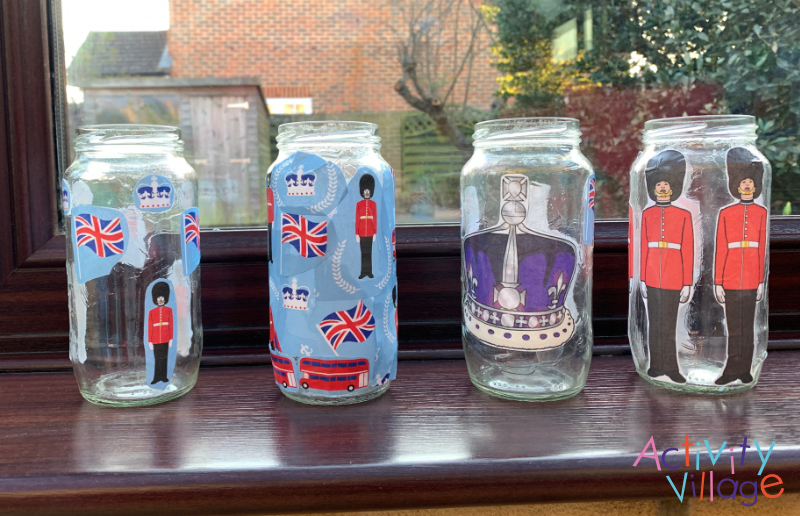 Our finished luminaries on the windowsill
Here are some close-ups so you can see the designs: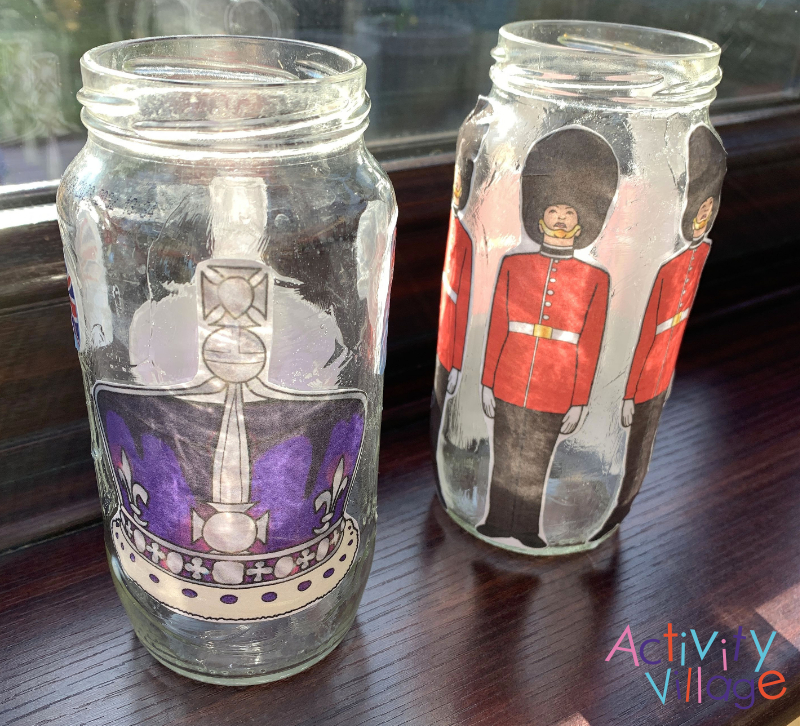 Close-up of our Simbols of Royalty and Queen's Guards luminaries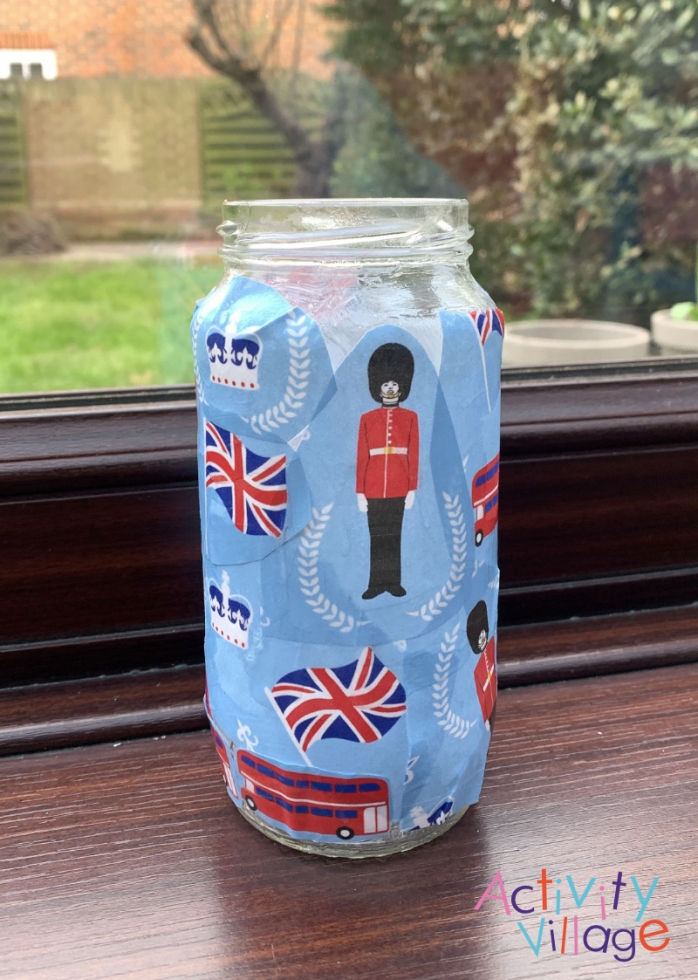 Our "scrapbook" Jubilee luminary
If you want to try to copy this design, which completely covers the jar with Activity Village's Patriotic Scrapbook Paper – I just wanted to mention it helps to tear or cut the scrapbook paper into smaller sections before you glue it down so that the paper fits the shape of the jar better. And don't be scared about overlapping images, it is still effective.
When completely dry, we placed tea candles inside our glass jars, waited for night-time and lit them up!

Our finished luminaries at night, with tea lights
I really do love the end result! And as much as I love having them on our window sills, my kids also like adding them to our dinner table over the summer. You could make these for any royal occasion, of course, but they are perfect for your Queen's Platinum Jubilee feasting!

This lovely craft idea comes from Shelly, a home educating parent of two children aged 10 and 12. She blogs at ofamily learning together where she shares ideas on the different learning activities that they do including lots of hand-on maths, arts and crafts and anything else that is part of their home educating lifestyle.
You can find more guest posts by Shelly, and a list of all our guest posts, here.