In this guest post, Shelley has some great ideas for going out and about with our scavenger hunts and shows how they can help the children practise their spelling and vocabulary whilst having lots of fun. Here are the links to the scavenger hunts used below:

---
Three Ideas for Scavenger Hunts
By Shelly
We love Scavenger Hunts - whether we are doing them at home as a rainy day activity or whether we have taken them out with us when we go visiting a garden centre or National Trust site. Either way the kids have fun and end up practising their writing and spelling without realising it. There are a number of different Scavenger Hunts at Activity Village and we like the 2 dimensional and 3 dimensional shape hunt (great for when the kids are learning about shapes) and the Texture Scavenger hunt (good to include in sensory play). However, the three that we tend to use a lot (and are currently stashed in my bag for outings) are the Alphabet Scavenger Hunt, the Rainbow Scavenger Hunt and the In the Woods Scavenger Hunt.
Ideas for using the Alphabet Scavenger Hunt
I love the Alphabet Scavenger Hunt as it can be used in any environment. We've used it at home, searching through the kids' rooms on a rainy day to find something that starts with all the letters of the alphabet. We've also used it out in the garden or when the kids are out with friends and not sure what to do. It really can be adapted to lots of different scenarios and all you need is the piece of paper and a pencil. Oh - and a clip board does come in very handy when out on walks!

Alphabet Scavenger Hunt using toys and other home items as a Rainy Day activity
We took ours to Hampton Court Palace and found it a great way for the kids to expand their vocabulary and possibly end up learning some new interesting historical facts in the process!
And we also did an Alphabet Scavenger Hunt at a big RHS Garden. The kids went around trying to find different flowers that started with different letters, and I was so impressed with how many flower names the kids remembered afterwards.
You can even bring our the printable just when you desperately need to keep the kids busy at a café while you have your much needed cup of tea or coffee.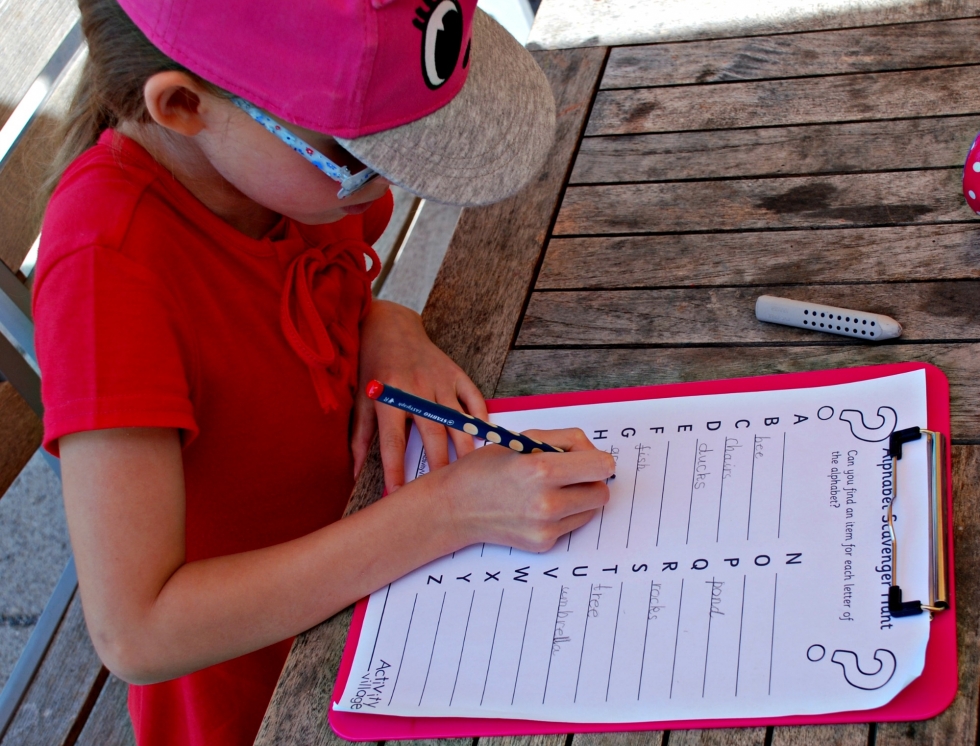 Doing an Alphabet Scavenger Hunt at the cafe
Another idea is to use it when you are reading a story with the kids. They have to complete the alphabet list using words out of the book you / they are reading. Fun!
Practising tally marks with the Rainbow Scavenger Hunt
We also love the Rainbow Scavenger Hunt. But we have been using it in a slightly different way - as a way of practising tally marks. This is a great activity if you are near a garden centre or a big garden! The kids can walk around and note the different flower colours.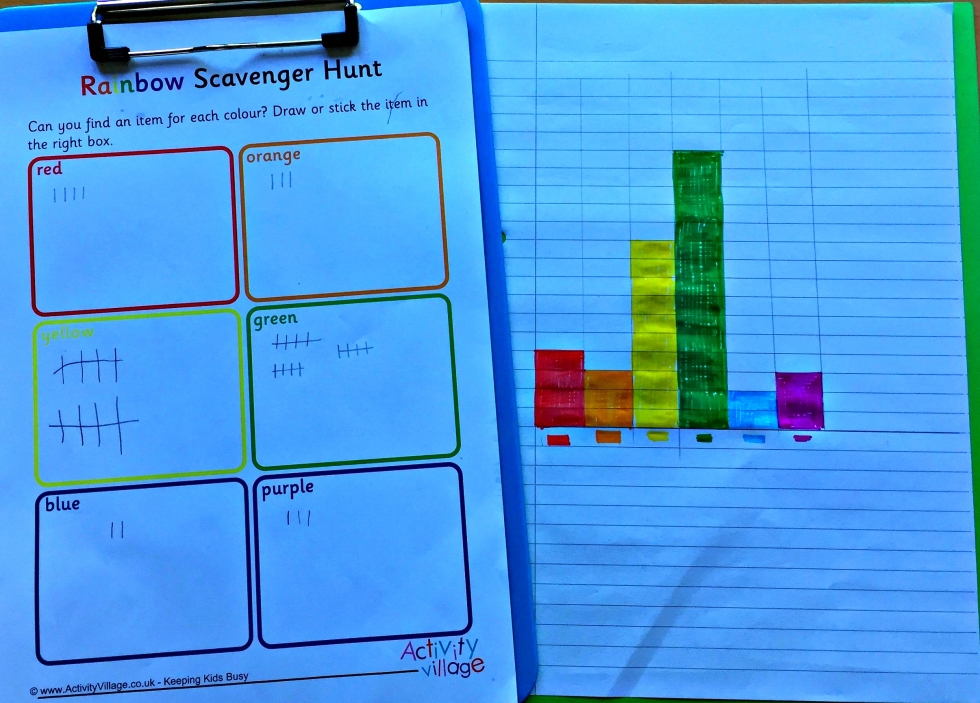 Rainbow Scavenger Hunt and colour bar graph
When we got home, we used the tally marks to create a basic bar chart.
I actually thought it might be fun to do one rainbow hunt for each season of the year and then at the end of the year the kids could compare how the colours changed between the seasons.
Nature walks using the In the Woods Scavenger Hunt
The In the Woods Scavenger Hunt is a fun one for nature walks. My son loves this one! He loves walking around trying to find the feathers, leaves and berries. We have found that it often leads to fun chat about which bird the feather might belong to, or which insect might have made the holes in the leaf.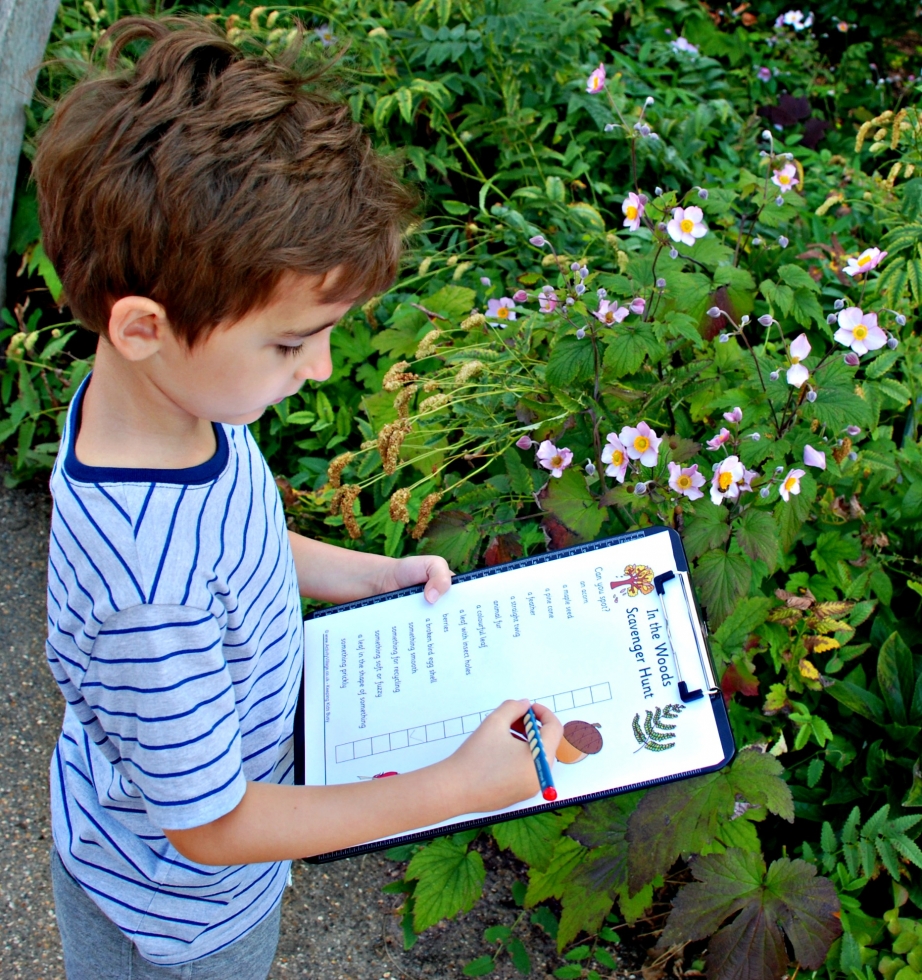 A nature walk with an In the Woods Scavenger Hunt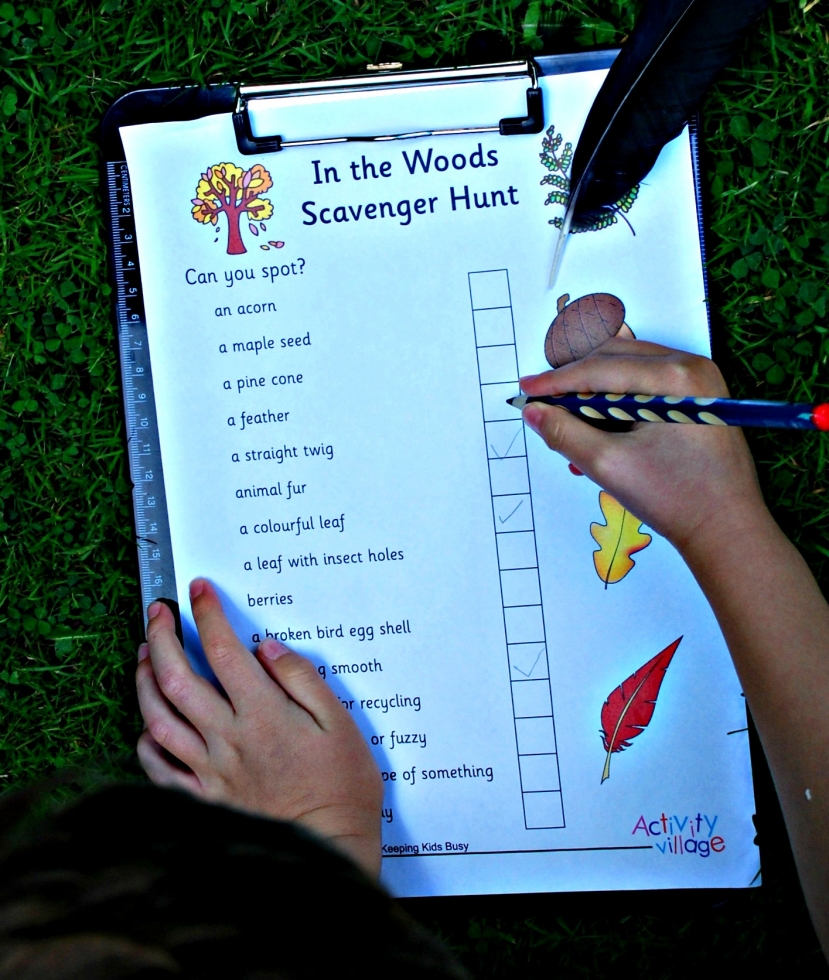 Checking off items on our In the Woods Scavenger Hunt printable

This is a guest post from Shelly. Shelly is a home educating parent of two children aged 6 and 9. She blogs at ofamily learning together where she shares ideas on the different learning activities that they do including lots of hand-on Maths, arts and crafts and anything else that is part of their home educating lifestyle.
You can find more guest posts by Shelly, and a list of all our guest posts, here.
Wednesday, 16th August 2017