I have always enjoyed using butterflies in art activities. They are the perfect subject because you get them in so many different colours and patterns and you really can do almost anything with them. I have also always enjoyed linking in a crafting activity with learning topics. Whenever I hear that kids are covering life cycles - as everyone learns about the life cycle of a butterfly - I always start thinking of possibly butterfly crafts.
For this butterfly craft I decided to keep it simple and fun, using a few basic butterfly templates or colouring pages, some acrylic paint (poster paint of any sort would work well) and ear buds. We started with this design a butterfly page just because the kids can create their own design on the empty wings.
My son was helping me with this craft and on his first attempt he made a slight error: he started applying the paint and then decided he actually wanted to draw in a design using some circle stensils. Obviously using stencils was going to be a problem when he had already started using his paint! You might want to suggest to the kids that they pencil in any design before they start using paint.

Adding a circular pattern to the butterfly wings with a stencil
It was a good idea to create his basic design layout first with his pencil, because, once he had drawn it, he did not need to keep thinking about which colours go where.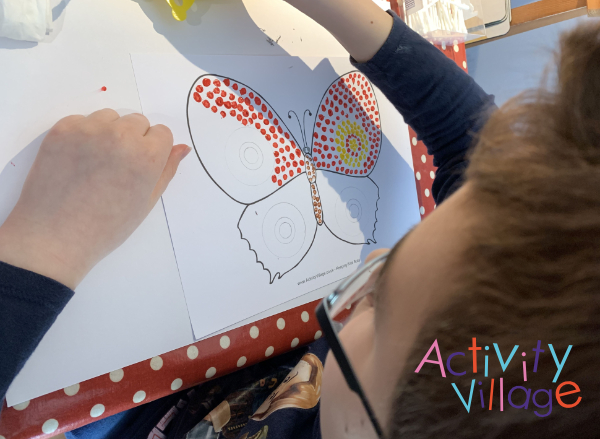 Here is beginning to add dots around this circular design
This is a geat activity for all kids to try because they can create all kinds of designs and use any number of colours. If you want to take it further, you could always suggest they use complementary colours, or perhaps make a warm butterfly and then a cool butterfly.

His first finished painted dotty butterfly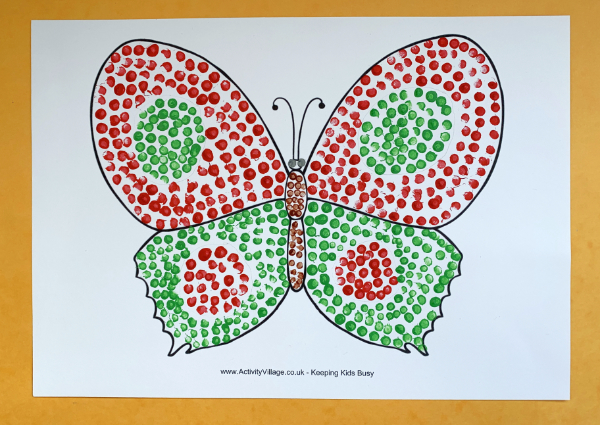 And another dotty butterfly!
If the kids would rather design multiple butterflies instead of one big butterfly they could always try this design some butterflies page. I really liked this page because there are 5 different butterflies on one page, so you can use lots of different colours and designs in one go.

All sorts of dotty butterflies on one page - so pretty!
I know some kids do not really like the idea of creating their own pattern or design so I thought instead of giving them a blank butterfly (with no design on the wings) you could always print out one of the big butterfly colouring pages, of which there are many to choose from here. The designs on these large butterflies are fairly simple and the space between the lines are large enough that they can still easily use their ear buds. And even though you are giving them a basic design they still get to add in their own details and play around with different colours. We used Butterfly Colouring Page 5 and Butterfly Colouring Page 6.

Using a butterfly colouring page and filling it with dots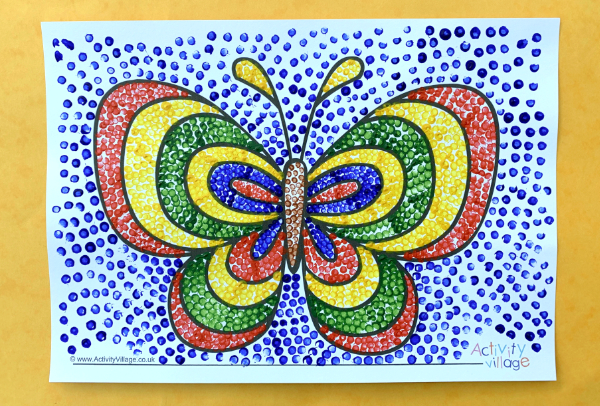 One finished dotty butterfly using a colouring page

And here's that completed dotty butterfly from earlier!
This is a super craft that can obviously be adapted for and enjoyed by children of all ages. It is perfect for unconfident kids too - as everyone will be able to produce a stunning painted dotty butterfly!

This lovely butterfly painting comes from Shelly, a home educating parent of two children aged 10 and 12. She blogs at ofamily learning together where she shares ideas on the different learning activities that they do including lots of hand-on maths, arts and crafts and anything else that is part of their home educating lifestyle.
You can find more guest posts by Shelly, and a list of all our guest posts, here.