I normally write for Activity Village about a group I run; however, for complicated reasons (turning up at the room we hire to find all the tables vanished - try running a craft group without tables!) I was a bit distracted and completely forgot to take any photos. You'll have to trust me that we had lots of lovely handprint poem pictures and decorated frames and had great fun making art with roses and hammers! I'd promised Lindsay a blog post though, so I used the lack of group photos as an excuse to persuade Sam to join me in a bit of creativity at home.
We are big fans of process art so we decided that we would used different techniques to make 'backgrounds' which we would then embellish with shapes cut out using our templates. We didn't decide what shapes we wanted at the start. Instead, we created the background and then Sam decided what he thought it looked like and we chose an appropriate template. We made one landscape background, one galaxy and several explosions so we used the following templates:
To prepare the templates, we printed them on to normal printer paper and cut roughly around the outside. We then placed the rough-cut template on to coloured card and cut neatly around the edge of the template through the two layers.
Background 1 - Water Tray Method
We filled a tray with a layer of water and then, holding a soft pastel (chalk) over the water we used a knife to scrape along the edge.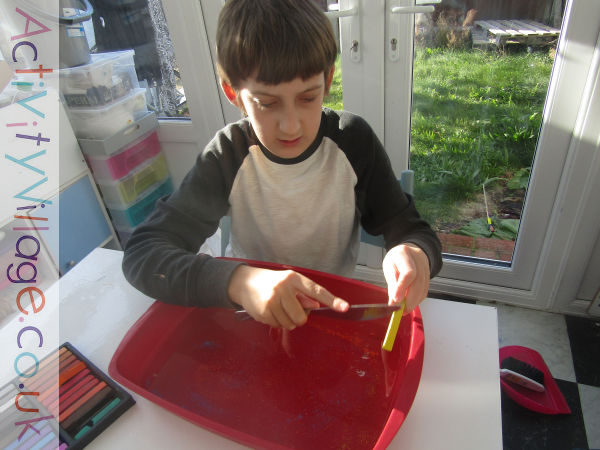 Sam scraping pastels over the water tray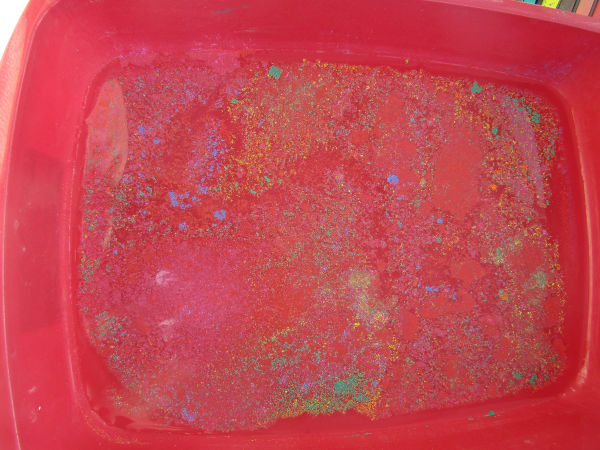 Pastel "dust" floating on top of water in tray
When we had a layer of 'dust' on top of the paper we took a piece of watercolour paper, placed it on top of the water tray and pressed down, slightly submerging it. We then carefully lifted the paper off and set it aside to dry.
Since it was 5th November, we decided that it looked like exploding fireworks and, when dry, glued on some gold fireworks.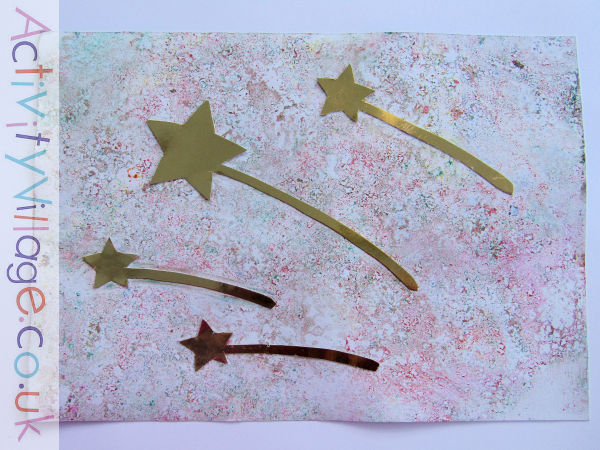 Sam's first fireworks picture
Background 2 - Sprinkle and Spray Method
The second of our fireworks pictures was made by sprinkling powder paint onto a sheet of watercolour paper and then spraying with water.

First sprinkle powdered paint

Then spray water!
I mopped up some of the excess water from the over-enthusiastic spraying with kitchen towel! When dry, we added a black frame and a black firework.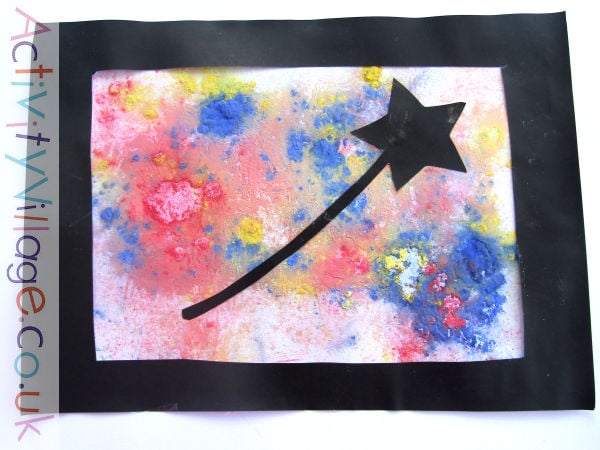 Sam's second fireworks picture
Background 3 - Squidgy Paint Method
If the poster paint and spraying hadn't been messy enough we moved on to a sguidgy paint craft!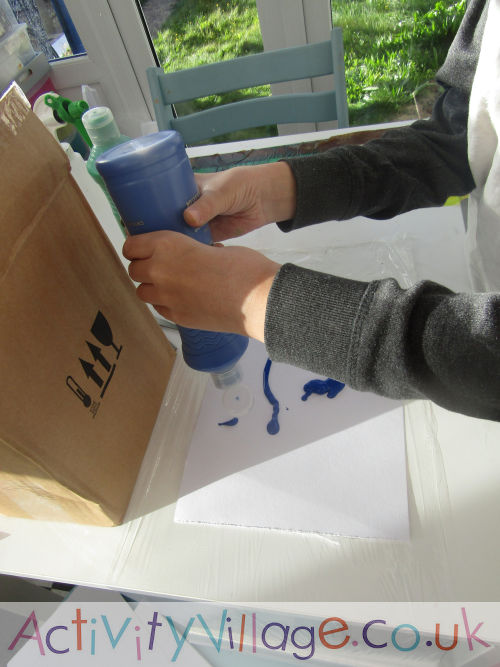 Sam squidging paint onto watercolour paper
Sam squirted paint over a piece of watercolour paper and then we covered the paint with a layer of food wrap. He then squidged and squashed the paint until the paper was covered!

Squidging and squashing!
When this one was (eventually) dry we added a frame and a gold star as Sam thought it looked like a galaxy.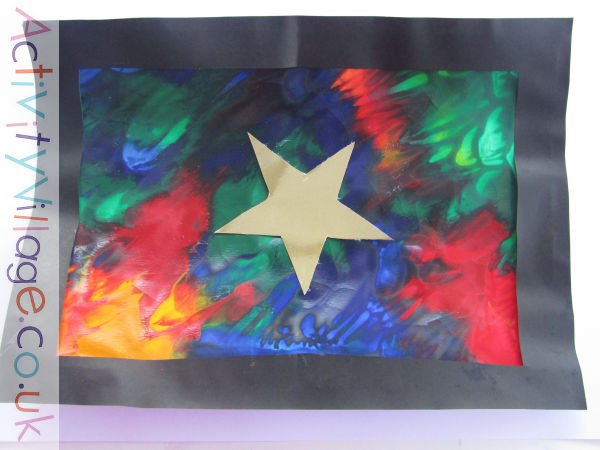 Sam's stunning galaxy artwork
Background 4 - Bleeding Tissue Paper Method
The last is the one we both like the most. We had some 'bleeding' tissue paper which we cut into strips. Sam sprayed the watercolour paper with water and then placed the strips of paper onto it.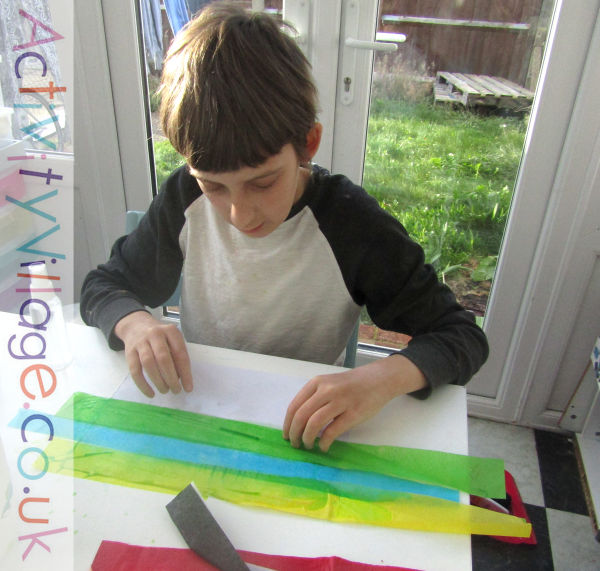 Laying strips of tissue paper over dampened watercolour paper
He sprayed any dry bits with water so all the tissue was stuck to the paper. When the watercolour paper, dried the tissue paper peeled off and we were left with something we thought could look like a field. So we glued on a horse!

"Horse in Field" by Sam Large
This is a great activity. In a group, even when using the same techniques children can end up with very different backgrounds - and you may be surprised at how they interpret the finished background and what template they decide to complete the picture with. Done solo or in the family, you can use the same techniques on many different occasions and come up with a completely different effect each time.

This is a guest post from Sarah. Sarah has been helping with Activity Village for over 10 years, providing most of our lovely craft ideas as well as many of our printable resources. She home educates her son, blogs at Life, Love and Literature and organises regular Group events and workshops.
You can find more guest posts by Sarah, and a list of all our guest posts, here.
Tuesday, 7th November 2017