It definitely feels like autumn in the UK this week. Colder, wetter weather calls for cosy crafts and they don't get much cosier than weaving!
From a group perspective, weaving crafts have the twin benefits of being cleaner to tidy up after than many and being relatively peaceful - a nice activity to sit and chat over. You do need a lot of adults there to help, though, and a fair amount of patience.
The crafts we did are all slight adaptions of crafts on Activity Village. I do like to tweak things. The group is for families and we get a mix of ages from 2 to 9.
Woven Artwork
When my boys were younger one of our favourite activities was weaving paper table mats. Over the years we made them in many colours for different holidays and seasons and you can see many here at Activity Village. I decided to try something slightly different for this latest group, to create a piece of woven artwork instead. We used black paper as our base. We drew a frame and then folded the paper in half, then drew lines from the frame to the fold. My example had them at an angle to give the weaving an optical illusion effect but as most of the children were very young we went mostly for simpler waves and zig zags. Children then cut along the lines from fold to frame and opened out the paper. We used bright paper strips to weave onto the frame to make patterns, taping the edges down at the end.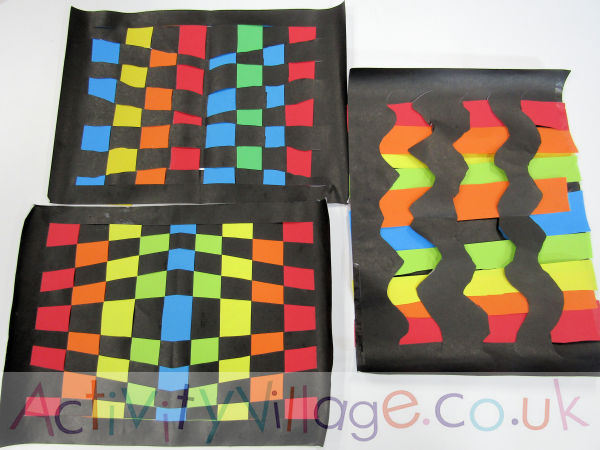 Our woven artwork
Woven Paper Plate Trees
The second of our crafts was a similar idea to our paper plate mandala craft. Children decorated plates and then wove on top. This time children drew a background scene and wove trees on top. To create the frame we cut a big notch at the bottom of the plate and then children cut an odd number of slits around the top (I suggested a smaller number for younger children). Brown wool was taped to the back and then wound through the bottom notch and each of the slits in turn and then taped to the back to finish. We then used a scrap of wool to tie the strands together to make a trunk. I did point out that the longer the trunk the less weaving there would be to do! A length of wool was tied to the end branch before being woven under and over the branches. New lengths of wool were just tied on to change the colour. To finish the wool was tied to a branch.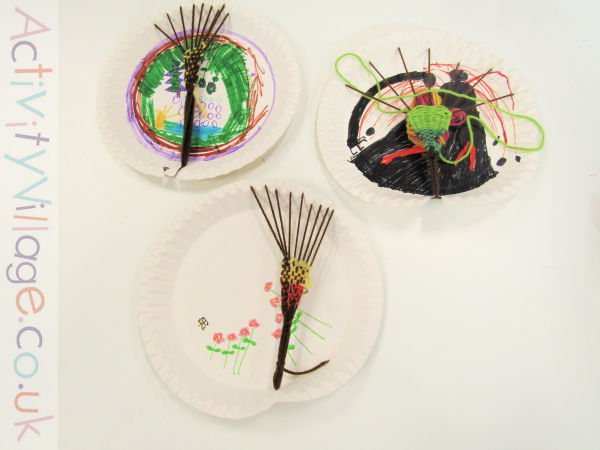 Three examples of woven paper plate trees

Weaving workshop trial crafts - my paper plate tree at top right
Woven Turtles
The last of our crafts, a woven turtle, was an adaption of our woven snowflake. We used 3 jumbo wooden sticks for the frame. I prepared them the night before with the aid of a hot glue gun for speed but PVA (white) glue would work with drying time. Children coloured the ends of the sticks green with felt tip pens and drew on faces and toes. The shell was then woven on in the same way as our woven snowflake. It's a tricky one for small hands but they all had a go and seem to have managed something they were happy with which is what matters. We used wool that changed colour to make it a bit easier. The middle of the weaving was filled in with a piece of wool glued on.

Two lovely woven turtles!
I had a few other activities on offer for our really small attendees.
I glued together frames of 4 lolly sticks that they coloured black and 'wove' loom bands on to to make webs.

Woven webs with loom bands
I provided some shapes cut from cardboard boxes using some of our autumn and Halloween templates for them to wrap wool around but I don't think anyone got to those! I always provide too many activities, I can't help myself.
Finally I couldn't do weaving workshop without some lacing cards being on offer. Here is one of our Diwali lacing cards turned into a necklace aand worn proudly!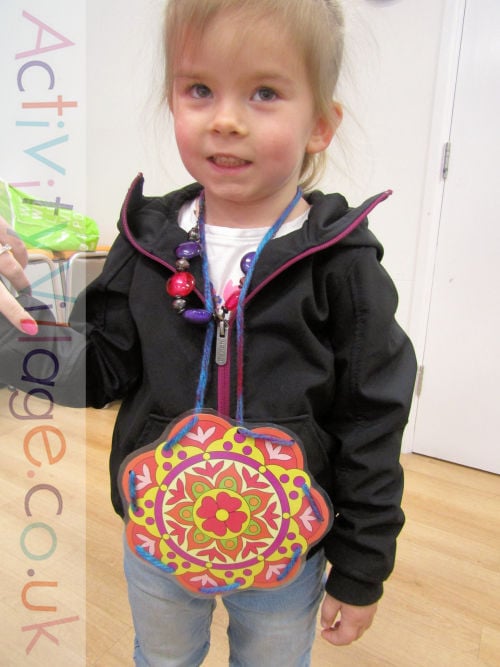 Diwali lacing card as necklace

This is a guest post from Sarah. Sarah has been helping with Activity Village for over 10 years, providing most of our lovely craft ideas as well as many of our printable resources. She home educates her son, blogs at Life, Love and Literature and organises regular Group events and workshops.
You can find more guest posts by Sarah, and a list of all our guest posts, here.