Bosnia and Herzegovina
Enjoy our flag printables from Bosnia and Herzegovina, also known as Bosnia-Herzegovina or just Bosnia (much easier!) You can learn a little about the country below, too.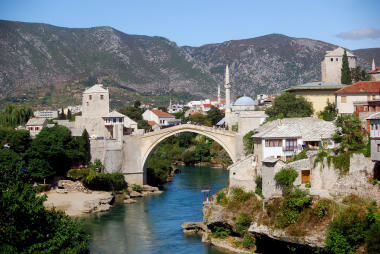 The Old City in Mostar, Bosnia and Herzegovina
Learn about Bosnia and Herzegovina
Bosnia and Herzegovina is a heart shaped country located in southeastern Europe. It is surrounded by
Croatia in the north, west and south, and Montenegro and Serbia to the east. A small stretch of
Bosnia is on the coast around Neum.
Sutjeska National Park is home to Perucica, one of only 2 primeval forests left in Europe. It has trees growing up to 60 metres tall! It is home to Mount Maglik, Bosnia's highest peak at 2,386 metres.
The country consists of the two separate states: the Federation of Bosnia Herzegovina which is Muslim-Croat, and the Republika of Srpska which is ethnic Serbian.
To complicate things further, Bosnian territory makes up 80% of the land with Herzegovina in the south around Mostar and the coast. There are 2 capitals, Sarajevo and Banja Luka, and three official languages: Serbian, Bosnian and Croat.
Sarajevo is the largest city with around 600,000 residents. It was the scene of a destructive siege during the civil war in the early 1990s. It was also here that Archduke Franz Ferdinand was assassinated in 1914, leading to the First World War.
Tourists are drawn to the Turkish Ottoman era streets around Bascarsija, whilst the National Museum hosts the Sarajevo Haggadah Jewish document which is extremely valuable.
Each June, Sarajevo hosts a Kids Festival for 40,000 children with circuses, painting, dancing and fun events!
Near Sarajevo, the ski resorts at Mount Jahorina were host to the Winter Olympics in 1984.
Mostar is a Unesco World Heritage Site, famous as an Ottoman trading town where Suleiman the Magnificent built the Stari Most or Old Bridge in 1566. The bridge survived many wars but was tragically blown up in 1993. A modern replacement is now in place and locals dive off into the icy River Neretva.
Writer Ivo Andric won the Nobel Prize for Literature for his book 'The Life on the Drina' which describes the clash of religions and cultures in this country at the crossroads of East and West.
You can print the Bosnia and Herzegovina flag, have a go at our jigsaw, use our useful notebooking...
Learn about Bosnia and Herzegovina with the help of our fact-finding and location worksheets, and...
Explore Activity Village