Brunei
Find out a little about Brunei, and print out of useful Brunei flag printables and flag colouring page...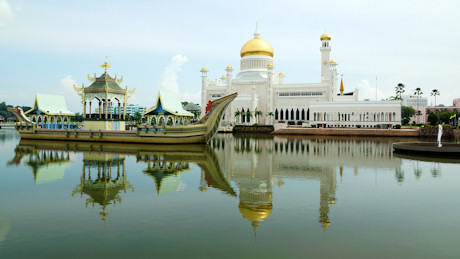 The Sultan Omar Ali Saifuddin Mosque, Brunei
A Little Geography...
A small Muslim nation on the north-west of Borneo island, Brunei is surrounded by and spilt in two by the Malaysian state of Sarawak to the south. The South China Sea forms its northern coast.
With a population of just 410,000, oil exports make this one of the world's wealthiest nations.
The capital, Bandar Seri Begawan, is a port.
The official name, Negara Brunei Darussalem means the Country of Brunei, Abode of Peace.
Brunei has no railway but has a high car ownership of one car for each 2.09 people. Fortunately, the price of petrol is very low!
A Little History...
Brunei was a British Protectorate from 1888 until independence in 1984.
Brunei has been ruled by a Sultan since 1370 and became wealthy from trade between China and Malaysia, prior to the discovery of huge oil reserves at Seria in 1929.
And Some Interesting Facts...
The magnificent Omar Ali Saifuddien Mosque (pictured above) has a gold leaf covered dome and was built with Italian marble, Belgian carpets and English chandeliers.
The Sultan of Brunei is one of the world's richest men. It is thought that he owns 2500 cars, including a gold plated Rolls Royce!
The Istana, or Sultan's Residence, is the world's largest palace with 1800 rooms.
Proboscis monkeys, with their distinctive long, floppy noses live in the mangrove forest by the palace.

Proboscis monkeys
Kampong Ayer is the world's largest water village and is home to around 30,000 people. They live in houses built on stilts in a river!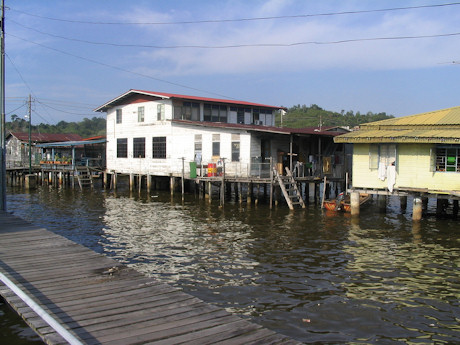 Kampong Ayer, water village in Brunei
Ulu Tembourong National Park is a pristine rainforest. It is home to the Rajah Brooke birdwing, a beautiful black and emerald butterfly. It is named after the 'White Rajah', James Brooke, who ruled Sarawak in the 19th century.
The durian fruit, which is native to Brunei, smells like rotten onions but tastes like fruit custard!
Scroll down to find all sorts of printable versions of the Brunei flag - fun for the home or...
Learn all about Brunei with the help of this collection of printables and interesting worksheets....
Explore Activity Village