Bulgaria
Did you know that Bulgarians nod for no and shake for yes? This, and other fun facts about Bulgaria below! And we have a full set of flag printables, too...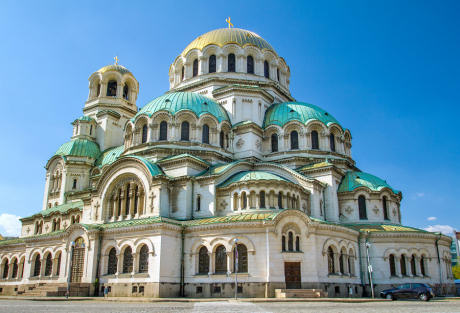 St Alexander Nevsky Cathedral in Sofia, Bulgaria
Learn about Bulgaria
Geography of Bulgaria:
The Republic of Bulgaria is in Southeast Europe, in the Balkans. It is a compact nation with a population of 7,300,000. The River Danube forms the northern border with Romania, whilst Turkey and Greece are to the south. Macedonia, Serbia and Montenegro are to the west whilst the Black Sea coastline runs along the entire eastern border for 378 km.
It is a hilly country with lowland plains in the south east and north bisected by the Balkan mountains.
Sofia is Europe's highest capital and Bulgaria's largest city. It is on the site an ancient Thracian spa. It can be very foggy, and it gets regular snowfalls.
Mount Musala near Sofia is the highest point in the Balkans at 2925 metres, and overlooks Borovets ski resort.
Bulgaria's Black Sea coastline includes resorts named Golden Sands and Sunny Beach attracts millions of holidaymakers each year.
Bulgaria is home to 12,360 plant species making it Europe's second most biologically diverse nation.
Interesting Facts:
There is evidence of organised prehistoric people in Bulgaria during the Neolithic period. Thracians, Greeks and Romans all played a part in Bulgaria's turbulent early history. In the 7th century, Bulgar tribes conquered the resident Slavs and settled, forming the First Bulgarian Kingdom.
Bulgarian independence day, on September 22nd, celebrates the end of five centuries of Ottomon Rule in 1908.
The magnificent Alexander Nevskyi Cathedral, which has domes covered with gold leaf, commemorates the 200,000 Russian troops killed when liberating Sofia from the Turks in 1877-78.
Plovdiv, the second largest city, has many Roman remains including a stadium which held 30,000 spectators, modelled on the famous Delphi stadium. Seats for officials had their names engraved in Greek.
Old Bulgarian was the first Slavic language to have a written alphabet. It was based on Greek and named Cyrillic after a monk called Cyril, who invented it!
The rarest animal is the Black monk seal of which only a handful survives in coastal caves.
Bulgaria's most famous ice skater Albena Denkova won the gold medal at Alberta with partner Maxim Stavisky. They are now married.
The Rogozen silver treasure was found in a vegetable plot in 1985. It consists of 165 beautiful silver jugs and cups which date from the 5th century BCE to 340 BCE. Thracian myths are depicted and even the names of the silversmiths can be seen.
Bulgarians nod their heads to say no and shake their heads when they mean less. It can be very confusing!
We've got a collection of printables for the Bulgarian flag - just browse below! About the...
Have a go at filling in one of our fact-finding worksheets, or try our location worksheets to put...
Explore Activity Village