Making this cute Christmas tree card takes some careful placing and gluing, so it is a good craft to keep the kids busy on a wintery afternoon! And we think the finished result looks fabulous. Of course you could adapt this craft in many different ways - some of which we suggest below.
You will need:
Card (we used white and red)
Buttons
Glue
Scissors
Instructions:
Fold a piece of white A4 card in half and glue a slightly smaller piece of red card on top to give it a border. For our card, we added another rectangle of card on the front for our tree to sit on.
For the button tree, select the buttons and play around with how you want your pattern to look. Make sure you are happy with the arrangement of the buttons before you start gluing.
For our card, we used larger brown buttons for the trunk and small red, green and yellow buttons for the tree and the decorations.
More ideas:
You could use a dark piece of card for the background - dark green or black, perhaps - and use green and pearl buttons for a snowy tree.
Use shaped buttons for some of the decorations.
If you are short on buttons, cut the shape of the tree and trunk out of green and brown card and then glue button decorations on top.
Follow the instructions above but echo the shape of the tree with a piece of sparkly card or paper behind the buttons.
Older children could even stitch the buttons to the card rather than glue them, perhaps using gold or silver embroidery thread for extra sparkle.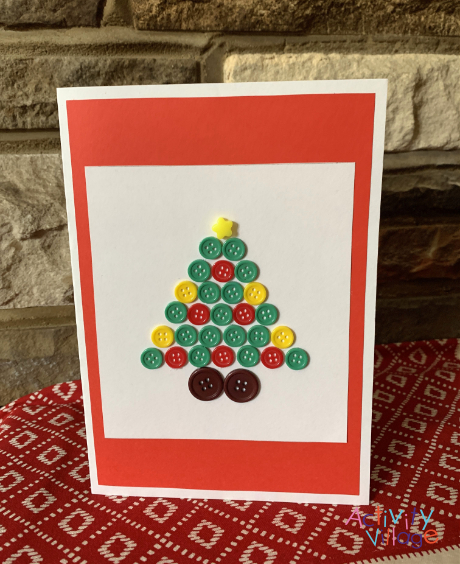 Our finished button Christmas tree card