Get out the fabric paints and scraps and have a go at creating your own Canadian flag T-Shirt to help you celebrate Canada Day this year!
You will need:
A white t-shirt
Wide red ribbon
Red fabric pen
Fabric glue
A print out of our Canadian flag
Put the t-shirt on a flat surface and slip the flag print-out inside. With the fabric pen trace the maple leaf design and colour it in.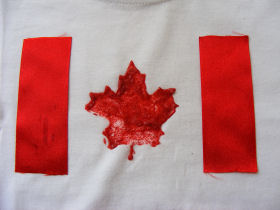 Cut two small lengths of the ribbon and glue these either side of your maple leaf (use the print-out and photos as a guide).
Explore Activity Village