This game has almost infinite variations and is suitable for all ages of kids, helping to keep them happy on a long car journey. You will find a printable available to Activity Village Members below, but you just need a paper and pencil to play.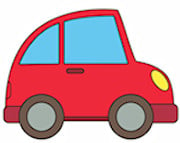 Age: 5+
Give each child a piece of paper and pencil or use our printable and ask them to find something for each letter of the alphabet. They might spot a post-box for "p", a train for "t" and so on.
You might have to use some ingenuity for the harder letters, such as a "yellow car" for "y". We usually put a line through "z" unless we know that we will be passing some zebra crossings!
The first child to fill up all their alphabet is the winner.
Variations:
Children can only spot things on their side of the road.
Children must spot things in alphabetical order, and only move on to the next letter when their "object" is approved by you.
Children must spot things in reverse alphabetical order.
Instead of spotting objects, spot place names on signposts and roads as you pass.
Instead of spotting objects, spot letters on number plates (in which case we suggest you go alphabetically, or the game will be over too soon).
Allow each child a certain number of "wild cards", which can be awarded for spotting a particular object. For example, spotting a yellow truck might allow a child to cross off any one letter which they are finding difficult.
Explore Activity Village