Cayman Islands
Come and take a quick virtual tour of the Cayman Islands with us! And when you are done, print out our flag printables to collect what you've learned, or have a go at our flag colouring page below.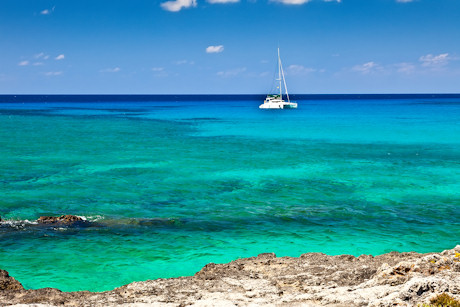 Sailing off Grand Cayman, Cayman Islands
A little about the Cayman Islands
There are three islands belonging to the Cayman Islands: Grand Cayman, Cayman Brac and Little Cayman. The islands are a British overseas territory and lie in the Carribean sea, south of Cuba.
The Cayman Islands were not inhabited until the 17th Century, and not permanently settled until the 1730s. Today many of the native Caymanians are descended from the African slaves that were brought to the islands in the 18th Century.
The Cayman Islands thrive on tourism and as a tax haven.
---
About the Cayman Islands Flag
The Cayman Islands flag features a Union flag in the top left corner on a traditional blue field. To the right is the Cayman Islands coat of arms, on which three green stars represent the three islands of Grand Cayman, Cayman Brac and Little Cayman, on wavy lines representing the ocean. The gold lion on a red background stands for Britain. As for the turtle, rope and pineapple - they represent the seafaring history of the islands, the traditional thatch rope industry of the islands, and the islands' ties with Jamaica, respectively!
---
OUr Cayman Islands Flag and other Resources
Explore Activity Village