Have a go at this papier mache Chinese bowl craft for kids, at Chinese New Year or any time. It's perfect for displaying oranges or gold chocolate coins!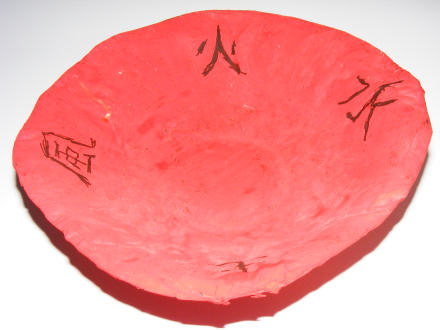 You will need:
Bowl to use as a mould
Food wrap (clingfilm)
Strips of newspaper
PVA glue
Red acrylic paint
Permanent black marker or gold pen
Acrylic varnish
Instructions:
Turn your bowl upside down and cover it with food wrap.
Water down the glue slightly. Dip your strips of paper into the glue and lay them over the bowl. When the entire bowl is covered, leave to dry. Repeat with a second and a third layer.
When the paper is dry, take it off your mould bowl. Peel the food wrap from the centre. Trim any untidy edges.
Paint and leave to dry. Use the black marker pen to draw on Chinese Calligraphy characters, you could use our cards for inspiration.
Chinese Character Cards
For extra protection paint with a coat of acrylic varnish.
Fill your Chinese bowl with oranges, gold coins or perhaps some tissue paper flowers?