This Christmas candle lamp craft is a fun way for kids to quickly recycle an old jar into a pretty candle lamp for the holiday! The photo above doesn't do justice to how pretty the "lamp" looks with a burning votive candle or nightlight candle inside.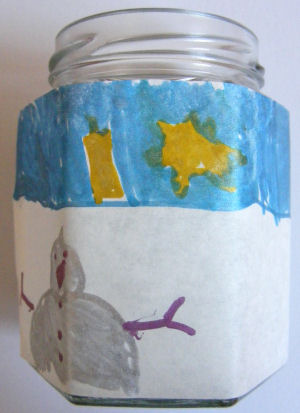 You will need:
Small jar
Tracing paper
Metallic pens
Candle
Double sided tape
Cut a piece of tracing paper to fit around the jar. Decorate the paper using your metallic pens, with a pretty Christmas design. Stick the tracing paper to the jar using the double-sided tape.
Pop a candle inside. When the candle is lit it will shine through the picture and make it glow.