We had fun (and got very sticky) applying all sorts of glittery substances to these cards. You could use any of the template designs on our Christmas templates page, but the tree, star and stocking work particularly well.
You will need:
Scraps of card Glue stick and PVA (white) glue Glitter, seed beads and other glittery substances Dot stickers, buttons, etc for embellishments
Card 1: Christmas tree card with glitter
We cut out a simple Christmas tree shape (see our Christmas templates) and painted it with PVA glue. We then sprinkled it thoroughly with glittery and waited for it to dry. We used a glue stick to attach it to our card, and topped it off with a small glitter pompom.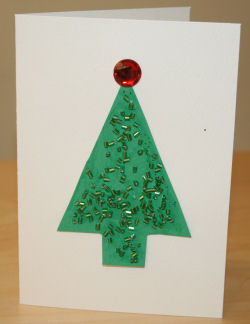 Card 2: Green Christmas tree card with seed beads
For this card we substituted tiny green seed beads for the glitter and a stick-on gem for the topper. This is a very pretty card - the photo doesn't do it justice!
Explore Activity Village