Christmas Carols Theme
Christmas carols are an essential part of the Christmas season, and children take great pride in learning the more familiar tunes and singing along. We've got all sorts of ideas here on a Christmas carols theme, including some lovely colouring pages with Christmas carols words to learn or sing along from, by special request, and story paper, copywork pages and puzzles.
A Christmas Carol by Charles Dickens
"A Christmas Carol" is probably the most famous stories about Christmas ever written. It was written in 1843 (Dickens wrote the whole book in only 6 weeks!) and is about a man named Ebenezer Scrooge who is visited by four ghosts who teach him the error of his ways.
By the way, Charles Dickens is well known for making up some really good names for his characters, and Ebenezer Scrooge is a great example. Try saying the name a few times and see if you can guess what he was like! Can you make up your own names - the sort of names that help you to guess what the person might be like?

This is a photo of the original printing of "A Christmas Carol". The book has never been out of print since it was first published, and the story has been made into films and operas!
Find out more about Charles Dickens and try some of our fun Dickens-inspired worksheets and story starters:

Charles Dickens

More Christmas Themes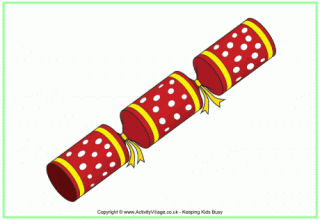 Christmas Cracker Theme
Explore Activity Village