I have to admit that we had a lot of fun with this! The garland is just a little fiddly to make and holding the dots and the ribbon in the right position for the stapler is a little tricky, so I suggest the craft is better done with older children. But the finished effect is really cute and the garlands are addictive to make. We experimented with lots of different papers, including double sided scrapbook paper, leftover wrapping paper, origami paper, Indian craft paper, vellum and even tissue paper (which we don't recommend).

This photo doesn't really do justice to the Christmas dotty 3D garland strung in the window - in "real life" it is so pretty and unusual!
The garland in the photo above is made with circles cut from the glossy front cover of a book of Christmas scrapbook paper, and I think this recycled garland ended up being my favourite of all.


If you are looking for something that is quicker to put together or more suitable for making with younger children, try this:
Christmas dotty garland
You will need:
Circle paper punch or scissors to cut your own circles
Assorted scraps of paper
Long lengths of thin ribbon
Stapler
Instructions:
Cut out a really big stack of circles from your scraps of paper. You will need 4 circles (or 6, if you prefer) for each "dot" on the garland, so be generous! Experiment with your combinations: put the dots together randomly, or choose the colours carefully, it's up to you!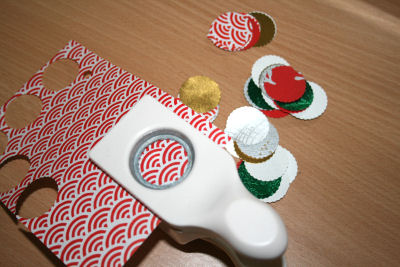 Choose 2 (or 3) dots and put them all face down in a stack, and lay the ribbon over the top (leaving a good length at the end to tie up your garland later).
Choose 2 (or 3) more circles and put them on top, facing up, so that the ribbon is sandwiched between them.
Pick up the dots and ribbon and place carefully into the stapler, turning it so that the ribbon will lie at right angles to the staple.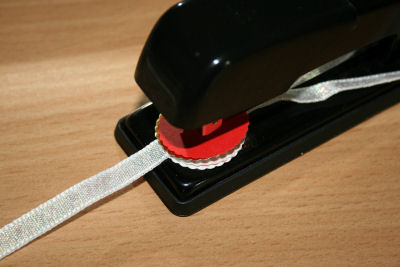 Staple, like so!
I'm afraid the photos of this particular red "dot" didn't come out well, so I'm switching to another one here: Open the circles out and crease and arrange them to make the dot 3D.
Keep going! You can pull the dots carefully along the ribbon until you are happy with the placement. This garland is made with reds and whites only.
And this garland is made with the recycled paper mentioned earlier.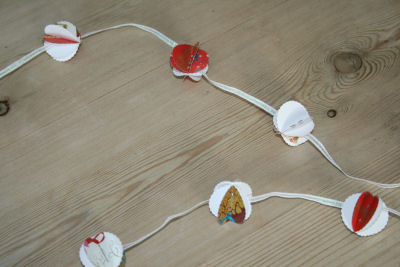 Here they are in the window!
More recycling ideas:
Try circles cut from old books or music manuscripts
Cut circles from magazines or catalogues, choosing appropriate colours
How about last year's Christmas gift wrap and Christmas cards?
The insides of envelopes are often very pretty
Sweet wrappers, baking paper and the silver paper you find inside smart chocolate bars could all look good, too...
You could make a rustic garland using brown paper and red gingham paper (we have some here)
Use scraps of scrapbook paper or print some of our scrapbook paper