These pretty double-layered Christmas lanterns look lovely strung up to decorate the room - or just put them out on display. Children can really have fun decorating the top layer, too!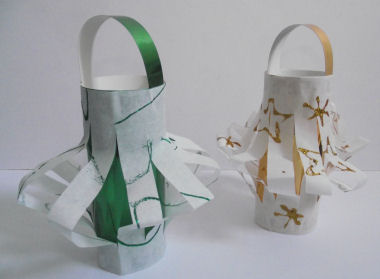 You can see in this photo and the photos below how pretty the double-layer in these Christmas lanterns looks, especially when you decorate the top layer well.
You will need:
Mirrored/shiny card
Tracing paper or vellum
Glitter glue
Glue
Instructions:
Use the glitter glue to draw patterns on the tracing paper and leave to dry.
Take an A5 (approx 21 by 15cm) piece of card. Roll into a tube and glue (or staple) the edges together.
Fold the tracing paper in half lengthwise, so the glittery design faces outwards. Cut lines through the fold to about 1 ½ inches from the top of the paper at about 1 inch intervals.
Unfold the tracing paper. Wrap the tracing paper around the card cylinder. Glue the uncut edges of the paper to the top and bottom of the cylinder card. Trim any excess tracing paper.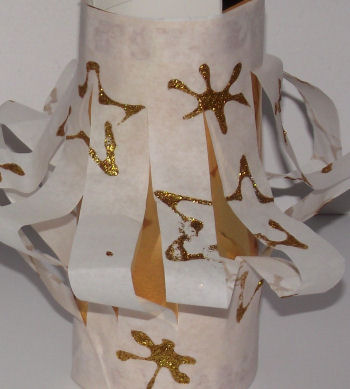 Cut a strip of mirrored card and glue the ends to the inside of the lantern to make a handle.