Concentration has always been popular because you can play it on many different levels, and always challenge yourself to do better next time.
The instructions for Concentration, or Memory, and a number of variations, can be found here: Concentration / Memory
Choose from three sets of round cards to print and cut out. We have traditional Christmas images, or some very cute Christmas animals which the kids will love. Tailor the number of cards you play with to the age of the children.
You can laminate them if you wish to make them last longer, and if you print one of our Christmas scrapbook paper designs on the back they will look extra special.

Christmas Gift Tags 1

Christmas Gift Tags 2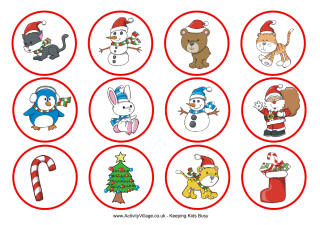 Christmas Gift Tags 3
Explore Activity Village