Cooking with Kids
There are lots of great reasons to get the kids involved with cooking. Cooking is lots of fun and a lovely way to bond with the kids, and can also help with learning and development. Here are just a few of the benefits of cooking with your children at home:
Cooking is a fun way to practise basic numeracy skills, such as measuring, addition and multiplication. The kids are having so much fun they don't realise they're doing maths!
When you cook together, children are learning new vocabulary as you name the ingredients. The kids are also following directions, helping to improve language and comprehension skills.
Encouraging children to cook at home helps promote a healthy approach to food and eating.
Cooking is science! Children can find out what happens when you combine certain ingredients, and also what happens when measurements aren't quite right!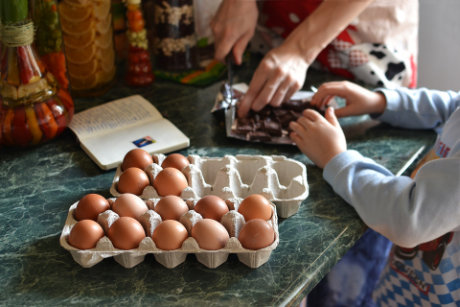 We've got lots of cooking activities for all different ages to try below, from easy recipes to challenging recipe comprehension worksheets. There are also recipe book printables so the kids can create and record their own recipes, and our growing set of themed cupcake toppers to print and decorate your bakes.
Explore Activity Village